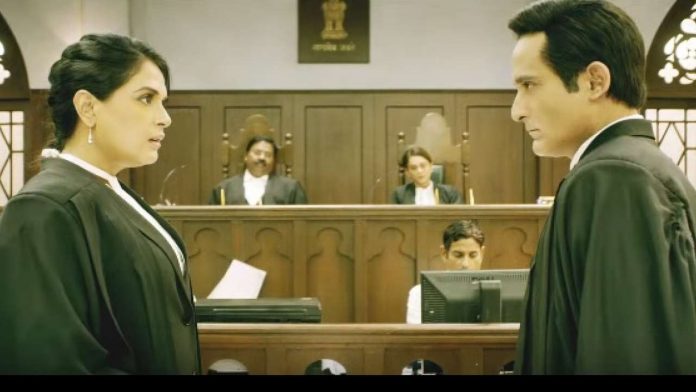 Super Cassettes Industries Pvt. Ltd. and Panorama Studios' Section 375 (UA) is a film about a rape case being fought in the court of law.
Rohan Khurana (Rahul Bhatt) is a famous Bollywood film director who is accused of rape by assistant costume designer Anjali Dangle (Meera Chopra). Anjali had gone to Rohan's house to get some costumes approved, when he had raped her. Rather than keep quiet, Anjali files a police complaint. She is asked all sorts of intimate questions by the police. The matter then reaches the court. The sessions court finds Rohan guilty of rape and sentences him to imprisonment for 10 years.
Rohan's wife, Kainaz (Shree Swara), hires popular lawyer Tarun Saluja (Akshaye Khanna) to appeal in the high court. The public prosecutor, Hiral Gandhi (Richa Chadha), is Anjali's lawyer in the case before the high court's division bench comprising two judges (Kishore Kadam and Krutika Desai). While Tarun Saluja tries to prove in the court that Anjali was in a relationship with Rohan and hence the case was not a rape case but rather a vendetta case after Rohan had broken up with Anjali, Hiral Gandhi tries to convince the court that the injury marks on Anjali's private parts and other evidences point to the fact that she had been raped by Rohan. Arguments and counter-arguments, examinations and cross-examinations continue in the court over days. Anjali is asked embarrassing questions in the court too, but she bravely answers almost all of them. However, when advocate Tarun Saluja threatens to play in the court room what the CC camera in the make-up van of Rohan Khurana had captured between Rohan and Anjali a few days before the alleged rape, Anjali stops him, proving advocate Saluja's point that she and Rohan had been in an intimate relationship which had then come to an end. After this, Saluja reveals what he calls the true story of the case which proves that Rohan had not raped Anjali. He relies upon certain evidences but Hiral Gandhi rubbishes his claims.
The two judges are at their wits' end. Finally, they pronounce their judgement. What is the judgement? Do they hold Rohan guilty of rape or do they acquit him of the rape charge?
Manish Gupta has penned a fine story with good twists and turns. His screenplay, with additional screenplay by Ajay Bahl, is also engaging, more so after the interval. The final twist in the screenplay is so fantastic that it could change a lot of people's opinion in favour of the film for its (the final twist's) sheer shock value. No doubt, the screenplay is very class-appealing but having said that, it must be added that the screenplay would be liked by the thinking audience. The first half is so-so and does get a bit boring at places. But the real drama and excitement begin after interval. The arguments put forth in the court by the two advocates could've been more fiery and exciting. However, the comments of the two judges of the division bench hearing the case are both, entertaining and engaging. Manish Gupta's dialogues and Ajay Bahl's additional dialogues are bold (like several scenes) but too much use of English in the dialogues will restrict the film's appeal as they will not be well understood by the non-English-speaking viewers. Also, there is too much usage of technical jargon in the dialogues.
Akshaye Khanna does an absolutely fantastic job as advocate Tarun Saluja. He slips into the character and delivers a lovely performance. Richa Chadha is good as public prosecutor Hiral Gandhi. She gives her character respectability. Rahul Bhatt looks the rapist and lecherous film director he plays. The arrogance and high-handedness of his character add to his nice performance. Meera Chopra looks every inch the girl violated and crying for justice. Her portrayal of Anjali Dangle is perfect. Kishore Kadam and Krutika Desai are wonderful as the two judges of the division bench. Shree Swara is supremely natural as Rohan Khurana's disgusted wife. Her facial expressions to convey disgust and humiliation are terrific. Shama Ninawe (as Anjali's mother) is also first-rate. Her expressions are praiseworthy. As Anjali's father, Rajendra Shishatkar also uses his facial expressions to the hilt. Anup Chaudhary is lovely as Anjali's brother. Shrikant Yadav leaves a fine mark as investigating police sub-inspector Kalse. Sandhya Mridul lends decent support in a brief role as Tarun Saluja's wife. Tanuka Laghate (as Meera), Vibhawari Deshpande (as ASI Manali), Aparna Upadhyay (as the sessions court judge), and the others are adequate.
Ajay Bahl's direction is very sensitive and effective. Had he used less English and less technical terminology, the film would have appealed to a larger section of the audience. The film has no songs. Clinton Cerejo's background music is effective. Sudhir K. Chaudhary's cinematography is lovely. R.P. Yadav's action and stunt scenes are impactful. Nilesh Wagh's production designing is of a fine standard. Praveen Angre's editing is sharp.
On the whole, Section 375 will be liked by its target audience viz. the classes and the elite audience. It will, therefore, do well in the good multiplexes of the big cities.
Released on 13-9-'19 at Inox (daily 4 shows) and other cinemas of Bombay thru Anand Pandit Motion Pictures and Panorama Studios. Publicity: dull. Opening: below the mark. …….Also released all over. Opening was dull everywhere.