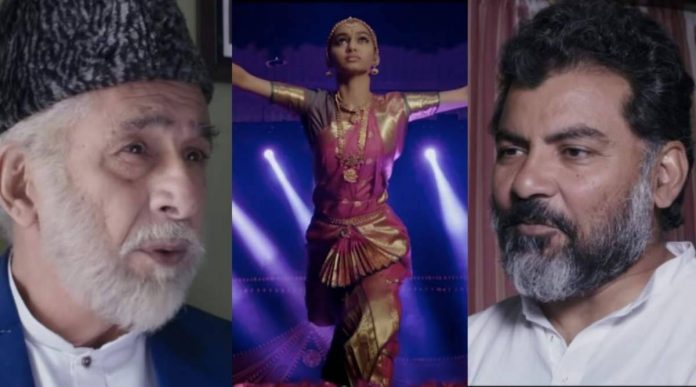 Shabana Azmi and Azmi Pictures Pvt. Ltd.'s Mee Raqsam is the story of a school-going Muslim girl (Maryam) who dares to learn Bharatanatyam dance, considered to be the dance form for Hindus only.
Maryam feels depressed after the sudden death of her mother. Her tailor-father, Salim (Danish Husain), puts her in a dance school because she is interested in dancing. Not only is there opposition to this from Mariam's maternals but the head Muslim priest of the village, Hashim Seth (Naseeruddin Shah), also does not approve of this. Hashim Seth warns Salim but when the latter is unrelenting, he asks the entire Muslim community to boycott his tailoring shop. Already poor, Salim finds it difficult to make ends meet. There's also the chief patron of the dance school, Jayprakash (Rakesh Chaturvedi Om), who is so communal-minded that he can't bear to see a Muslim girl in what he considers a Hindu domain. How Maryam and her father brave the opposition forms the crux of the story.
Safdar Mir and Husain Mir have penned a heartfelt story and screenplay but there are two defects — the drama moves at a slow pace, and they have not been able to tie the loose ends, which, if done, would have given the audience a different high. Although Maryam ultimately proves victorious, what happens to the head priest and Maryam's maternals is simply not shown. It is left to the audience's imagination to think about the humiliation they must've faced. Also, since the film moves on a single track, it does get monotonous at times. Having said that, it must be added that the grammar of the screenplay is correct and the progression is in order. Safdar Mir and Husain Mir's dialogues are appropriate and effective.
Aditi Subedi makes a very confident debut in the role of Maryam. She is impressive, both, in dancing and acting. Danish Husain is natural as her father, Salim. He plays the self-respecting tailor with conviction. Rakesh Chaturvedi Om leaves a fantastic mark as chief patron of the dance school, Jayprakash. Sudeepta Singh stands out as the music teacher. Naseeruddin Shah makes his presence felt with a fine performance in a brief role as Hashim Seth. Shivangi Gautam shines in a brief role as Jayprakash's daughter, Anjali. Shraddha Kaul attracts attention as Maryam's maternal aunt, Zehra Khala. Farrukh Jafar has her moments as Maryam's maternal grandmother, Amma Jaan. Kaustubh Shukla leaves a mark as Ashfaque. Juhaina Ahsan is good as Kulsoom. Pratyaksha Tiwari is effective as dance student Ragini. Narendra Panjwani (as Maulana Wajed) and Gaurav Prince (as Maulana Javed) are good. Ruturaj Jadhav (as Goli), Aryan Iqbal (as Hyder), Ananya Purkayastha (as Sakina), Alok Rajput (as Jayprakash's assistant), Vivek Singh (as guard at auditorium), Dr. Poonam Tiwari (as Jayprakash's wife) and Uday Vir Singh Yadav (as Dr. Ansari) lend average support. Others are okay.
Baba Azmi's direction is good. It must be said to the debut-making director's credit that he has extracted good work from out of every actor. Ripul Sharma's music and lyrics are in synch with the mood of the film. 'Dum Ali Ali' is appealing. Its picturisation by Deepali Salil is impactful. George Joseph's background music is fairly nice. Mohsin Khan Pathan's camerawork is decent. Kumar Nalin's art direction is of a fine standard. Pooraj Kapoor's editing is reasonably sharp.
On the whole, Mee Raqsam is a well-made film but almost complete lack of awareness about its release (due to low promotion) and absence of face value will do the film in. It will go largely unnoticed.
Released today (21-8-'20) on Zee5.