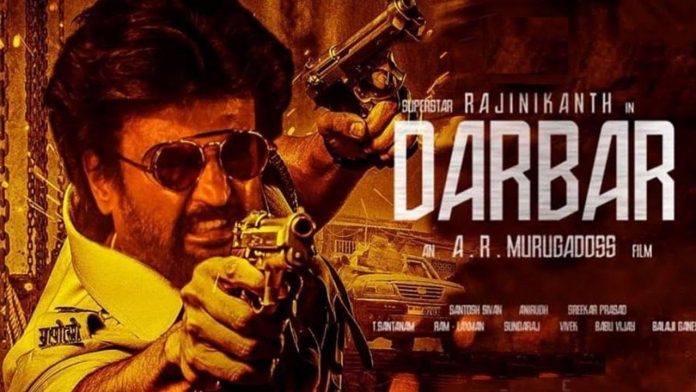 Lyca Productions' Darbar (dubbed from the Tamil film of the same name; UA) is an action drama about good versus evil.
Aadhithya Arunachalam (Rajinikanth) is the commissioner of police but he is suspended because he has killed nine people which the committee, set up to look into the matter, feels is not justified. It emerges that Aadhithya had lost his daughter, Valli (Nivetha Thomas), and had gone a little overboard after that.
The drama goes into flashback to show Aadhithya as being a fantastic police officer who had busted a drugs racket. The drugs racket had led Aadhithya to the man behind it, Ajay Malhotra (Prateik Babbar). The chase to nab Ajay Malhotra had led them to the fact that the arrested Ajay Malhotra had escaped to Thailand.
Scared that Ajay would spill the beans before Aadhithya, his father, Vijay Malhotra (Nawab Shah), had gotten him killed in Thailand. But it had then emerged that Ajay Malhotra was actually Ajay Chopra, son of Hari Chopra (Sunil Shetty). After this, Hari had killed Vijay Malhotra and was also out to finish Aadhithya and his daughter because he had held police officer Aadhithya indirectly responsible for Ajay's death. While Aadhithya had escaped, daughter Valli had been killed.
In the present time, Aadhithya rejoins the police after suspension and gets to know that the mastermind is Hari Chopra. He swears revenge. What happens thereafter?
The story is routine and oft-repeated. A.R. Murugadoss has penned a clichéd screenplay and has concentrated on satisfying Rajinikanth's fans. However, those who aren't the superstar's diehard fans (in other words, the Hindi-film-going audiences) will be disappointed by the predictable screenplay. Even the dialogues are commonplace.
Rajinikanth does well, playing to the gallery. Sunil Shetty is quite effective as Hari Chopra. Nayanthara is okay in a brief role as Lily. Nivetha Thomas does a fair job as Valli. Prateik Babbar makes his presence felt as Ajay Chopra/Malhotra. Nawab Shah leaves a mark as Vijay Malhotra. Dalip Tahhil makes his presence felt in the role of the chief secretary. Jatin Sarna (as a police inspector), Yogi Babu (as Kaushik), Simran (as Lily's cousin) and the others provide average support.
A.R. Murugadoss' direction is fairly nice. Anirudh's music is quite appealing. Song picturisations are eye-filling. Santosh Sivan's camerawork is splendid. Action scenes, choreographed by Lakshman Chella, Ram Chella and Peter Hein, are mass-appealing. Sets (Tamanna Ali, Vijay Ghodke and Santhanam) are appropriate. A. Sreekar Prasad's editing is reasonably sharp. Dubbing is good.
On the whole, Darbar may have masala for the Tamil-speaking audience but there's not much for the Hindi-film-going viewers who may not be diehard fans of the actor.
Released on 9-1-'20 at Sterling (daily 2 shows) and other cinemas of Bombay thru Phantom Films Pvt. Ltd. Publicity: so-so. Opening: dull. …….Also released all over.