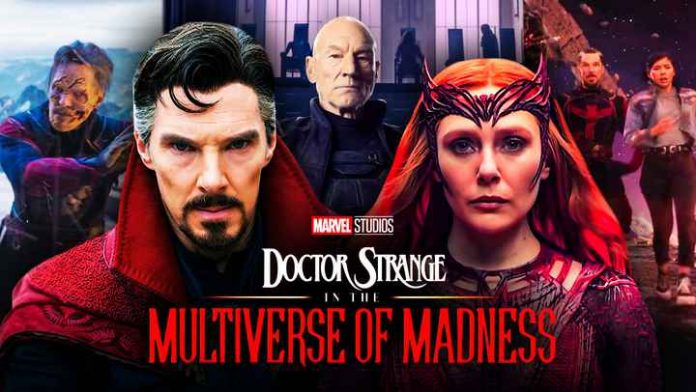 Marvel Studios' Doctor Strange In The Multiverse Of Madness (dubbed from the Hollywood film of the same name; UA) is based on Marvel Comics and is the sequel to Doctor Strange (2016). It is the 28th film in the Marvel Cinematic Universe.
Stephen Strange (Benedict Cumberbatch) and America Chavez (Xochitl Gomez) flee through space between universes in search of the book of Vishanti to stop a demon chasing them. While Strange is killed, America accidentally creates a portal which sucks them all in. Meanwhile, on Earth-616, Strange saves America from a demon. America tells Stephen Strange that she is being chased because she has the power to travel through the Multiverse.
Strange consults with Wanda Maximoff (Elizabeth Olsen) and realises that she herself is responsible for the demons. Wanda wants to control the Multiverse with America Chavez's powers. Strange refuses to give Chavez who accidentally transports herself and Strange to Earth-838.
Strange and Chavez are captured by Earth-838's Mordo (Chiwetel Ejiofor) and brought before the Illuminati. Mordo, Captain Peggy Carter (Hayley Atwell), King Black Bolt (Anson Mount), Captain Maria Rambeau (Lashana Lynch), Dr. Reed Richards (John Krasinski) and Prof. Charles Xavier (Patrick Stewart) of the Illuminati explain to Strange that through reckless use of his universe's Darkhold, Earth-838's Stephen Strange had triggered a universe-destroying Incursion and was, therefore, killed. Mordo feels, Earth-616's Strange is also dangerous. Wanda arrives and kills the Illuminati except Mordo. Strange and Chavez escape with Earth-838's Christine Palmer (Rachel McAdams).
The trio (Strange, Chavez, Palmer) finally find the book of Vishanti, but Wanda appears to take over Chavez's mind. What happens thereafter?
Michael Waldron has written a good story and screenplay, which keep the audience engaged and involved. However, the drama tends to get boring after the first 30-40 minutes when its pace slackens for around 20-25 minutes, but the interest level increases thereafter. From then on, the drama not just involves but also entertains the viewers.
Benedict Cumberbatch delivers a fantastic performance as Stephen Strange. Elizabeth Olsen is evil enough to frighten the audience. Chiwetel Ejiofor lends decent support as Mordo. Benedict Wong has his moments as Wong. Xochitl Gomez is natural to the core in the role of America Chavez. Michael Stuhlbarg makes his mark as Nicodemus West. Rachel McAdams leaves a fine impression as Christine Palmer. Patrick Stewart, Hayley Atwell, Lashana Lynch, Anson Mount and John Krasinski provide excellent support. Julian Hilliard and Jett Klyne are alright as Wanda's little boys. Charlize Theron (in a guest appearance) adds star value. Bruce Campbell is endearing. Others are adequate.
Sam Raimi's direction is fabulous. Danny Elfman's background music is phenomenal. John Mathieson's cinematography is outstanding. Computer graphics and visual effects are simply remarkable. Editing (by Bob Murawski and Tia Nolan) is sharp. Dubbing is superb.
On the whole, Doctor Strange In The Multiverse Of Madness (dubbed) is a surefire hit.
Released on 6-5-'22 at Maratha Mandir (daily 2 shows) and other cinemas of Bombay thru UTV Software Communications Ltd. Publicity & opening: excellent. …….Also released all over. Opening was extraordinary almost everywhere. The original English version has also been released simultaneously.