Celebrating 50th year of service to film trade
| FILM | RELEASE DATE | PLATFORM | CERTIFICATE | RUNNING TIME |
| --- | --- | --- | --- | --- |
| SPIDER-MAN: ACROSS THE SPIDER-VERSE (dubbed) | 1st June, 2023 | Cinema | | |
| ZARA HAT KE ZARA BACH KE | 2nd June, 2023 | Cinema | | |
| CHIDIAKHANA | 2nd June, 2023 | Cinema | | |
| BLOODY DADDY | 9th June, 2023 | Cinema | | |
| THE FLASH (dubbed) | 15th June, 2023 | Cinema | | |
| ADIPURUSH | 16th June, 2023 | Cinema | | |
| MAIDAAN | 23rd June, 2023 | Cinema | | |
| SATYAPREM KI KATHA | 29th June, 2023 | Cinema | | |
| COAT | June, 2023 | Cinema | | |
| NEEYAT | 7th July, 2023 | Cinema | | |
| INSIDIOUS: THE RED DOOR (dubbed) | 7th July, 2023 | Cinema | | |
| AJMER 92 | 14th July, 2023 | Cinema | | |
| MISSION: IMPOSSIBLE – DEAD RECKONING PART ONE (dubbed) | 14th July, 2023 | Cinema | | |
| ROCKY AUR RANI KI PREM KAHANI | 28th July, 2023 | Cinema | | |
| JGM (dubbed) | 3rd August, 2023 | Cinema | | |
| GADAR 2 | 11th August, 2023 | Cinema | | |
| THE VACCINE WAR | 15th August, 2023 | Cinema | | |
| TARIQ | 15th August, 2023 | Cinema | | |
| DREAM GIRL 2 | 25th August, 2023 | Cinema | | |
| JAWAN | 7th September, 2023 | Cinema | | |
| FUKREY 3 | 7th September, 2023 | Cinema | | |
| YODHA | 15th September, 2023 | Cinema | | |
| SALAAR (dubbed) | 28th September, 2023 | Cinema | | |
| BAWAAL | 6th October, 2023 | Cinema | | |
| BOMBAY | 13th October, 2023 | Cinema | | |
| GANAPATH – PART 1 | 20th October, 2023 | Cinema | | |
| EMERGENCY | 20th October, 2023 | Cinema | | |
| TIGER 3 | 10th November, 2023 | Cinema | | |
| THE MARVELS (dubbed) | 10th November, 2023 | Cinema | | |
| SAM BAHADUR | 1st December, 2023 | Cinema | | |
| DUNKI | 22nd December, 2023 | Cinema | | |
| FIGHTER | 25th January, 2024 | Cinema | | |
| OPERATION AMG | 26th January, 2024 | Cinema | | |
| Film | Week | Collections (Rs.) | No. of cinemas | Average per cinema (Rs.) |
| --- | --- | --- | --- | --- |
| Fast X (dubbed) | 1st | 23,75,78,626 | 500 | 4,75,157 |
| The Kerala Story | 3rd | 26,49,35,936 | 577 | 4,59,161 |
| Fast X (E.) | 1st | 22,55,36,674 | 528 | 4,27,152 |
| Guardians Of The Galaxy Vol. 3 (E.) | 3rd | 3,45,17,861 | 244 | 1,41,466 |
| IB 71 | 2nd | 4,57,11,663 | 417 | 1,09,620 |
| Ponniyin Selvan-2 (dubbed) | 4th | 16,24,751 | 24 | 67,697 |
| Evil Dead Rise (E.) | 5th | 45,62,334 | 79 | 57,751 |
| The Super Mario Bros. Movie (animation, E.) | 7th | 17,33,343 | 33 | 52,525 |
| Love Again (E.) | 2nd | 9,25,077 | 18 | 51,393 |
| Guardians Of The Galaxy Vol. 3 (dubbed) | 3rd | 96,10,273 | 204 | 47,109 |
| Chaar Lugaai | 1st | 2,53,680 | 8 | 31,710 |
| Suzume (animation, Japanese) | 5th | 25,98,630 | 96 | 27,069 |
| Chatrapathi | 2nd | 6,81,725 | 27 | 25,249 |
| The Super Mario Bros. Movie (animation, dubbed) | 7th | 3,23,614 | 15 | 21,574 |
| 8 A.M. Metro | 1st | 6,35,933 | 40 | 15,898 |
| Unlock Zindagi | 1st | 1,56,711 | 27 | 5,804 |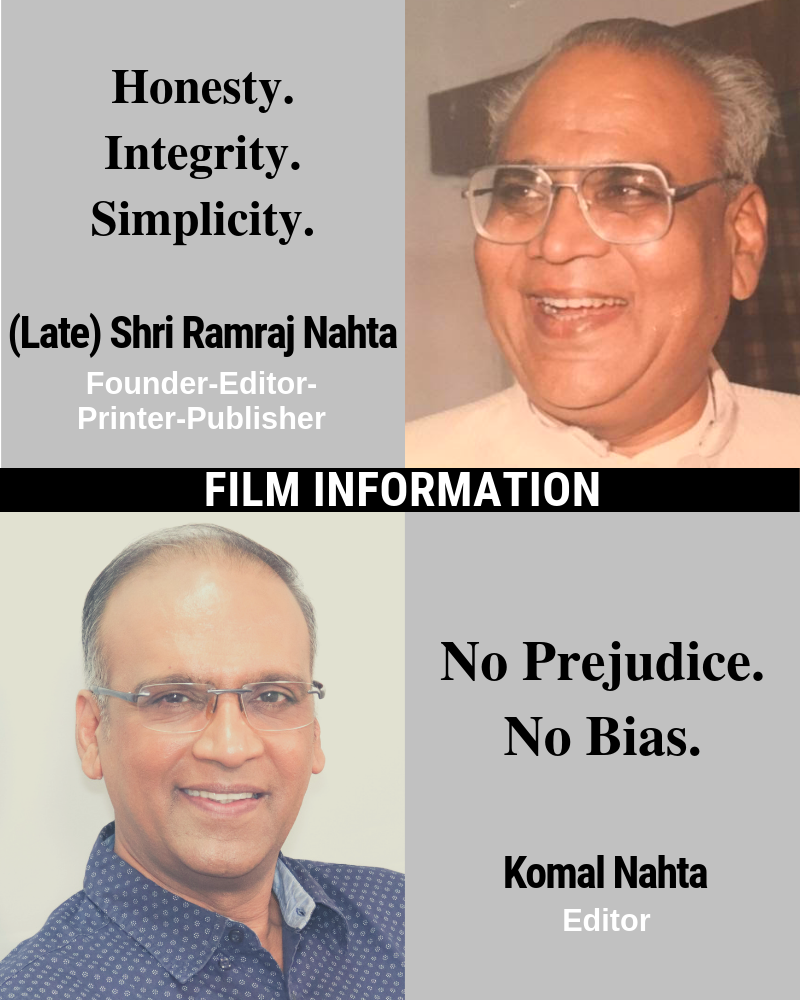 BMX Motion Pictures Pvt. Ltd. and DXB Motion Films LLP's Aazam (UA) is an underworld story. Underworld don Nawab (Raza Murad) is suffering from cancer...
Richa Gupta Films' Auhaam is a suspense film. Shiva (Hriday Singh) lives with wife Ria (Divya Malik) and their little daughter. On their wedding anniversary...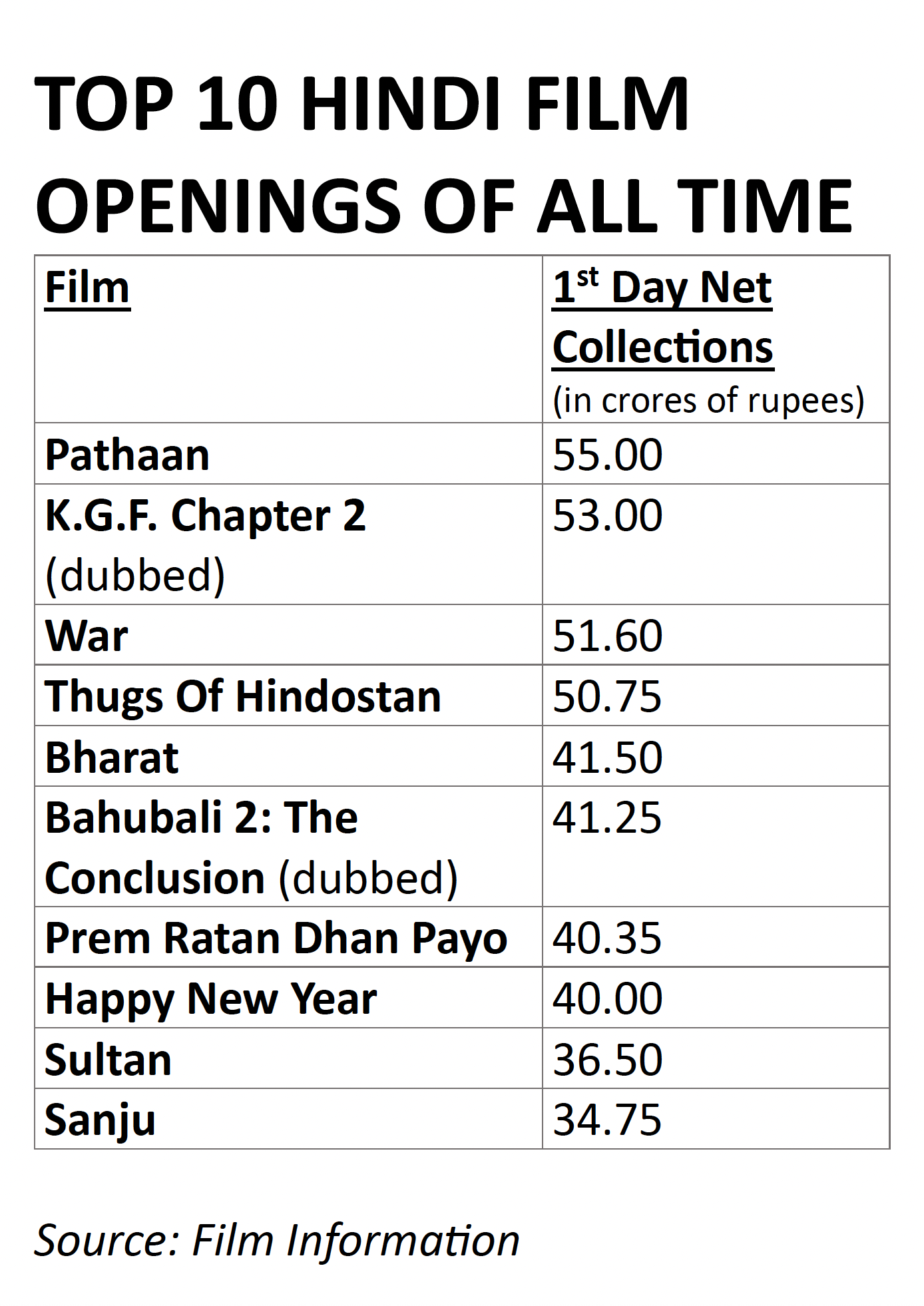 Now that Fast X has released this week, will it adversely affect the box-office collections of The Kerala Story? – A...
The CBI has registered a case against film producer and events organiser Bunty Walia alias Jaspreet Singh Walia, his brother, Guneet Singh Walia, their...
https://youtu.be/A2MknhOYwdk
https://youtu.be/GHqn5h4gI6U
https://youtu.be/UHxUl8ZXItQ
https://youtu.be/outUu1wL03s