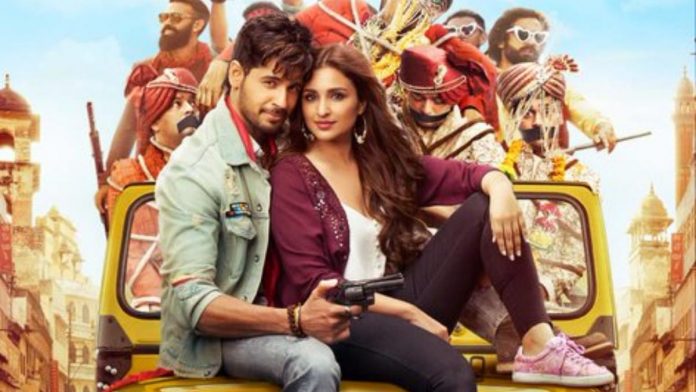 Balaji Telefilms and Karma Media And Entertainment's Jabariya Jodi (UA) is set in Patna in Bihar and is about the system of kidnapping a prospective groom and getting him married forcibly to a girl.
Abhay Singh (Sidharth Malhotra) and his male chauvinist father (Jaaved Jaaferi) are into the business of kidnapping eligible bachelors and getting them married per force to girls. They do this for a fee from the families of the girls.
As a school-going kid, Abhay (master Aryan Arora) was very fond of Babli Yadav (Gurket Kaur) who, unfortunately for him, had left Patna even while she was a child. Years later, Babli (Parineeti Chopra) returns to Patna and meets Abhay. Sparks fly between them but Abhay is scared to commit to a lifelong relationship. However, Babli is head over heels in love with Abhay and is keen to marry him. Time flies. Due to some misunderstanding, Babli actually thinks that her father (Sanjay Mishra) has finalised her marriage with Abhay when the fact is something else. She is crestfallen when she learns of the truth. What is that truth?
Anyway, after the truth dawns upon Babli, she swears to teach Abhay a lesson. She does so. Rattled, Abhay decides to seek revenge by teaching Babli a lesson. He tries to get her married off to Dr. Pappu (Rashool Tandon) who is only too keen to marry Babli. But Abhay has a change of heart at the last moment and hence does not get Babli married to Dr. Pappu. Why does Abhay have a change of heart? Is Babli not keen to marry Dr. Pappu? Why does she teach Abhay a lesson? After his change of heart and mind, what does Abhay do? And what does Babli do?
Sanjeev K. Jha's story about forced marriages is novel but having said that, it must be added that the story has sectional appeal as not much is known about groom-snatching outside of Bihar. Nevertheless, Jha has written the story in a way that it will not be difficult for the audience outside Bihar to understand it. Yes, the identification with the story may be difficult for the people outside Bihar. The screenplay, penned by Sanjeev K. Jha, with additional screenplay by Raaj Shaandilyaa and Neeraj Singh, is stretched and often seems contrived. Nevertheless, it is funny as it is laced with humour. While the first half is alright, the post-interval portion is long-drawn and repetitive. Besides, the reason for Abhay's confusion is not too convincing. The scene in which Babli teaches Abhay a lesson will not go down too well with the audience because it dilutes the heroism of Abhay. Had the base for Babli teaching Abhay a lesson been more solid, it would've been alright but since the reason for Babli teaching Abhay a lesson is not as strong as it ought to have been, Abhay looks like a loser after that. Also, the wavering minds of Abhay and Babli in the post-interval portion irritates the viewers. No doubt, the humour in the second half is very good and also entertaining at places but that doesn't cover the flaws mentioned above. There are several scenes in the latter part of the post-interval portion, which make the drama appear so stretched that the audience wonders what's going on. Even the climax does not have the desired impact. Emotions fail to touch the heart. As a result, the viewers don't cry when the characters do so or are crestfallen. This is partly due to the fact that the screenplay is written in such a way that except for Abhay and Babli, the audience often doesn't know how much of the drama in their lives is comprehended by their own family members. Dialogues, written by Raaj Shaandilyaa, with additional dialogues by Neeraj Singh, are excellent. In fact, the comic dialogues and the punch-lines are the film's mainstay.
Sidharth Malhotra looks handsome and acts ably. But his character takes a dip at places, and that's not good. Parineeti Chopra acts well as Babli Yadav. Jaaved Jaaferi is excellent as Abhay's father. He plays the male chauvinist who has a glad eye, with a lot of conviction. Sheeba Chadha stands her own in a role which gives her limited scope. Sanjay Mishra has his moments as Babli's father. Neeraj Sood lends entertaining moments as Babli's uncle. Aparshakti Khurana is superb as Santosh. His body language is terrific. And so are his dialogues. Chandan Roy Sanyal shines in the role of Guddu. Sharad Kapoor leaves a mark as Daddan. Mohit Baghel is exceptional as Halla and evokes laughter whenever he comes on the screen. Jeetu Samrat is very good as Ghanti. Rashool Tandon is first-rate as Dr. Pappu. His drinking and drunken scene, just before his marriage, is hilarious. Prashant Tiwari is fantastic as Banke. Shayank Shukla is very good as Pintu. Priyank Tiwari leaves a mark in a small role as Kanhaiya. Jai Singh Rajput is good as Puttan. Gopal Dutt is lovely as police inspector Tiwari. Master Aryan Arora (as young Abhay Singh) and baby Gurket Kaur (as young Babli) lend nice support. Bharat Bhatia (as Dr. Pappu's father), Aparna Ghoshal (as Dr. Pappu's mother), and the others are adequate.
Prashant Singh's direction is good but he has not been able to hold the film together. Consequently, the drama looks scattered. Music (Tanishk Bagchi, Vishal Mishra, Sachet-Parampara and Ashok Mastie) is tuneful but the absence of super-hit songs is felt. 'Jila hilela', 'Ki honda pyar' and 'Dhoondhe ankhiyaan' are appealing songs. Lyrics (Shabbir Ahmed, Tanishk Bagchi, Raj Shekhar, Rashmi Virag, Siddharth-Garima and Channi Rakhala) are fair; but they are not easy on the lips. Song picturisations (by Bosco Martis, Adil Shaikh and Mudassar) are okay. Joel Crasto's background music is fairly nice. Vishal Sinha's cinematography is good. Vikram Dahiya's action and stunt scenes are decent but they are not very thrilling. Rajat Poddar's production designing and Parijat Poddar's art direction are of a fair standard. Dev Rao Jadhav's editing is quite sharp but could've been crisper.
On the whole, Jabariya Jodi is an ordinary fare with some entertaining comedy. It will not be able to do much at the box-office. Of course, a good part of the investment in the film has been recovered from non-theatrical sources, and that's a major plus point. But the experience for the distributors will not be good.
Released on 9-8-'19 at Regal (daily 2 shows) and other cinemas of Bombay thru PEN Marudhar Cine Entertainment. Publicity: so-so. Opening: dull. …….Also released all over. Opening was below the mark everywhere.