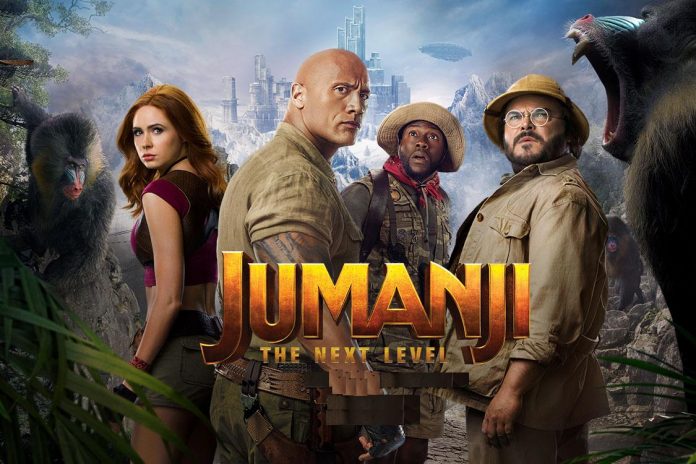 Columbia Pictures' Jumanji: The Next Level (dubbed from the Hollywood film of the same name; UA) is a fantasy adventure film and is the second sequel to Jumanji (1995), following Jumanji: Welcome To The Jungle (2017).
A year after the events of the previous film, Spencer, Fridge, Martha and Bethany have gone their separate ways. They decide to meet in Brantford but Spencer decides against it at the last moment. On his first night there, he realises that he needs to return to the Jumanji game. Fridge, Martha, Bethany, Spencer's uncle, Eddie, and Eddie's former friend, Milo, get worried for Spencer and they all resolve to go in into the game and bring back Spencer. Bethany is left out but she also ultimately joins the rest.
Jumanji has a set of rules. Each player is given three life lines, which means that he can be reborn after dying thrice.
Jake Kasdan, Jeff Pinkner and Scott Rosenberg have written an interesting script based on Chris Van Allsburg's book, Jumanji. The drama provides adventure and thrill, of course, but there are doses of comedy (abundant), action, romance and a dash of emotions, too. It moves at a fast pace and keeps the viewers engrossed.
Dwayne Johnson does very well as Eddie. Karen Gillan is good as Martha. Jack Black performs wonderfully as Bethany/Fridge. Danny DeVito is endearing as Eddie. Kevin Hart is remarkable as Mouse Finbar/Fridge. Danny Glover makes his mark as Milo. Nick Jonas looks handsome and does a fine job as Alex. Madison Iseman leaves a mark as Bethany. Ashley Scott makes her presence felt as Ashley. Marin Hinkle (as Spencer's mother), Awkwafina (as Ming), Alex Wolff (as Spencer), Morgan Turner (as Martha) and Ser'Darius Blain (as young Fridge) lend tremendous support.
Jake Kasdan's direction is noteworthy. Henry Jackman's background music is impactful. Gyula Pados' cinematography is splendid. Computer graphics are of a high order. Bill Brzeski's production designing is lovely. Editing (by Steve Edwards, Mark Helfrich and Tara Timpone) is sharp. Dubbing is nice.
On the whole, Jumanji: The Next Level will do well at the box-office. The original English version will fare better than the dubbed Hindi version.
Released on 12-12-'19 at Jai Hind Mukta A2 (in 3D; daily 2 shows) and more cinemas and on 13-12-'19 at Maratha Mandir (daily 1 show) and other cinemas of Bombay by SPE Films India Pvt. Ltd. Publicity: quite good. Opening: fair. …….Also released all over. Opening was quite nice everywhere.