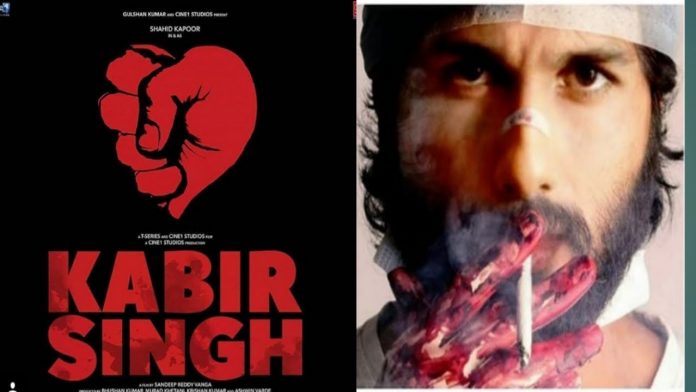 T-Series and Cine 1 Studios' Kabir Singh (A) is a story of obsessive love.
Kabir Singh (Shahid Kapoor) studies in a medical college in Delhi. He is a super-bright student but his biggest minus point is that he is unable to control his anger. He falls madly in love with Preeti (Kiara Advani), a junior in the same college. He becomes so obsessed with her at first sight itself that he warns all boys of the college to not mess around with her. Since everyone in the college is aware of his temper, they steer clear of Preeti.
Preeti is a shy and docile Sikh girl but she soon reciprocates Kabir's love because not only does she like him but she also realises that he can go to any lengths to care for and love her. Like, for instance, when Preeti injures her foot one day, he shifts her from the girls' hostel to the boys' hostel so that he can look after her all the time. Kabir and Preeti get physical during the time Preeti stays with Kabir in his room.
Soon, it's time for Kabir to move to Mussoorie to another college. Preeti is crestfallen. Over the next few years, Kabir and Preeti meet one another in Mussoorie and Delhi. Their love for each other is as physical as it is sublime. After some years, Kabir becomes a surgeon of repute. Preeti also becomes a doctor.
One day, Kabir goes to Preeti's home in Bombay to take her to his house for the wedding celebrations of his elder brother, Karan (Arjan Bajwa). Preeti's father sees Kabir and Preeti kissing lip-to-lip on their terrace and is so angry that he actually throws Kabir out of his house. Kabir pleads with Preeti's father to hear him out as he wants to tell him that he intends to marry her but the father is adamant. Preeti goes to Kabir's home to pacify an agitated Kabir who then visits her house again the next day to speak with her parents. But Preeti's obstinate father ridicules him and once again throws him out of the house. An extremely angry Kabir gives Preeti six hours to make up her mind, and leaves from there.
Back home, Kabir partakes in the wedding celebrations but is so disturbed mentally that he consumes glasses after glasses of alcohol and even injects himself with drugs. He becomes unconscious and remains so for two days, unaware that Preeti had come visiting and had been dragged back to her home by her family, and was now being married off to a Sardar chosen by her father.
Kabir is devastated when he regains consciousness and he goes to Preeti's house to stall the marriage even as it is being solemnised. But he fails to do so. From now on, a devastated Kabir is on a path of self-destruction. Having been thrown out of his home by his disgusted father (Suresh Oberoi), Kabir drinks and does drugs morning to night. Unable to forget Preeti, he has casual relationships with several girls including film actress Jia (Nikita Dutta). His alcohol consumption and drugs intake now start affecting his performance in the operation theatre too.
His family is worried, his best friend, Shiva (Soham Majumdar), is concerned as hell but Kabir couldn't care less. It almost seems as if Kabir is out to kill himself.
What happens thereafter? Does Kabir reform? Is he able to get over Preeti? Does he marry some other girl? Does he meet Preeti again?
The film is a remake of Telugu super-hit Arjun Reddy. The story and screenplay are penned by Sandeep Reddy Vanga and they are both excellent. The story about an obsessive lover is so arresting that it consumes the audience completely. Kabir and Preeti are, nature-wise, poles apart and yet their love for each other is so unflinching that it strikes a chord in the viewer's heart. The story has plenty of twists and turns and keeps the audience thoroughly engaged and involved. Although Kabir is very short-tempered and hot-tempered, the audience falls in love with him because, except for his anger, his character is very likeable – he is caring, loving and extremely honest. That's the reason the viewers are with him even when he behaves crazily or gives Preeti a tight slap.
The screenplay is fast-moving and completely entertaining. The first half has a lot of humour and fun scenes because of which it entertains beautifully. The youngsters, especially, will simply go bonkers over the obsessive love of Kabir. The womenfolk will also love Kabir's character because every lady aspires for a man like Kabir in her life, minus the anger/temper, of course. Although the film is a love story, the family drama playing out in Kabir's home is also outstanding and heartwarming too. Equally heartwarming is the concern of Kabir's bosom pal, Shiva, for him. In fact, the viewer feels a lump in his throat when Shiva offers his own sister's hand in marriage to Kabir to save him from complete ruination. If the track of Kabir's father, concerned about the family reputation, is very good, so is the track of Kabir's very understanding elder brother. There are some highlight sequences: Kabir's grandmother explaining things to Kabir and Preeti; Kabir coming to blows with brother Karan; Kabir meeting his dad when his (Kabir's) grandmother passes away; Shiva following Kabir everywhere he goes, just so that he can control Kabir and his anger; the last scene when Kabir, Karan and their dad are all dressed in similar kurtas, and their wives are all in pink sarees. The obsessiveness of Kabir is, of course, the film's mainstay. Kabir's reaction when he is being interrogated for professional lapses is very heartwarming.
Although the second half is tension-ridden and more serious, it never gets irritating. Yes, there are a few repetitive or boring parts but the plus points in the post-interval portion are so many and so outstanding that those repetitive and boring parts pale into insignificance in comparison. Overall, the screenplay also boasts of some very bold scenes which may shock the more orthodox audience but will be loved by the youth. The climax is very interesting and will have the weak-hearted weeping.
Dialogues, written by Siddharth-Garima, are excellent. They are also very bold and beautiful. Kudos to the CBFC for passing swear words in abundance.
Shahid Kapoor is outstanding in the title role. He has performed so brilliantly that he would be a strong contender for the best actor awards this year. He looks very good and lives the character of Kabir Singh. His biggest achievement is that he has played the character without any inhibitions, whatsoever. Kiara Advani looks extremely beautiful and acts very well. She lends a lot of grace to her character by her mature performance. Suresh Oberoi shines as Kabir Singh's father. Arjan Bajwa (in special appearance) deserves a lot of praise for adding the perfect amount of restraint to the character of Karan. Soham Majumdar is simply splendid in the role of Kabir's best friend, Shiva. He wins the audience over completely. Nikita Dutta lends good support in a special appearance in the role of Jia. Kamini Kaushal leaves a wonderful mark as Kabir's grandmother. Adil Hussain has his moments in a special appearance as the medical college dean. Anurag Arora leaves a fine mark as Preeti's father. Kunal Thakur stands his own as Kabir's friend, Kamal. Vinay Sharma is lovely as Kalyan Sir. He gives a heartfelt performance. Dolly Mattu (as Kabir's mother), Suparna Marwah (as Preeti's mother), Swati Seth and Anusha Sampath (both as Kabir's college friends), Geetika (as Preeti's roommate) and Parakh Madan (as Preeti's sister) provide very good support. Harsh Singh (as the lawyer of Kabir Singh) and Ankush Deshmukh (as film star Jia's manager) lend lovely support. Vanita Kharat excels as Kabir's maid. Amit Sharma (as Amit from the rival team of football players), Aanchal Chauhan (as Karan's wife), Mitansh Lulla (as Preeti's brother), Urvashi Panchal (as nurse Durga), Siya Mahajan (as nurse Rani), Gagandeep Singh (as Preeti's husband), Abhay Raj Singh (as Preeti's brother-in-law), Vipul Deshpande (as the hospital doctor) and Meneka Kurup (as the lady judge) are all effective. Others do as desired.
Sandeep Reddy Vanga's direction is extraordinary. The narration of such a difficult story is not easy, and Vanga could've gone overboard. But he is in great command in the film. He has extracted superb work from out of his actors. He has also made the film an enjoyable wholesome entertainer. Musically, all the songs are well-tuned. The 'Bekhayali' song (composed by Sachet-Parampara) is a hit number, beautifully written by Irshad Kamil. The other songs (music by Mithoon, Amaal Malik, Vishal Mishra, Sachet-Parampara and Akhil Sachdeva) are all melodious. Lyrics (Irshad Kamil, Manoj Muntashir, Mithoon and Kumaar) are weighty. Harshvardhan Ram­eshwar's background music is impactful. Santhana Krishnan Ravichand­ran's cinematography (associate cinematogrpahy by Prince Anderson) is just too lovely. Afzal Usman Khan's action and stunt scenes are very realistic and thrilling. Mansi Dhruv Mehta's production designing and Pradip Jadhav's art direction are of a fine standard. Aarif Sheikh's editing (Mohammad Zayeemuddin is the associate editor) is suitably sharp.
On the whole, Kabir Singh is a surefire hit. The script is supremely powerful, the performances are splendid, and the narration is terrific. This one will definitely join the Rs. 100-crore club and it has bright chances of touching the Rs. 175-crore mark.
Released on 21-6-'19 at Regal (daily 2 shows) and other cinemas of Bombay thru AA Films. Publicity: excellent. Opening: superb. …….Also released all over. Opening was fantastic everywhere.