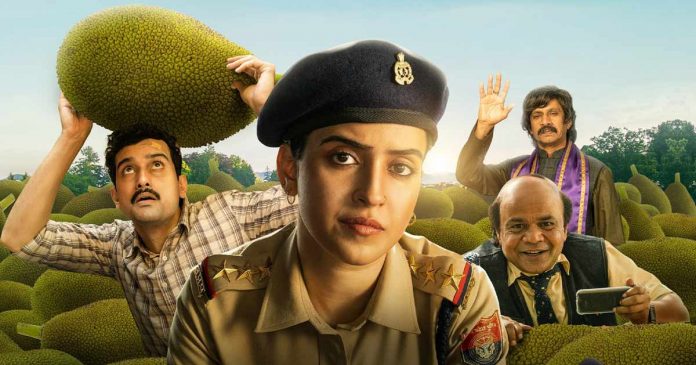 Balaji Telefilms and Sikhya Entertainment's Kathal is the story of a young police officer who is assigned a bizarre case to solve.
Mahima Basor (Sanya Malhotra) is a young police inspector whose senior (Gurpal Singh) assigns her a weird case for investigation. Local MLA Pateria (Vijay Raaz) complains to the police about two jackfruits missing from the tree in his garden. Mahima is asked to investigate the case and book the thieves. In the process, Mahima chances upon another far more serious case — of the gardener's daughter going missing. Pretending to solve the case of the missing jackfruits, Mahima actually investigates the case of the missing girl. She realises that many girls have gone missing in the past too, in her village, but no action has ever been taken and the mysteries, therefore, remain unresolved.
Ashok Mishra and Yashowardhan Mishra have written a story and screenplay, which keep the audience engaged. At first, the frivolity of the jackfruits case keeps the viewers entertained but once the case of the missing girl surfaces, it becomes entertainment of a different kind. Of course, the comedy of the earlier part is replaced by a more serious drama later, but there is a dash of comedy even in the investigations of the case of the missing girl. Yes, it does seem a bit stretched after a point of time but the two writers intelligently keep introducing new characters every 5-10 minutes to keep the audience's interest alive. The duo's dialogues are very beautifully written, adding a great deal to the fun quotient.
Sanya Malhotra shines in the role of police inspector Mahima Basor with a sincere performance. Anantvijay Joshi is fair as constable Saurabh. Vijay Raaz does an extraordinary job as MLA Pateria. Rajpal Yadav is pretty entertaining as the over-zealous TV reporter, Anuj. Neha Saraf lends excellent support as Kunti. Gurpal Singh makes his presence amply felt as SP Angrez Singh Randhawa. Govind Pandey is first-rate as Mishraji. Brijendra Kala is alright as Srivastava. Aeklavya Tomer is nice as Veer Singh. Satish Sharma leaves a fine mark as DSP Sharma. Dhirendra Tiwari has his moments as Sanjay. Namrata Dhamija makes her presence felt as Bindeshwari. Megha Shukla is natural in the role of Pinky. Ashutosh Dwivedi (as Pathak of Karehra police station) is lovely. Deepak Soni is realistic as Brahmadutt Pandey. Ravi Jhankal creates a nice impression as Chandulal. Ambrish Saxena is good in the role of gardener Birwa. Apoorva Chaturvedi is okay as Amiya. Apratim Mishra leaves a fine impression as Rinku paanwala. Ranjan Raj shines as Bhoora. Lucky Khan is good as Balbir Bundela of Chhatarpur police station. Shashi Ranjan (as constable Pahad Singh), Aradhana Paraste (as the sweeper), Vikram Singh (as journalist Pankaj), Vijay Kumar (as Narottam Verma), Shashie Verma (as Nek Singh), Shivani Kahar (as Supul), Sunil Uppal (as Maharaj), Shantanu Pandey (as Lallu), Sanjay Dadich (as Sunil Parihar), Piyush Mandhan (as Nanha), Tapsi Nagraj (as the lady in Anuj's village home), Ajay Pal (as Saale sahab), Hari Narayan (as Magan), Shiv Katariya (as Jagan), Ashwani Mishra (as Chhagan), Vivek Namdev (as Naveen), Raghubir Yadav (as Gulab Seth), and the others lend nice support.
Yashowardhan Mishra's direction is very good. He has remained true to the drama and narrated it in an entertaining way. He has also created the village atmosphere very realistically. Ram Sampath's music and Ashok Mishra's lyrics are in synch with the requirements of the drama. Harshvir Oberoi's camerawork is alright. Mohd. Amin Khatib's action and stunt scenes are okay. Production designing (by Pronita Sushant Pal and Naidita Singh) is of a fine standard. Prerna Saigal's editing is sharp.
On the whole, Kathal is a fair entertainer. Performances of the actors, dialogues, village ambience and the simplicity of narration are its biggest plus points.
Released on 19-5-'23 on Netflix.