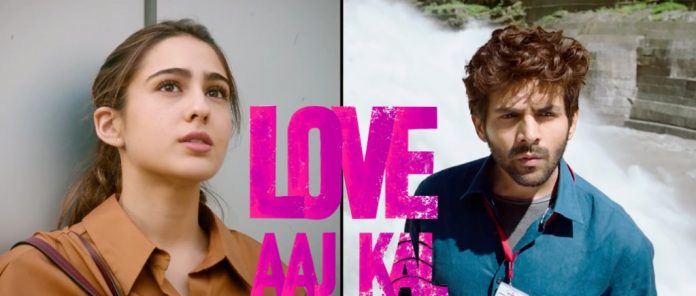 Jio Studios and Window Seat Films' Love Aaj Kal 2020 (UA) is a love story much like the 2009 film, Love Aaj Kal, made by the same director, Imtiaz Ali. It narrates the love story of a girl and a boy, and the love story is in many ways similar to the love story of another girl and another boy in a different time zone.
Veer (Kartik Aaryan) loves Zoe (Sara Ali Khan). Although Zoe also likes Veer, she is so career-minded that she wants relationships without commitment. In other words, she wants to have her share of fun with boys but marriage is a strict no-no for her. Family pressure is also one of the reasons for Zoe to be so career-conscious. By the by, Zoe realises that she has fallen madly in love with Veer. She is torn between her budding career and her love.
Zoe often speaks with Raj (Randeep Hooda) whose cafe she uses as her work place. Raj narrates her his love story with Leena (Aarushi Sharma). However, although it is Raj's love story, set several years in the past, the audience sees Raghu (Kartik Aaryan) enacting the role of Raj. So, on the screen, the love story unfolds as the love story of Raghu (Kartik Aaryan) and Leena (Aarushi Sharma). Zoe draws parallels between her own love story with Veer, and the love story of Raj/Raghu with Leena. She learns lessons of life and often acts impulsively after hearing out Raj. Since the story of Raj and Leena is narrated by him in bits and parts, Zoe's actions keep changing at various points of time, depending on what part of the love story she hears.
What happens to the love story of the career-minded Zoe and the besotted Veer? What had happened to the love story of Raj/Raghu and Leena?
Imtiaz Ali has written a love story which gives the impression that Zoe is most confused and fickle-minded. No doubt, a girl can be as fickle-minded and unsure as Zoe but the problem is, the Hindi film-going audience is not used to seeing the heroine behave so impulsively and so 'stupidly', if one may say so. Sometimes, Zoe doesn't want to commit to the relationship, sometimes she wants to sacrifice her career for the sake of love, sometimes she cries tears of joy because she is in love, sometimes she cries because she doesn't want to give up her career which has just about started, sometimes she wants to settle down with Veer, sometimes she doesn't want marriage to bog her down. Frankly, the indecisiveness of Zoe will irritate the majority of the viewers because she is not the only girl who faces the daunting task of balancing personal life with her professional life. So many girls do it everyday, so what's the big deal, the masses are apt to ask. Writer Imtiaz Ali has not been able to answer this question. All he does is to state that Zoe is like that, but since Zoe is the heroine of the drama, the audience finds it very difficult to accept her with such characteristics. Of course, a section of youngsters and class audiences will find the character of Zoe very different and, therefore, appealing too, but the large mass base of audience may not really sympathise with Zoe. And that can be catastrophic for a love story because what's a love story in which the viewers cannot feel for or empathise with the protagonist.
Imtiaz Ali's screenplay oscillates between two extremes. Zoe appears like a ping pong ball who reaches out to Veer, then leaves him, then wants to reach out to him again, then wants to quit the relationship, then approaches him again… Zoe and Veer's love story is interspersed with the love story of Raj/Raghu and Leena, and while this format seems interesting in the beginning, it begins to irritate the viewers after a point of time. Probably because the outcome of the love story of Raj/Raghu and Leena is quite obvious at one point of time, the continuation of that love story thereafter doesn't have the same impact. Because the screenplay keeps swinging between the present love story (Veer-Zoe) and the past love story (Raj/Raghu-Leena) and also because the love story of Veer-Zoe becomes repetitive after a point of time, the drama starts to bore the audience as it keeps going in circles. Rather than feeling empathy towards Zoe, the viewers actually start to wonder if she's crazy because, after all, who would want to sympathise with a girl who doesn't know what she wants from life. What's more, even Zoe's mother is as undecided as her, or so it seems. The climax looks hurried because the viewers don't experience any kind of high. This is also because by the time the climax happens, the audiences are so sick and tired that rather than feeling any kind of emotions for the characters, they are happy that the drama is ending. This kind of a feeling can be very bad for any film.
Imtiaz Ali's dialogues are real and meaningful. They are better than his story and screenplay. It must be mentioned here that the CBFC has been liberal in passing several English swear words.
Kartik Aaryan does a splendid job as both, Veer and Raghu. The innocence and integrity on his face are his biggest assets for the two roles and he uses them to great advantage. But his performance in the scene in which Veer sits on the floor by Zoe's bedside and tells her something very important after he picks her up in a sozzled state is found lacking. His acting in that scene should have moved the audience to tears. Sara Ali Khan has acted very well and plays the confused girl of today aptly. However, even her performance in some dramatic and melodramatic scenes is not as good as it ought to have been. Sara has looked super-glamorous and for that special mention must be made of her costumes, hairstyles and makeup. Aarushi Sharma does a beautiful job as the simpleton Leena who doesn't hesitate in expressing her love. Randeep Hooda is nice as Raj. Simone Singh stands her own with a fine performance as the mother of Zoe. Guneet Singh Sodhi (as Zoe's selfish boyfriend), Venus (as Zoe's sister), Siddharth Kak (as the owner of Mehta Group), and Mohit Choudhary (as the interviewer in the Mehta Group office) lend able support.
Imtiaz Ali's direction is of the kind which, like his script, would appeal only to a section of the youth and class audiences. Like his script, his narration also serves to often confuse the audience. So while the technical aspect of his direction is very good, the same can't be said about the narrative style. Music (Pritam) is good but the absence of super-hit songs is sorely felt, more so because the old Love Aaj Kal had outstanding songs which are popular even today. 'Shaayad' and 'Haan main galat' are melodious. Lyrics (Irshad Kamil) are of a high standard. Song picturisations (by Vijay Ganguly) are not as eye-filling as they should've been. Ishaan Chhabra's background music is impactful. Amit Roy's cinematography is excellent. Parvez Shaikh's action scenes are nice. Suman Roy Mahapatra's production designing and Trupti Chavan's art direction are of a good standard. Aarti Bajaj's editing is sharp but, of course, the confusion created by the script is an irritant.
On the whole, Love Aaj Kal 2020 is a major disappointment. It will not be able to keep the large mass base of audience happy. A section of the youth and class audiences (who frequent high-end multiplexes) in the big cities will like the film but the masses, families, and audience of single-screen cinemas, smaller centres and lesser multiplexes will not be impressed by the film at all. Although the producers have made huge under-production profits due to sale of non-theatrical rights for fancy prices and of all-India and Overseas rights, also at high prices, the all-India distributors will not be able to even break even, leave alone making profits. The film is a love story with a terrific title (recall) value and has, therefore, opened very well on Valentine's Day, but collections will come down fast and furiously.
Released on 14-2-'20 at Regal (daily 4 shows) and other cinemas of Bombay thru PEN-Marudhar Cine Entertainment. Publicity: good, quantitatively speaking, but average, qualitatively-speaking. Opening: very good in good multiplexes but ordinary to good otherwise. …….Also released all over. Opening was mixed everywhere.