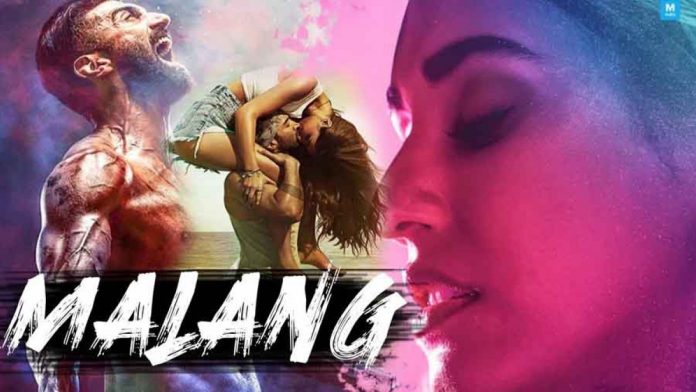 T-Series and Luv Films' Malang (A) is the story of a man on revenge.
Advait (Aditya Roy Kapur) is out of jail and now on a revenge spree. One police officer of Goa is killed, then a second, and then a third one. Advait informs of the impending murders to crime branch police inspector Agashe (Anil Kapoor). Police officer Michael (Kunal Kemmu) is as perplexed about the murders as Agashe. Even as investigations are on and the police is on the hunt for the murderer, he (Advait) surrenders. But that's not all. There's one more murder that happens. Why does Advait surrender? Who is the last person to be killed? And why?
Aseem Arora has written a fairly interesting revenge drama but once the motive is revealed, it gives the audience the feeling of much ado about a small issue. Hence, the story is engaging in the first half but drops post-interval, when the motive is revealed. Also, once the reason for the revenge is out, the viewers are left wondering why Michael was involved in the guessing game. Since he was connected with the killer, how did he not connect the dots? After all, he is a police inspector, not a peon! The screenplay, written by Aniruddh Guha and Aseem Arora, is interesting on parts only but some of the turns and twists don't make as much sense as they should. For instance, the action taken by Michael and his colleagues is too extreme if only because Michael assumes that Advait or his girlfriend, Sara (Disha Patani), would do something. The fact is, his assumption could be baseless. Also, if Michael was so bothered about their probable complaint, couldn't he simply negate their version by a counter-version? Who would ever know the truth? And frankly, Michael's fear looks too silly because in today's age and time, the fear of taboo in Michael's mind is inexplicable. What's more, if Michael was so bothered about the story becoming public knowledge, why did he let the information slip out of his lips? There are too many unanswered questions for the audience to really accept the drama whole-heartedly, especially after interval. Also, keeping the audience guessing as to why police officers are being murdered one after another, for such a good part of the drama (till the track of Michael is revealed) is akin to testing their patience.
Besides, at the end of the day, the drama looks stretched too much because it moves on one track. The romantic track comes in flashbacks because the real story is of just one day — Christmas Eve. Aseem Arora's dialogues are quite good but should've been more punch-packed.
Anil Kapoor is excellent in the role of crime branch police officer Agashe. He is superb in light and action scenes as also in emotional ones. Aditya Roy Kapur looks wonderfully lean with his excellent physique and does a very fine job as Advait. If he is suitably soft in romantic scenes, he breathes fire into the action scenes. Disha Patani looks beautiful and acts with effortless ease in the role of Sara. Youngsters will go ga-ga over her figure in full view in the bikini. Kunal Kemmu gives a truly mature performance as Michael. He has got a lengthy role and does justice to it. Elli Avram lends fairly nice support as Jessie. Amruta Khanvilkar leaves a lovely mark in a special appearance as Michael's wife. Makarand Deshpande makes his presence felt in a special appearance. Vatsal Sheth and Shaad Randhawa have their moments in special appearances. Sunil Rodrigues is good in a special appearance. Keith Sequeira (as Nitin Salgaonkar), Prasad Jawade (as Jadhav), Shashank Darne (as Pandey), Sanjeev Dhuri (as Borkar), Ogunro Lucas (as Obado), Devika Vatsa (as Agashe's daughter), Ravi Muthu Raman (as Nigel) and the others lend fair support.
Mohit Suri's direction is good but it has its share of flaws too. He has made a stylised film and has captured the world of drugs and rave parties in Goa very effectively. However, he seems to have lost grip in the second half which, therefore, cannot sustain the audience's interest in the same way as the pre-interval portion. Music (Mithoon, Ankit Tiwari and Ved Sharma) is good but there's not a single haunting melody. The title track and 'Phir na mile kabhi' are the more popular tunes. Lyrics (Sayeed Quadri, Kunaal Verma, Harsh Lambachiyaa and Prince Dubey) are good. Song picturisations (by Vaibhavi Merchant and Raju Khan) are nice but not extraordinary. Raju Singh's background music is excellent. Vikas Sivaraman's cinematography is terrific. Aejaz-Gulab do a fine job of the action and stunt scenes. Production designing (by Vintee Bansal and Sidhant Malhotra) is of a good standard. Devendra Murdeshwar's editing is quite sharp.
On the whole, Malang is an expensively made stylish film with a good first half but its second half is not up to the mark. It will, therefore, not be able to score at the cinemas. In other words, its business will not be commensurate with its cost.
Released on 7-2-'20 at Regal (daily 4 shows) and other cinemas of Bombay thru Yash Raj Films Distributors. Publicity: good. Opening: fair. …….Also released all over. Opening was lower than expected almost everywhere.