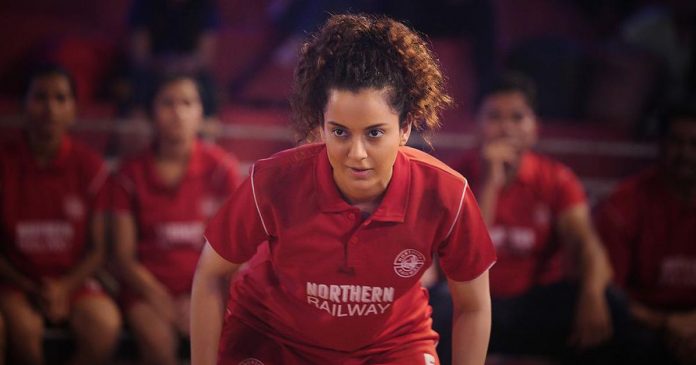 Fox Star Studios' Panga is the story of a middle-class mother of a little child, who dares to dream.
Jaya Nigam (Kangana Ranaut) is married to Prashant Sachdeva (Jassie Gill) and the two have a little son, Adi (master Yagya Bhasin). Jaya was the captain of the Women's Kabaddi team before marriage and was an accomplished kabaddi player. She had given up the game after marriage, having resigned herself to domesticity and a nine-to-five job in the Railways, thanks to being a kabaddi player. Then she is prompted to dream of staging a comeback in the game. It is, of course, not easy for her as she has to look after her family and also because not many are willing to have faith in her game after the long gap. But Jaya is so passionate about carving a niche for herself and creating her own identity that she pursues her dream devotedly. What happens thereafter?
The story, by Fox Star Studios team and fleshed out by Nikhil Mehrotra and Ashwiny Iyer Tiwari, is engaging, interesting and very real. This makes it very relatable. The screenplay, which is written by Nikhil Mehrotra and Ashwiny Iyer Tiwari, with additional screenplay by Nitesh Tiwari, is wholesome. It has plenty of comedy, especially in the first half, drama, melodrama, and a dash of emotions too. The entire drama looks like it were unfolding in front of the audience's eyes. The transformation of a middle-class mother into a sports enthusiast is very vividly written. The pain and anguish of Jaya and her family members have been so wonderfully penned that they seem very real. Although a lot of people would understand the outcome of the drama, the unpredictability of the day-to-day happenings is what sets the screenplay apart. Also, the freshness in the screenplay is unmistakable even though at one level, it looks like Dangal with roles reversed. A lot of credit must be given to the writers for etching out the characters so beautifully and for having few but such varied and well-defined characters that each one makes a phenomenal impact. Also, each of the main characters is so endearing that the audiences fall in love with them as the drama unfolds. The climax, as it should be in any sports-based film, is nail-biting and will evoke a thunderous round of applause from the viewers. It wouldn't be a surprise if the film got a standing ovation in many cinemas across the country. For, it is as much about the victory of the human spirit as it is about women empowerment. The duo's dialogues, with additional dialogues by Nitesh Tiwari, are simply splendid while being extremely real. The scenes and dialogues are often so realistic and so entertaining that the audience would clap at several places out of sheer delight and joy.
Kangana Ranaut has performed extraordinarily. So wonderful and realistic is her acting that it is impossible to imagine anyone else in the role of Jaya Nigam. She makes the inner feelings of Jaya Nigam come to the fore with her brilliant portrayal. Her transformation into the slim and fit kabaddi player after many years of marriage and motherhood is noteworthy. It wouldn't be wrong to say that she has lived every moment of the role. It shouldn't be a surprise at all if she bagged the award for the best actress for her role as Jaya Nigam. Jassie Gill endears himself to the viewers in the role of Prashant Sachdeva. His acting is supremely natural. To his credit, it must be added that not in a single scene does he try to take centrestage — and that's saying a lot for an actor who plays the male hero. Master Yagya Bhasin is first-rate as Adi Sachdeva. His expressions and dialogue delivery are so good that they enhance the impact of his scenes. It would not be an exaggeration to say that his character and acting will actually be discussed by the viewers because despite being a super-smart kid, he does not become the typical filmi oversmart kid who gets on the audience's nerves. This performance could easily fetch Yagya Bhasin a number of awards. Richa Chadha lends admirabe support in the role of Meenu. Her acting is remarkable and truly natural. Neena Gupta makes her presence beautifully felt in a brief but significant role. Rajesh Tailang is lovely as the Indian women's kabaddi coach. Smita Dwivedi makes a fine mark as captain Smita. Megha Burman leaves a fine impression as Jaya's room mate, Nisha. Others lend admirable support. Special mention must be made of Kusum Shastri (who plays Jaya's neighbour), Sanjeev Shrivastava (as Meenu's prospective father-in-law), Alok Singh (as Meenu's prospective groom), Sudhanva Deshpande (as the Indian Railways coach), Shantanu Das (as the Eastern Railways coach), Varun Dubey (as the Zee News anchor), Dr. Namrata Joshi (as Jaya's doctor), and some others.
Ashwiny Iyer Tiwari's direction is splendid. She adopts a narrative style which makes the drama hold appeal for audiences of all age groups and from all strata of society. If she handles the comedy scenes with flourish, she treats the emotional ones with the sensitivity they deserve. Her direction and the writing of the writers suggest that the director and the writers are very insightful. Music (Shankar-Ehsaan-Loy) is very melodious and appealing. The songs come in the film as if they are furthering the drama. Javed Akhtar's lyrics are truly very good. Sanchit Balhara and Ankit Balhara's background music is lovely. Jay Patel's cinematography is very nice. Salaam's action choreography is superb. Sandeep Meher's production designing is appropriate. Ballu Saluja's editing is very sharp and crisp.
On the whole, Panga is a hit. It has started terribly slow at many places but collections will definitely pick up due to fantastic word of mouth. Women will simply adore the film. It deserves to be exempted from tax not just by the state governments but also by the Central government because the film is a genuine shot in the arm for the women empowerment movement.
Released on 24-1-'20 at Inox (daily 5 shows) and other cinemas of Bombay by Fox Star Studios India Pvt. Ltd. Publicity: so-so. Opening: dull. …….Also released all over. Opening was not upto the mark anywhere.