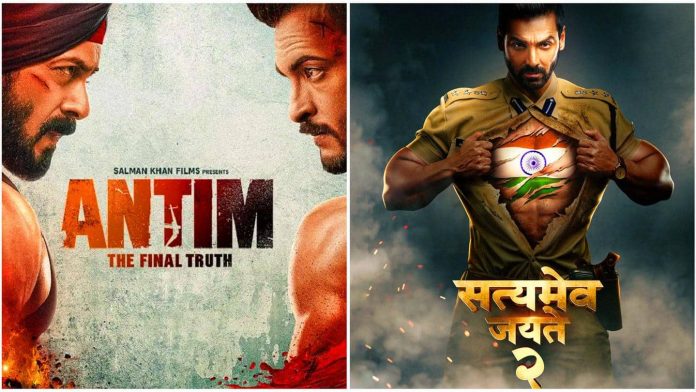 The tension between the distributors/producers of Antim and Satyameva Jayate 2 is not over although the former film is slated for release tomorrow (26th November) while the latter has already opened partially today (25th). For the uninitiated, John Abraham starrer Satyameva Jayate 2 has opened today in all multiplexes and in those single-screen cinemas where there was no ambiguity about the number of shows it would be screened in or where there was no other film which was running and which was not allowed to be discontinued by the distributor concerned. Many multiplexes opened Satyameva Jayate 2 in shows, the number of which was fixed only for today. The exact number of shows in such multiplexes from tomorrow onwards would depend on the shows allotted to this film as well as to Antim. What's making it difficult is that Sooryavanshi and Bunty Aur Babli 2 are also to be accommodated in the multiplexes in their fourth and second weeks respectively.
While on Bunty Aur Babli 2, it may be mentioned here that its distributors graciously gave away some shows in the multiplexes to Satyameva Jayate 2 from today but they did not permit single-screen cinemas to discontinue the film from today to accommodate Satyameva Jayate 2.
The biggest problem, of course, is the show-sharing between the two new releases of this week. Of course, a settlement will have to be finally arrived at but even at this stage, the pulling and pushing is going on as the distributors of both the films — Antim and Satyameva Jayate 2 — jostle for more shows.
With the dull opening of SJ2 today all over India, the benefit — as far as shows are concerned — would now go to Antim. The producers of SJ2 would have realised the grave error they committed in releasing their film on an odd day (Thursday). Of course, their logic must've been that they would get a no-opposition day today, but the no-opposition day has not helped the film one bit as it did not get the kickstart the producers had hoped it would get. Instead, given the lacklustre opening of the film today, exhibitors would now feel inclined to give more shows to Antim from tomorrow than to SJ2 which has failed to attract crowds. Unfortunately, the move by the producers of Satyameva Jayate 2, which was made to stand the film in good stead, has worked to their own disadvantage.