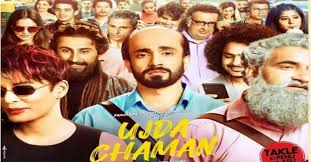 Panorama Studios' Ujda Chaman (UA) is the story of an eligible bachelor who has a problem of premature balding.
Chaman Kohli (Sunny Singh) is of marriageable age. He teaches Hindi in a college, and lives with his parents (Atul Kumar and Grusha Kapoor) and younger brother (Gagan Arora). Since he has an almost bald pate due to premature balding, his students tease him by calling him names like 'Takla'. Not just that, Chaman is also finding it very difficult to get married as girls and their families reject him as soon as they get to know that he is bald. Besides him, his parents are also frustrated. To make matters worse, an astrologer (Saurabh Shukla) has predicted that if he doesn't get married soon, he might remain a bachelor all his life.
Chaman tries wooing some female professors from his college but meets with no success. He then tries his luck on Tinder, a social media platform for boys and girls to interact. He meets Apsara Batra (Maanvi Gagroo) on the platform and they soon meet personally too. While she finds his being bald a big negative for agreeing to marry him, he finds her so overweight that he doesn't approve of her as his life partner. But Chaman's parents see a potential daughter-in-law in Apsara. Likewise, Apsara's parents (Rajendra Chawla and Suparna Marwah) approve of Chaman as their son-in-law.
What happens thereafter? Do the two unite in matrimony?
The film is a remake of the Kannada film, Ondu Motteya Kathe. The script for the Hindi remake is written by Danish J. Singh. The story is quite nice and the message that it conveys is also good but, unfortunately, the screenplay is so restricted that it seems like the drama is repetitive. Rather than a comedy which it promises to be, the screenplay is full of incidents that don't create much fun. Yes, there are a few scenes which evoke laughter but they just aren't enough. In a drama of this kind, the audience expects nothing short of a laugh riot which the screenplay doesn't deliver. Also, once Chaman and Apsara disapprove of one another, the focus shifts more towards Apsara's overweight issue rather than staying on Chaman's bald pate. In that sense, the real issue gets diluted — for which the audience is not prepared. Also, the screenplay is mostly confined to one aspect — Chaman's marriage. Having said that, it must be added that some scenes are quite entertaining. For instance, the scenes in which Chaman's mother starts crying in front of the astrologer evoke laughter. Yet, the laugh-a-minute quality is missing and that's a major letdown. Consequently, the climax is not as exhilarating as it should've been.
Danish J. Singh's dialogues are good but they aren't as punch-packed as they should've been.
Sunny Singh is quite alright as Chaman Kohli but he is not in his element, probably because of the weak script. Maanvi Gagroo is earnest and performs ably. Atul Kumar stands his own as Chaman's father. In the role of Chaman's mother, Grusha Kapoor is extraordinary. Saurabh Shukla gives a superb account of himself as the astrologer. Gagan Arora lends decent support as Chaman's brother. He looks handsome. Rajendra Chawla and Suparna Marwah lend fine support as Apsara's parents. Sharib Hashmi is very effective as the peon. Aishwarya Sakhuja looks pretty and acts ably as Prof. Ekta. Karisma Sharma stands her own as Aaina. Abhilasha makes her presence felt in a tiny role as the peon's wife. Gurpal Singh (as Sodhi uncle), Pankhuri Gidwani (in a special appearance as Reema) and Satish Sharma (as the college principal) are adequate. Others are alright.
Abhishek Pathak's direction is fair, considering that this is his maiden attempt. But his narration is straight, without high points. Gourov-Roshin's music is alright and so are Devshi Khanduri's lyrics. But there is no hit song in the film. Guru Randhawa's recreation of the 'Outfit' song is quite nice. Song picturisations (by Howard Rosemeyer; 'Outfit' song by Bosco-Caesar) are alright. Hitesh Sonik's background music is quite nice. Sudhir Chaudhary's cinematography is decent. R.P. Yadav's action and stunt scenes are okay. Art direction (Akbar Khan and Foram Nirmal) and production designing (Tarpan Shrivastava) are of a fairly nice standard. Mitesh Soni's editing is quite sharp.
On the whole, Ujda Chaman is definitely not the laugh riot it ought to have been and is, in that sense, a very disappointing fare. Also, the fact that the other film on the same topic of premature balding — Bala — is slated for release next week itself, will tell on the box-office performance of Ujda Chaman.
Released on 1-11-'19 at Inox (daily 4 shows) and other cinemas of Bombay by Panorama Studios. Publicity: good. Opening: dull. …….Also released all over. Opening was unimpressive everywhere.