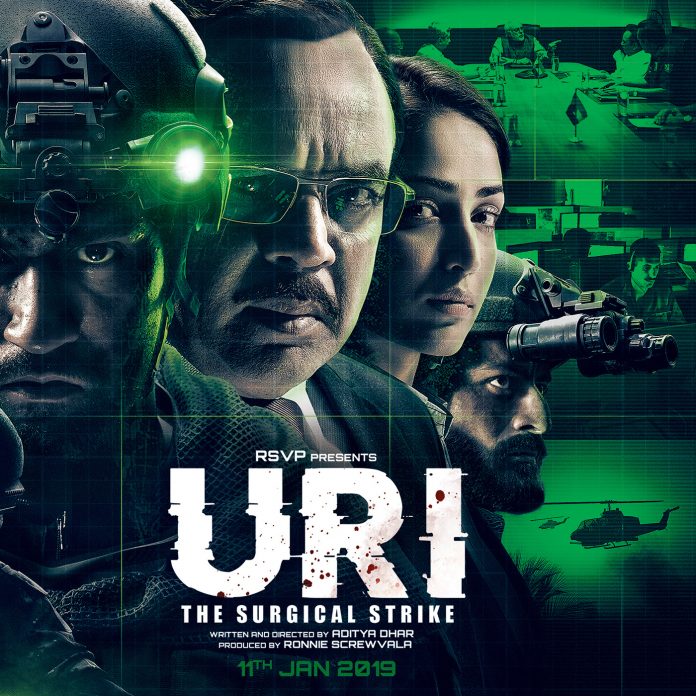 RSVP Movies' Uri – The Surgical Strike (UA) is, as the title suggests, about the surgical strike by the Indian army in retaliation to the terrorist attack by Pakistan on Indian armymen in Uri in September 2016. The entire operation was planned in 11 days and executed with brilliance of a different level altogether.
Major Vihaan Singh Shergill (Vicky Kaushal) is a fearless armyman who is planning to retire from the army so that he can look after his mother (Swaroop Sampat) who lives in Delhi and who suffers from Alzheimer's disease. His sister, Neha (Manasi Parekh Gohil), looks after their mother but because the mother's condition is deteriorating, he wants to move to Delhi from where he is posted. The prime minister, aware that he is an asset to the Army, has him transferred to the Delhi office so that he can look after his mom without having to resign. Neha's husband, Karan Kashyap (Mohit Raina), is also a Major in the Army. Karan and Neha have a daughter (baby Riva Arora).
Even as Vihaan is in Delhi, Pakistani terrorists strike at the Uri camp in India and kill Indian armymen including Vihaan's brother-in-law, Karan Kashyap. Emotions are running high in government and military circles. India has the option of declaring war on Pakistan or simply forgetting about the terrorist attack. But while deliberating on what is to be done, a third option emerges – and that's the option India exercises. It plans and executes a surgical strike in Pakistan-occupied Kashmir where the hideouts of the terrorists are. The film is about the planning and execution of the surgical strike under the leadership of Vihaan. Pallavi (Yami Gautam), an intelligence officer, does the research and works as part of Vihaan's team.
Aditya Dhar has penned an interesting story based on a true-life happening. Since it is a recent happening, Dhar has gone by the assumption that people know everything about it. This is a wrong assumption because while a section of the audience does remember the Uri attack and the retaliatory surgical strike by India, there are many who may not remember the same as vividly. So, Dhar should've explained the drama in more detail. This lapse is evident in the first half when the audience experiences the lack of well-explained scenes.
Aditya Dhar's screenplay is engaging and engrossing. The second half, especially, is very interesting – and the last 30 minutes are truly terrific. There are moments when the audience experiences an adrenaline rush and there are points where the patriotic fervour comes to the fore. Two such instances are when NSA chief Govind Bhardwaj (Paresh Rawal) asks the army intern, Ishaan (Akash Deep Arora), to make multiple Garudas, and the scene in which pilot Seerat Kaur (Kirti Kulhari) comes to the rescue of Vihaan and his team members after the surgical strike, in the nick of time. Aditya Dhar's dialogues are good but there could've been some more punches packed in them.
Vicky Kaushal does a very fine job as Major Vihaan Singh Shergill. He looks every inch and acts completely like an army Major. He has worked extremely hard and the results show. Yami Gautam looks very pretty and acts ably as Pallavi. Paresh Rawal leaves a mark as NSA chief Govind Bhardwaj. He underplays very well and expresses a lot through his facial expressions and body language. Mohit Raina looks good and leaves a mark as Major Karan Kashyap. Manasi Parekh Gohil is quite nice as Neha Kashyap. Baby Riva Arora moves the audience to tears in the scene in which she pays tribute to her father. Swaroop Sampat is natural as Vihaan's mother suffering from Alzheimer's disease. Kirti Kulhari is suitably restrained as army pilot Seerat Kaur. Rajit Kapur, in a special appearance, makes his presence felt in the role of the prime minister. Shishir Sharma leaves a fine mark as General Arjun Singh Rajawat. Yogesh Soman is effective as Ravinder Agnihotri. Navtej Hundal is good as the home minister. Satyajit Sharma lends decent support as Lt. General Ajay Garewal. Akash Deep Arora is splendid as intern Ishaan. Dhairya Karwa leaves his mark as Captain Sartaj Singh. Ivan Rodrigues (as Brian D'souza), Pranjal Thakur (as the soldier singing in the bus), Rajesh Jhaveri (as the finance minister), Kamal Malik (as the interior minister of Pakistan), Fareed Ahmed (as the PA to NSA chief Govind Bhardwaj), Rukhsar Rehman (as Aasma), Rakesh Bedi, Muzammil Bhavani (as Farook), Aritro Banerjee (as Faizal), Rao Suhaib Khan (as the RAW agent vegetable vendor), Abrar Zahoor (as Idris Qayoom Al Baghdadi), Sunil Paliwal (as Jabbar Firozi), Sunil Mehra (as the Pakistan defence minister), Adarsh Gautam (as Brigadier Afzal), Ajit Shidhaye (as Zubair Mehmood), Anil George (as Zamir-ul-Hasan) and the others provide the necessary sup­port.
Aditya Dhar's direction is very good, especially considering that this is his debut film. The film was neither easy to write nor easy to narrate, but Dhar does both with élan, and that's his victory. Shashwat Sachdev's music is quite good – the 'Chhalla' song stands out. His background music is extraordinary and heightens the impact of the drama beautifully. Sound effects are superb. Lyrics (Kumaar, Raj Shekhar and Abhiruchi Chand) are in synch with the film's mood. Mitesh Mirchandani's cinematography is simply excellent. Stefan Richter's action and stunts are terrific. Aditya Kanwar's production designing is of a good standard. Shivkumar V. Panicker's editing is crisp.
On the whole, Uri – The Surgical Strike is a box-office winner. It will do very well in the cinemas and grow by positive word of mouth. Business in the cities and good multiplexes will be better.
Released on 11-1-'19 at Inox (daily 7 shows) and other cinemas of Bombay by Unilazer Ventures Pvt. Ltd. Publicity: good. Opening: very good. …….Also released all over. Opening was very good everywhere.