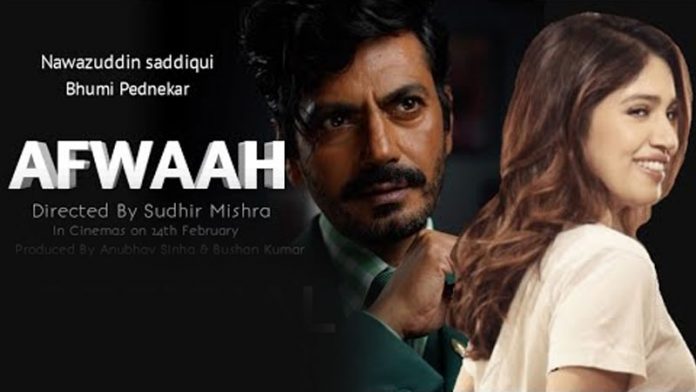 Benaras Mediaworks and Anubhav Sinha Production's Afwaah (A) is the story of how jut one rumour on the powerful social media can wreak havoc in a person's life.
Politician Vikram Singh (Sumeet Vyas) is engaged to be married to Nivi alias Nivedita (Bhumi Pednekar), daughter of politician Gyan Singh. Both are Hindus. One day, Vikram Singh starts a rumour on social media about his fiancée running away with a Muslim man, Rahab (Nawazuddin Siddiqui). He terms it a case of love jihad, to gain political mileage out of it. How one thing leads to another because of this one motivated post is what the story is all about. What ultimately happens to Nivi, Rahab and Vikram Singh forms the crux of the drama.
Sudhir Mishra has written a story about the state of affairs prevailing in today's time when social media dictates how we think and what we do. Of course, the story is one of convenience but that's not much of an aberration because the focus is on the evils of social media, which the audience would be able to identify with. The screenplay, penned by Sudhir Mishra, Nisarg Mehta and Shiva Shankar Bajpai, is interesting but having said that, it must be added that it holds appeal for the class audience mainly. So much importance has been given to social media that it sometimes appears as if social media is the be all and end all of society. While that may be true in a manner of speaking, but it is not so in practical terms because countless people survive without being on social media even today. Dialogues (by Sudhir Mishra, Nisarg Mehta and Apurva Dhar Badgaiyann) are alright.
Nawazuddin Siddiqui does a fine job as Rahab. His performance in many scenes is fantastic. Bhumi Pednekar is wonderful in the role of Nivi. She sinks into her character. Sumeet Vyas makes his mark with a fine performance as Vikram Singh. Sumit Kaul lends decent support as police inspector Tomar. Sharib Hashmi is natural as Chandan. T.J. Bhanu makes her presence felt as hawaldar Riya Rathod. Rockey Raina lends fair support as Vikram Singh's friend. Eisha Chopra is okay as Rahab's wife, Nandita.
Sudhir Mishra's direction is nice but, as mentioned above, the film is meant for a thin section of the class audience only. Shamir Tandon's music is functional. Dr. Sagar's lyrics are alright. Gilles Alain Chuyen's choreography goes with the mood of the film. Karel Antonin's background music is fair. Mauricio Vidal's cinematography is good. Riyaz-Habib's action and stunt scenes are okay. Sunayanaa Paradkar's production designing is quite nice. Atanu Mukherjee's editing is reasonably sharp.
On the whole, Afwaah is a well-made class film with weak commercial prospects.
Released on 5-5-'23 at Inox (daily 1 show) and other cinemas of Bombay thru AA Films. Publicity: poor. Opening: dull. …….Also released all over. Opening was poor everywhere.