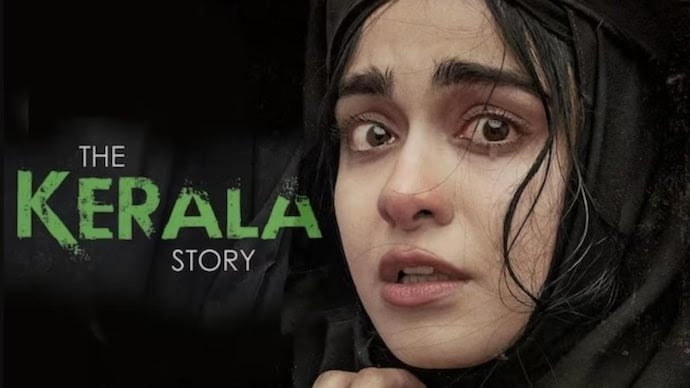 Sunshine Pictures Pvt. Ltd.'s The Kerala Story (A) is based on the true story of Hindu and Christian girls in Kerala being converted by Muslim terrorists to Islam and used as human bombs in their jihad movement. The larger aim is to convert one and all to Islam.
Shalini Unnikrishnan (Adah Sharma), Nimah (Yogita Bihani) and Gitanjali (Siddhi Idnani) are studying in the same college and live together in the hostel. While Shalini and Gitanjali are Hindus, Nimah is a Christian. They befriend Asifa (Sonia Balani) who is a Muslim. Slowly but surely, Asifa successfully poisons the minds of Shalini and Gitanjali against Hinduism so much that before they themselves know it, they have embraced Islam. Why, Shalini and Gitanjali also fall in love with two Muslim boys, Rameez (Pranay Pachauri) and Abdul (Pranav Mishra) respectively. However, Nimah is made of sterner stuff and refuses to embrace Islam.
Soon, Shalini gets physical with Rameez while Gitanjali and Abdul also get physical. The intention is that they would get married. In fact, Shalini even gets pregnant by Rameez. But before the two can get married, Rameez disappears. The leader for whom Asifa, Rameez and Abdul work, suggests that Shalini marry Ishak (Vijay Krishna) who agrees to accept the child in her womb. Shalini marries Ishak. To her horror, Shalini, who has converted to Islam and been rechristened Fatima, accompanies her husband to Syria where she leads a life she had never bargained for. But it is not easy for her to escape. Meanwhile, Gitanjali dumps Abdul who then makes their private videos public on social media, prompting Gitanjali to commit suicide. What happens to Shalini alias Fatima? And what happens to Nimah? It is reported that thousands of gullible Hindu and Christian girls were converted to Islam in Kerala alone.
Suryapal Singh, Sudipto Sen and Vipul Amrutlal Shah have written a very stark and absolutely hard-hitting story about religious conversions to serve the ulterior motives of the converters. The story hits the viewers so badly that he often can't believe what he sees unfolding on the screen. The trio's screenplay is terrific because it is extremely bold and as hard-hitting as the story. The modus operandi of the Muslim extremists is so shocking that the audience often feels repulsed to the point of disbelief. All this involves the viewers in the drama so much that they become an integral part of the film, like silent spectators of a horrifyingly brutal drama. The viewers' hearts cry, they quiver in anger and they rue their helplessness. It wouldn't be wrong to say that in many scenes, they find themselves speechless. It is for this reason that the audience watch the film in pin drop silence. Dialogues, penned by the trio, are simple yet extremely impactful.
Adah Sharma does a phenomenal job in the role of Shalini. She makes her character so believable that the public empathises with her at every stage. Yogita Bihani is outstanding as Nimah, especially in the police station scene. Siddhi Idnani is first-rate in the role of Gitanjali. Her acting is very natural. All the three actresses replicate the accent typically found in girls living in Kerala. Sonia Balani wins hatred for her character of Asifa, so wonderful is her performance. She is so normal in how she conducts herself that her genius comes to the fore at every point. Vijay Krishna is good as Ishak. Pranay Pachauri lends lovely support in the role of Rameez. Pranav Mishra (as Abdul) stands out in the telephone scene with Gitanjali. Vijay Shrivastav (as the maulvi) leaves a fine mark. Chandrashekar Datta (as the preacher) makes his presence beautifully felt. Devadarshini shines in the role of Shalini's mother. Usha Subramaniam (as Gitanjali's mother) and Jagat Rawat (as Gitanjali's father) are very nice. Raj Gopal Iyer has his moments as the police inspector. Elena Koul (as Husna), Bhavna Makhija (as Bhagyalaxmi), Sameer Gulzar Khan (as the ISIS commander), Soundous Essayd Moufakir (as Razia), Samaira (as UN  guard 1), Anna Gavricchova (as UN guard 2), Ekaterina Krotova (as UN guard 3), Breshna Khan (as Aheng Moradi), Benedict Paul Garret (as Peter Rodd), Subbalaxmi (as Shalini's grandmother), Akhil Kaimal (as Mujib) and the others provide extraordinary support.
Sudipto Sen's direction is outstanding. He has handled the subject with the sensitivity it required. His narration is very smooth and it hits the viewers really hard. Viresh Sreevalsa and Bishakh Jyoti's music is functional. Lyrics (Viresh Sreevalsa, Ozil Dalal and Anant) are appropriate. Bishakh Jyoti's background music is terrific. It heightens the impact of the proceedings manifold. Prasantanu Mohapatra's cinematography is lovely. Raj Shinde's composition of action and stunt scenes is raw, which was the need of the film. Angana Sen and Chetan Acharya's production designing is lovely. Sanjay Sharma's editing is super-sharp.
On the whole, The Kerala Story is a sureshot winner as it will shake the audience. Its word of mouth will be tremendous. In other words, collections are bound to pick up. Of course, it may not get the patronage of the Muslim audience, but that can't stop it from turning out to be a box-office super-hit.
Released on 5-5-'23 at Inox (daily 5 shows) and other cinemas of Bombay thru August Entertainment. Publicity: good. Opening: very good at places, average at others. …….Also released all over. Opening was mixed everywhere.