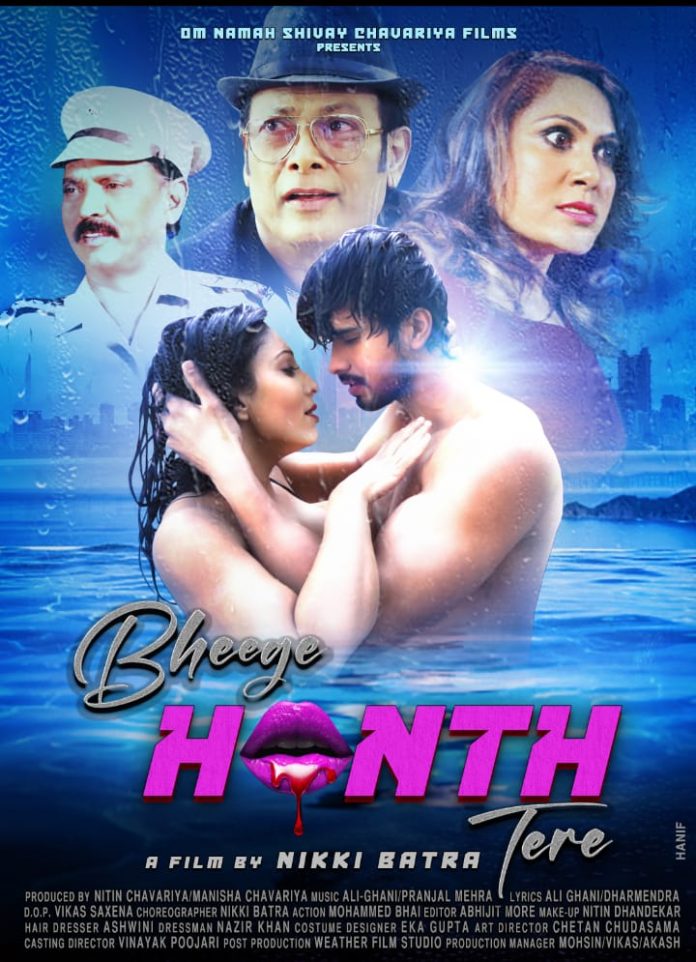 Om Namah Shivay Chavariya Films' Bheege Honth Tere (A) is a love triangle.
Karan (Pankaj Tushir) and Sanjana (Ruby Sayeed) are in love with each other. However, Sanjana feels threatened when Karan's childhood friend, Nandini (Hemangi Kaj), returns from Canada. Sanjana tries her best to remove Nandini from Karan's life but in doing so, she loses two friends, Tina (Rekha Mewada) and Jay (Abhishek). Soon, Sanjana also goes missing. Is Nandini behind the elimination of Tina and Jay as well as Sanjana's disappearance? What happens finally?
Chetan Ambedawakar has penned a dull story and a weak screenplay. The drama is so lacklustre that it fails to engage the audience. The reason Nandini gives Sanjana for her falling in love with Karan appears to be ridiculous! The romance is anything but heartwarming. Comedy and emotions are conspicuous by their absence. Chetan Ambedawakar's dialogues are so-so.
Pankaj Tushir does an average job as Karan. Ruby Sayeed is no heroine material. As Sanjana, she is just ordinary. Hemangi Kaj is good in the role of Nandini. Hemant Birje lends routine support as police inspector Ranjit. Rekha Mewada (as Tina) and Abhishek (as Jay) pass muster. Others are dull.
Nikki Batra's direction is weak. Music (Ali Ghani and Pranjal Mehta) is a mixed bag. While the title song is good, the other numbers are ordinary. Lyrics (Ali Ghani and Dharmendra) are alright. Nikki Batra's choreography is average. Background music is dull. Vikas Saxena's cinematography is nothing to shout about. Mohammedbhai's action scenes don't afford much thrill. Chetan Chudasama's art direction hardly deserves mention. Abhijit More's editing leaves something to be desired.
On the whole, Bheege Honth Tere is a disaster of a film.
Released on 19-5-'23 at Gem (daily 1 show) and other cinemas of Bombay thru Dosti Films Entertainment. Publicity & opening: poor. …….Also released all over.