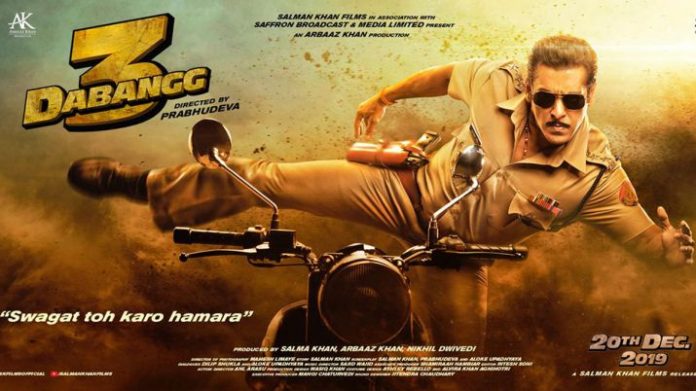 Salman Khan Films, Arbaaz Khan Production and Saffron Broadcast & Media Ltd.'s Dabangg 3 (UA) is a revenge drama. It is the third film in the Dabangg series.
Chulbul Pandey (Salman Khan) is living with wife Rajjo (Sonakshi Sinha), little son, father (Pramod Khanna) and brother, Makhanchand alias Makhi (Arbaaz Khan). He narrates his love story of yore to his family.
Many years ago, when Chulbul Pandey was known by his real name, Dhaakkad Chand Pandey, he had fallen in love with Khushi (Saiee M. Manjrekar). His parents (Dimple Kapadia and Pramod Khanna) had approved of the match and so had Khushi's guardians — maternal uncle (Atul Srivastava) and maternal aunt (Medha Manjrekar). It had been decided that the marriage would be solemnised after some years during which Khushi would complete her studies to be a doctor. However, Bali Singh (Kichcha Sudeepa) had cast his evil eye on Khushi because of which Dhaakkad Chand and she couldn't marry. Dhaakkad Chand had then enrolled to become a policeman and had changed his name to Chulbul Pandey.
Many years later, Chulbul Pandey decides to seek revenge. He takes on the evil Bali Singh for more reasons than one. What happens thereafter?
Salman Khan has penned an extremely routine and clichéd revenge story with not even a hint of novelty. What's more, the story is sketchy, as a result of which the scenes don't have the desired impact on the audience. Khan has assumed that by merely touching on topics, the audience would understand everything. While the viewers do get a hang of what's going on, they don't get completely involved in the story because of its sketchy nature. The screenplay, written by Salman Khan, Prabhudeva and Aloke Upadhyay, is routine. It relies too much on clichés and the obvious and predictable. The three screenplay writers have concentrated so much on Chulbul Pandey's character that they seem to have forgotten about the rest of the characters, especially in the first half which, therefore, looks overtly dominated by him. The pre-interval portion is also slow and boring because the romance lacks freshness. Even the comic scenes are not very funny. The interval point, however, is interesting.
The post-interval part is more fast-paced but again, it rests on the tried and tested ingredients and doesn't attempt to offer novelty or freshness. Emotions fail to touch the heart and don't succeed in drawing tears. The comedy quotient reduces even more in the second half as the comic punches often fall flat on their face. But the screenplay does offer some moments designed as clap-trap moments. One such scene is where Chulbul Pandey's son announces to his mother that the dad has arrived like a messiah. This scene will be met with a thunderous round of applause. The climax is also predictable. All in all, the script seems to have been written hurriedly.
Dialogues, penned by Dilip Shukla and Aloke Upadhyay, lack punch and fire except at a few places.
Salman Khan looks handsome and acts well, playing to the gallery. He has worked hard on his physique, and that will have his fans screaming with joy in the cinemas. Sonakshi Sinha gets limited scope but acts ably. Saiee M. Manjrekar makes a confident debut as Khushi. She looks alright and is a natural performer. Kichcha Sudeepa makes an impactful villain and does quite a fine job as Bali Singh. Arbaaz Khan leaves a mark as Makhi. Nawab Shah is alright. Rajesh Sharma has his moments as the minister. Paresh Ganatra, as his sidekick, is alright but his jokes are more often than not irritating. Pramod Khanna lends average support. Dimple Kapadia is good. Medha Manjrekar and Atul Srivastava are so-so as Khushi's guardians. Master Krish (as Chulbul Pandey and Rajjo's son) is cute and impactful in a tiny role. Prabhudeva makes his mark in a song-dance. Warina Hussain is alright in a song-dance number. Sohail Khan comes as a pleasant surprise. Dolly Bindra is okay. Abhilash Chaudhary, Mahesh Manjrekar and the rest pass muster.
Prabhudeva's direction is so-so. For one, he has adopted a narrative style which is as routine as the script. Secondly, he has not been able to make the narration too engaging or entertaining. Music (Sajid-Wajid) is a mixed bag. 'Munna badnaam hua', 'Yun karke' and 'Naina lade' are quite nice but there's not a single chartbuster which will be remembered for years together. A couple of songs can be advantageously deleted. Lyrics (Jalees Sherwani, Danish Sabri, Sameer Anjaan, Sajid, Irfan Kamal and Baadshah) are alright. The picturisation of the 'Munna badnaam hua' song (by Vaibhavi Merchant) is excellent. Choreography of the other songs (by Radhika Rao-Vinay Sapru and Shabina Khan) is okay. Sandeep Shirodkar's background music is fair. Mahesh Limaye's cinematography is good. Anl Arasu's action and stunts will appeal to the masses and to Salman Khan's fans because they are pretty exciting and stylised. Wasiq Khan's production designing is appropriate. Ritesh Soni's editing is alright.
On the whole, Dabangg 3 is the weakest in the Dabangg franchise as it has mediocre content. In this age of content-rich cinema, this one looks like a dated film. It will do below-average business at the box-office. Of course, it will join the Rs. 100-crore club but its entry into the Rs. 200-crore club looks like a distant dream. Although profitability is not an issue (as it has already made profits from sale of satellite, digital and music rights), it will not have a long or eventful run in the cinemas.
Released on 20-12-'19 at Regal (daily 4 shows) and other cinemas of Bombay thru R.R. Films. Publicity: excellent. Opening: below the mark. …….Also released all over. Opening was less than expected. The tension over CAB in various parts of the country, and extreme cold in North India have also adversely affected collections.