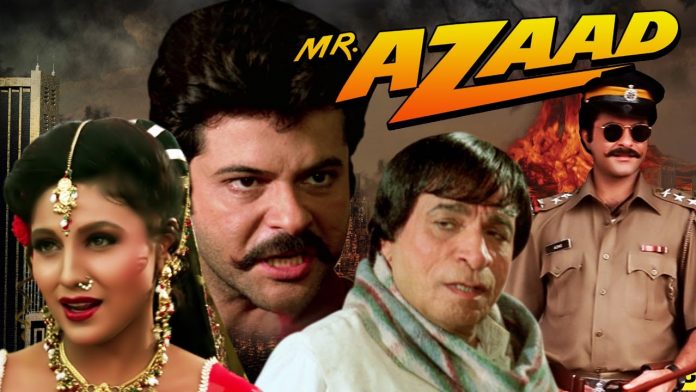 (From our issue dated 24th December, 1994)
There is panic all around. Films are falling like nine pins. Big and costly films like Mr. Azaad are not even opening to decent houses, what to talk of full houses. Producers and exhibitors are shocked. But the worst affected are the distributors. The entire distribution sector is terribly shaken.
Failure of films is not new. What is new are the heavy losses because of the high prices of films. Film ratios have sky-rocketed. What was unimaginable two years ago is stark reality today. It has become a fashion to quote 60, 70 and more as a film's ratio. Films which would have fetched 30 to 35 from a major circuit two years ago, are being quoted at 55 and 60. And more often than not, the producer is successful in getting his price. If the producer has had a hit or two in the past, 80 and 85 is the minimum price of his new film.
Whether the producer spends so much on the film or not is secondary. What is primary is whether a film has the power to hold such a high price. If only spending money lavishly could make a film run, Razia Sultan and Roop Ki Rani Choron Ka Raja would have been blockbusters.
It is all very nice to say that prices are governed by the economic laws of demand and supply. But when the industry's economics itself has gone haywire, where's the question of price determination by the market forces of demand and supply? On the one hand, film production has declined compared to what the scene was three to four years back. This, mainly because a lot of producers have shifted focus to the small screen. On the other hand, artistes have hiked their remunerations by leaps and bounds. Isn't this paradoxical? And where is the economics then?
Producers complain that cost of production has shot up phenomenally. Star prices constitute a major factor in production cost. But why have star prices spiralled so high? What are the stars charging so heavily for? For assuring empty houses even in the first show? Anil Kapoor takes pride in saying that he doesn't sign a film below a certain price level. Does he experience the same pride when a Mr. Azaad or a 1942 A Love Story doesn't draw full houses on the opening day? Jackie Shroff may smile that despite his flops, producers queue up to sign him at his price. But where does that smile go when a Stuntman records dismal collections on the first Friday? Akshay Kumar, Ajay Devgan or Sunil Shetty may claim to be the new stars who've taken the industry by storm. But why doesn't a Hum Hain Bemisal, starring Akshay and Sunil together, create a storm? Rishi Kapoor may rejoice in the fact that he sticks to his Bata price but why doesn't he realise that his Ghar Ki Izzat producer would also want to rejoice, but can't, when he sees its 40% collections on Friday? After Hum Aapke Hain Koun..!, Salman Khan's Sangdil Sanam collects 35% of the capacity. Chiranjeevi is scarce commodity in a Hindi film but when his The Gentleman hits the screen, the audience become even more scarce.
So where is the star today? And why are producers falling prey to star demands and giving them undeserving prices? Let a star guarantee a week of house-full collections and then, and only then, let him take his price. Would any star have the guts to take up this challenge? Would an established Sunny Deol or a re-emerged Mithun Chakraborty or a hotshot Shah Rukh Khan or a selective Aamir Khan come forward and be the first to 'underwrite' a film's opening? Or would a newcomer like Sanjay Kapoor or Bobby Deol like to do so?
If distributors are up shit street today, they are also to be blamed. Agreed, producers pay crazy prices to stars, but they do so because distributors willingly (or is it unwillingly?) give them the price they ask for their films. In some cases, there is such a mad race to clinch a deal that a producer starts feeling as if he were the future of the industry. In the heat of things, over-enthusiastic distributors had forgotten that they were digging their own graves. Today, if they are crying, they don't deserve much sympathy. After all, even God does not help those who cannot help themselves.
Looking to the sorry initial business, the pathetic fate of films at the box-office and the ever-increasing competition from satellite channels and Doordarshan, the writing on the wall is clear: THE INDUSTRY IS HEADING FOR A CRASH.
A crisis is imminent and it cannot be averted. In the months to come, several distributors who've acquired films at fancy prices, will prefer to give up the rights. Deliveries of films will not be effected smoothly. There will be delivery dramas galore, with distributors pleading inability to take deliveries at the contracted prices. Distributors who had thought, they have got prize catches, will realise that what they, in fact, have are high-priced catches, And producers who are going around, proudly announcing that they've got unheard of prices for this territory and that, will have to eat humble pie when they'll not hear from their distributors.
The current prices of films are suicidal. A Hum Aapke Hain Koun..! may have shown the potential of box-office business but what the producers, distributors and stars have conveniently forgotten to see is the fact that a film like Hum Aapke Hain Koun..! is, as yet, an exception, not the rule. And to base one's business policy on an exception is nothing but foolhardiness.
– Komal Nahta
PEOPLE
Are talking about
** The far-from-encouraging opening of Pahlaj Nihalani's Mr. Azaad. At Metro, the main cinema of Bombay, the second show on the opening day recorded about 60% collections.
** The poor quality of so many of our films even today — on the eve of 100 years of cinema! When will the quality of the majority of films improve? After another 100 years?!?
PEOPLE
Are debating about
** Which has got a worse opening — Aladdin or Sone Ki Sita? At Ganga, Bombay, there were a total of 97 people in the 3 p.m. show, 52 people in the 6 p.m. show, and 40 in the 9 p.m. show for Sone Ki Sita? Of the 52 and 40 in the last two shows, 15 and 5 respectively were members of the press. Depressed? The shows of Aladdin on the opening day at some places recorded collections in three figures (300s, 400s and 500s)!
3-E
Education-Entertainment-Enlightenment
Change Of Hands
Mr. Azaad changed hands in Rajasthan at the last moment. Bobby Anand's newly set-up concern was to release it in Rajasthan. But Bobby reportedly found the price — fixed just before the release — on the higher side and volunteered to opt out. Pahlaj Nihalani relieved him after giving him a profit of some lakhs. The film then fell in the lap of Ramswaroop Chaudhry.
CCCA Richer By 1 Lakh
Pahlaj Nihalani had to pay a fine of Rs. 1 lakh to the CCCA for having telecast Aandhiyan before completion of 5 years from its date of theatrical release. Before he paid the fine, the CCCA refused to register his Mr. Azaad for Rajasthan.
Exposing Titles Or Bad Work?
If producer N.N. Sippy starts bristling with anger at the mention of one name, it is special effects expert, S. Ghalib's. The guy, according to Sippy, troubled him so much with the titling of his Teesra Kaun? that Sippy has vowed never to work with him again. Shoddy work apart, Sippy says, Ghalib used to dodge him and his people because he hadn't done the work he was supposed to do. "Whether my man used to go to his house early in the morning or after midnight, he used to get one standard reply — "Ghalib is not at home." According to Sippy, Ghalib took more than 45 days to expose the titles — from 1st November to 21st December! And while he took two Eastmancolor negative tins from N.N. Sippy, for exposing the titles, he finally got the titles exposed on Fuji. So, for Sippy's next film, the doors are closed for Ghalib. Doosra kaun?
In Appreciation
So happy was producer Ashok Ghai with the rushes of the stunt scenes of Jaan, picturised recently by action director Veeru Devgan at Igatpuri, that he gave the 20 fighters, who participated in them, Rs. 1,100 each as a token of appreciation. Two duplicates, who also participated in the breathtaking scenes, were presented Rs. 5,000 each. And to add that personal touch, Ashok Ghai sent the monetary gifts with personal letters addressed to the fighters and duplicates, alongwith baskets of flowers.
No Sound Substitute
What the censors can do to scenes in films, which show the police in bad light, can be seen in Pahlaj Nihalani's Mr. Azaad. The cutting experts have ordered deletion of lines and lines of dialogues (audio), while retaining the visuals, which looks pretty jarring in the film. Pahlaj, instead of re-shooting the affected scenes, preferred to have loud background music played in the scenes so that the audience can hear the music and see the lip movements. Now music can hardly be substitute for dialogues. What dialogues have been spoken is left to the viewer's imagination.
Sanjay Dutt Starrers
There will suddenly be a spate of Sanjay Dutt starrers hitting the screen. In a week or two, his Namak will be released. It will be followed by Andolan and Jai Vikraanta. Maybe, all the three will come in a month's time.
Lucky Producer
Tamil film producer Kunjumohan seems to be very lucky. After the Tamil film, Gentleman, his Kadalan has also hit the bull's eye. Like Gentleman, Kadalan also has the hit music score of A.R. Rahman. Before Gentleman, Kunjumohan had produced Suryan which was also a runaway hit. While Suryan was directed by Pavitran, in Gentleman, Kunjumohan gave break to Pavitran's assistant, Shankar, because Pavitran demanded a very high price for direction. Kadalan has also been directed by Shankar. But rumours in the Tamil film industry are rife that Kunjumohan's next may not be directed by Shankar. Reason: again, the price factor. Shankar reportedly wants a hefty packet as his fees now. Incidentally, between Gentleman and Kadalan, Kunjumohan had one flop to his credit — rather, discredit.
In Place Of Bachchan
Remember Kader Khan's script called Jahil? He had written it, keeping Amitabh Bachchan in mind. Producer Farook is now making that film with Ashok Khanna as its director. And in place of Amitabh has come Sunil Shetty.
Fitness Runs In The Building
Not only is Sunil Shetty a fitness freak, he has also made sure that his neighbours in Prithvi Apartments (the building in which he lives) become fit and proper. Thanks to his enthusiasm, Prithvi Apartments houses a beautiful gymnasium on the ground floor for the residents of the building.
Film Quiz Examination!
What kind of an actor has the film industry been looking for ever since Amitabh Bachchan stopped signing films? What are Aamir Khan's self-imposed restrictions? Why is the hero willing to destroy the girl he loves in Darr? What are the shortcomings of Anil Kapoor and Jackie Shroff? Why did Dilip Kumar avoid over-exposure? Such were the questions asked in the English paper examination of Class X in Chamanlal DAV High School in Sector 11 of Panchkula, near Chandigarh. They may have amused the students but the principal had to face the ire of the parents who protested strongly.
Mix Masala
AND NOW, IT'S NILU PHULE
The latest from the film world to join actively the world of politics is Nilu Phule. The Marathi and Hindi film actor, who is associated with the Bahujan Mahasangh, called on the Janata Dal leader, V.P. Singh, on 19th December in connection with the ongoing bid to form a secular and democratic party in Maharashtra to fight the ensuing elections.
JOLLY MUKHERJEE BEREAVED
Dinendra Kumar Mukherjee (77), father of singer Jolly Mukherjee, expired in Bombay on 19th December due to heart failure. He is survived by Jolly and two daughters.
VIDEO LIBRARIES MUST HAVE COPYRIGHT CONSENT LETTER: SC
In a significant judgement, the Supreme Court has come to the rescue of the first copyright holders of a film by giving its approval for protecting their rights vis-à-vis the video libraries.
While allowing the appeals of the South Indian Film Chamber of Commerce, Madras, filed against the order of the Madras high court, the division bench of Justice N. Venkatachalaiah and Justice K.S. Paripoornan upheld the validity of Section 9(2) and Section 10(2) of the Tamil Nadu Exhibition of Film on Television Screen through Video Cassette Recorders (Regulation) Act, 1984.
Under Section 9(2) of the Act, which had been earlier struck down by the Madras high court as ultra vires, every person keeping a video library was required to produce in respect of each film in his possession, whenever demanded by the concerned official, a letter of consent got from the first owner of the copyright of such film under the Copyright Act, 1957, or its assignee thereunder…
The Section 10(2), which was held by the high court as 'invaild and unworkable', prohibited every video library owner from selling, letting on hire, distributing or putting into circulation a cinematograph film which had not been certified by the authority under the Cinematograph Act "as suitable for public exhibition…"
Referring to the Section 9(2), the Supreme Court said, "We are constrained to hold that the high court faulted in having reached the conclusion that the provision in Section 9(2) of the Act, enacted by the state legislature, was not an ancillary provision enacted in pith and substance, on the subject of 'cinema' lying within its legislative competence."
YOU ASKED IT
If Sooraj Barjatya were to direct a film for an outside banner, what price could he command for his direction?
– This is a hypothetical question because Sooraj will not be directing films for outside banners. Otherwise, he would easily get the highest price ever paid to any director in India.
Why are fewer films being made nowadays?
– Because many producers have shifted to the small screen.
Is there a golden rule about which film runs and which doesn't?
– Yes, there is. A good film runs while a bad film, doesn't! Simple, isn't it?
Our writers copy Western films. Our music directors lift South tunes. Our action directors ape stunts of Hollywood action thrillers. Who is original then?
– Our audience, because they don't even judge a remake by the fate of the original.