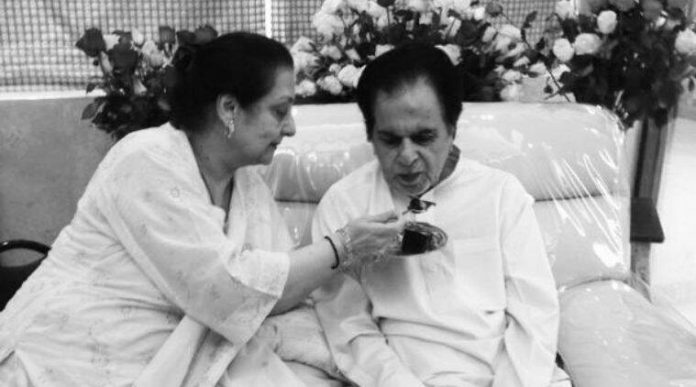 Thespian Dilip Kumar was awarded the Hindi Cinema Mahanayak award today (28th November) at the online Hindi Cinema Samman Samaroh. The Mahanayak award was instituted this year only. Saira Banu, wife of Dilip Kumar, accepted the award on his behalf and thanked the Samaroh. It was the fourth edition of the annual awards given to the bests of Hindi cinema. The function to honour the Hindi film industry for popularising the national language and for uniting and integrating the nation by evolving a common national culture through the medium of cinema usually takes place at Vigyan Bhavan in Delhi. However, in view of the coronavirus pandemic, it was held virtually this year.
The Hindi Cinema Bhushan Samman were given to Bappi Lahiri, Jaaved Jaaferi, Baba Azmi, Ashim Samanta, Manmohan Singh, Bijon Dasgupta, Zoya Akhtar, Rasika Duggal, Imtiaz Ali, Anu Malik and Madhur Bhandarkar. The winners of the Hindi Cinema Sanrakshak Samman were Amit Khanna, Vivek Agnihotri, Sajid Nadiadwala and Bhushan Kumar. The Hindi Cinema Gaurav Samman were given to Vimal Kumar, Uday Shankar Pani, Sukhwant Dhadda, Ananth Narayan Mahadevan, Dilip Shukla, Seema Pahwa, Sanjay Chhel, Kuku Kohli, Kumud Mishra and Pankaj Tripathi.
Winners of the Hindi Cinema Sevi Samman were Film Federation of India secretary Supran Sen, advocate Ashok Saraogi, actor Anil Nagrath, journalist Meena Iyer, sound re-recordist Anup Dev, journalist Ajay Brahmatmaj, Manoj Srivastava, Vishal Saroye, Subhash Sahu, Rajendra Singh, K.S. Sanjay, Bharti Dubey and Ashoke Pandit.
Chhichhore was adjudged the best film of the year. As per tradition, the film's producer, director, actors and technicians will individually receive this award for collectively making the film. Sushant Singh Rajput was posthumously honoured as the best leading man of the year.
The Samman Samiti this year was chaired by the patron of the Samaroh, Shatrughan Sinha. The other jury members were IMPPA president T.P. Aggarwal, filmmaker Rahul Rawail, Bombay distributor and financier Shyam Shroff, film trade analyst and TV host Komal Nahta, FWICE president B.N. Tiwari, and ICMEI president Sandeep Marwah. The entire virtual event was possible, thanks to the devotion and efforts of filmmaker Ashok Tyagi and his team.