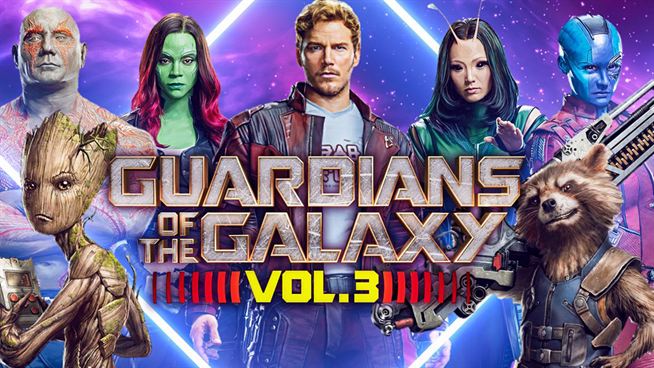 Marvel Studios' Guardians Of The Galaxy Vol. 3 (dubbed from the Hollywood film of the same name; UA) is the third and final instalment in the Guardians Of The Galaxy trilogy. It is an action-adventure sci-fi film.
Still reeling under the impact of the loss of Gamora (Zoe Saldana), Peter Quill (Chris Pratt) and his team now have to defend the universe. If they fail, it could annihilate them.
James Gunn has written an interesting and truly engaging story and screenplay. The writing becomes all the more special for the viewers because it is the last of the trilogy. Gunn has added comedy, drama, emotions, action and dance to make it a wholesome entertainer — and successfully so.
Chris Pratt shines in the role of Peter Quill. Chukwudi Iwuji is effective as the High Evolutionary. Dave Bautista impresses as Drax. Austin Freeman has his moments as On-Set Groot. Pom Klementieff makes her mark as Mantis. Karen Gillan does a fine job as Nebula. Stephen Blackehart is alright as Steemie Blueliver. Terence Rosemore makes his mark as Xlomo Smeth. Sean Gunn performs ably as young Rocket. Sylvester Stallone adds star value. Tara Strong (as Mainframe), Jared Gore (as Krugarr), Michael Rosenbaum (as Martinex), Elan Gale (as Beardy Ravager), Molly Quinn (as Molly Ravager), Zoe Saldana (as Gamora), Sarah Alami (as Ssssaralami), Jasmine Munoz (as Hoobtoe), Giovannie Cruz (as Orloni Peddler), Will Poulter (as Adam Warlock), Nico Santos (as Recorder Theel), Miriam Shor (as Recorder Vim), Linda Cardellini (as Lylla) and the others provide very good support.
James Gunn's direction is of a high standard. John Murphy's background music is pretty impactful. Cinematography (by Henry Braham) deserves distinction marks. Beth Mickle's production designing is of a good standard. Editing (by Greg D'Auria and Fred Raskin) is sharp. Dubbing is very good.
On the whole, Guardians Of The Galaxy Vol. 3 is an entertaining fare and will perform well at the ticket windows.
Released on 5-5-'23 at Metro Inox (in 3D, in daily 1 show) and other cinemas of Bombay thru UTV Software Communications Ltd. Publicity & opening: fair. …….Also released all over. Opening was good at places, and average at others.