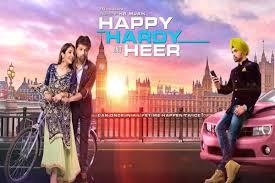 PYX, Eyka Films and HR Musik's Happy Hardy And Heer is a love triangle.
Happy Singh (Himesh Reshammiya) lives in London and is very fond of Heer (Sonia Mann). In fact, Happy has been fond of Heer ever since they were kids studying in the same school. But he is absolutely unable to express his feelings to Heer. This is, perhaps, also because he is a loser in life and is aware that Heer wants an achiever as her life partner.
One day, Heer's work takes her to Manchester where she meets a young man, Hardy (Himesh Reshammiya) who looks like Happy Singh. The only difference in physical appearance is that while Happy Singh sports a turban, Hardy doesn't. Hardy is a very successful man. Heer and Hardy fall in love with each other.
What happens thereafter? Is Happy Singh ever able to express his love for Heer to her? Whom does Heer marry ultimately? And how? And why?
Himesh Reshammiya has written a very routine story which doesn't boast of novelty except that a girl is torn between two boys who are similar-looking. In fact, the several confusions about who will ultimately win Heer's hand in marriage get irritating if only because they often rest on misunderstandings which look contrived. Sonia Kapoor Reshammiya's screenplay is also more clichéd than anything else. The drama moves predictably and because of this, it seems to be slow and boring too. The families of Happy Singh and Hardy seem to be comprising members whose only job is to get Happy/Hardy express his love to Heer. They give it so much importance that it's not even funny and rather looks weird. All the characters seem unidimensional. Frankly, everything is conveyed in such a twisted manner that the audience gets a feeling as if speaking threadbare and clearly about anything were never an option.
Although it is a romantic film, the romance is not heartwarming except at a couple of places. Comedy is quite weak. Emotions don't really touch the heart because the characters of Happy Singh and Hardy never really become endearing. Sonia Kapoor Reshammiya's screenplay seems to have been written in a recipé format as if ingredients had to be used in measured quantities to get the drama moving.
Bunty Rathore's dialogues are good at places but routine otherwise.
Himesh Reshammiya does fairly well as both, Happy Singh and Hardy. Sonia Mann looks beautiful and is quite good in the role of Heer. Naresh Suri lends decent support as Heer's father. Manmeet Singh (as Happy Singh's maternal uncle), Deep Mandeep (as Happy Singh's maternal aunt), Sejal Shah (as Hardy's mummy), Ashwin Dhar (as Hardy's business partner) and Trupti Khamkar (as Lats) provide routine support.
Raka's direction is barely average because he has not been able to bring forth the warmth of a love story, in his narration. Of course, he is handicapped by a predictable script too. Himesh Reshammiya's music is very nice. The 'Teri meri kahani' is a hit song. Lyrics (Shabbir Ahmed, Kumaar, Himesh Reshammiya, Vishal Mishra, Aaryan Tiwari and Sonia Kapoor Reshammiya) are alright. Song picturisations (by Raka) are simplistic. Himesh Reshammiya's background music is of a fine standard. Chandan Kowli's camerawork is impactful. Locations are beautiful. Deepak Chandra Mishra's editing ought to have been sharper.
On the whole, Happy Hardy And Heer is a dull fare which won't find too many takers at the ticket windows. Although the recoveries from sale of audio rights and other sources may have taken care of a good part of the investment, the film's theatrical run will be far from impressive.
Released on 31-1-'20 at Inox Metro (daily 1 show) and other cinemas of Bombay thru PEN Marudhar Cine Entertainment. Publicity & opening: dull. …….Also released all over.