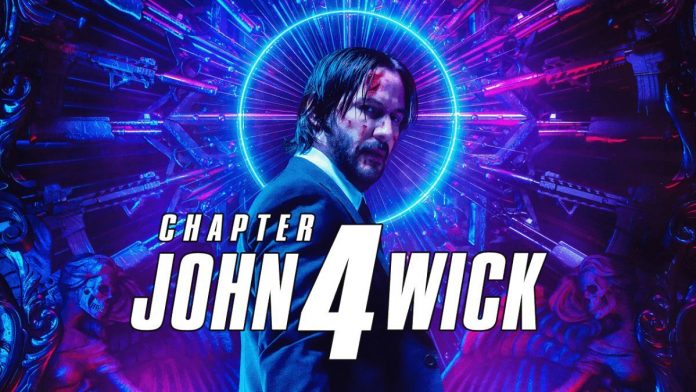 Summit Entertainment, Thunder Road Films and 87Eleven Productions' John Wick: Chapter 4 (dubbed from the Hollywood film of the same name; A) is the fourth in the John Wick film series.
In New York city, John Wick (Keanu Reeves) prepares to seek revenge against the High Table while hiding underground with the Bowery King (Laurence Fishburne). Wick first kills the Elder (George Georgiou), the only person above the High Table. Because of this, Marquis Vincent de Gramont (Bill Skarsgård), a senior member of the High Table, strips Winston Scott of his duties  as manager of New York Continental Hotel. Marquis then enlists Caine (Donnie Yen), a blind High Table assassin and an old friend of John Wick, to kill John Wick. Many incidents and murders later, Winston asks John to challenge Marquis Vincent de Gramont to a duel because winning the duel will free him of his obligation to the High Table. For this, John has to join a crime family, which he does by killing Killa (Scott Adkins), the head of the German Table. The stage is set for a duel between John Wick and de Gramont, in a meeting moderated by the Harbinger (Clancy Brown), the Table's Emissary. De Gramont nominates a reluctant Caine to fight in his place. What happens thereafter?
Shay Hatten and Michael Finch have written an engrossing story and an interesting screenplay. However, the extremely lengthy and uninterrupted action sequences (of almost half an hour's duration) will not go down too well with the Indian audience who are not used to seeing non-stop action for so long. This is a major minus point of the drama, at least for the Indian viewers.
Keanu Reeves shines as John Wick. He excels in action scenes. Donnie Yen is terrific as Caine. Bill Skarsgård is good as Marquis Vincent de Gramont. Laurence Fishburne makes his mark as Bowery King. Hiroyuki Sanada has his moments as Shimazu Koji, manager of the Osaka Continental Hotel. Shamiera Anderson (as Mr. Nobody) is wonderful. Lance Reddick (as Charon), Rina Sawayama (as Akira, daughter of Shimazu Koji), Scott Adkins (as Killa) and Ian McShane (as Winston Scott) provide excellent support. Clancy Brown (as the Harbinger), Natalia Tena (as Katia, the adoptive sister of John Wick), Marko Zaror (as Chidi), George Georgiou (as the Elder) and the rest are adequate.
Chad Stahelski's direction is very good. Tyler Bates and Joel J. Richard's music is fantastic. Dan Laustsen's cinematography is first-rate. Nathan Orloff's editing is crisp. Dubbing is very good.
On the whole, John Wick: Chapter 4 is a fair entertainer but the excessive and lengthy action scenes will, to a great extent, limit its business in Hindi. The original English version will fare far better.
Released on 23-3-'23 at Maratha Mandir (2 shows; in daily 3 shows from 24-3-'23) and other cinemas of Bombay thru Lionsgate and PVR Pictures Ltd. Publicity: average. Opening: dull. …….Also released all over. Opening was below the mark everywhere. The original English version opened well at many places.