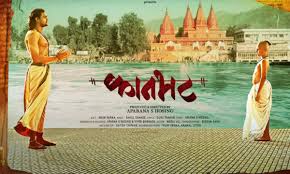 Rash Production Pvt. Ltd.'s Kaanbhatt (Marathi) is the story of a young boy, Prabhat Date (Rugved Mule), who learns the Vedas in an unusual manner.
Gangadhar Date (Vipin Borate) and his wife, Rukmini (Manisha Joshi), take their 10-year-old son, Prabhat, to Pandit Balkrishna Joshi's (Anil Chitra) Ved Vidyalaya to make him proficient in the Vedas. Pandit Joshi asks his student, Acharya Vishwanand (Sanjeev Tandel), to teach Prabhat. Acharya is very strict while Prabhat is mischievous.
One day, Prabhat runs away from the Vidyalaya as he is not happy there. On the bank of river Ganga, he meets Kaanbhatt (Bhavya Shinde) who asks him to return to the Vidyalaya. Prabhat does that but he keeps meeting Kaanbhatt in the nights by escaping from the Vidyalaya. Kaanbhatt asks Prabhat to keep the meetings with him secret.
One day, Pandit Joshi and Acharya learn about Prabhat's nocturnal escapades and call his parents to the school. Prabhat spills the beans about Kaanbhatt. This shocks Pandit Joshi because there's something about Kaanbhatt which he knows, but which Prabhat doesn't know. What is that? What happens thereafter?
Aparna S. Hosing's story is not at all convincing. Rather, it raises some questions which remain unanswered. The screenplay, written by Aparna S. Hosing and Vivek Borhade, is average. It does not give the audience the feeling that the drama is plausible. The duo's dialogues are just about okay.
Bhavya Shinde is alright in the title role. Rugved Mule is very good as the 10-year-old Prabhat. Sanjeev Tandel performs well as Acharya Vishwanand. Vipin Borate is okay in the role of Prabhat's father, Gangadhar Date. Manisha Joshi lends ordinary support as Rukmini Date, mother of Prabhat. Anil Chitra does an average job as Pandit Balkrishna Joshi. Vijay Vitthal Veer and the others provide routine support.
Aparna S. Hosing's direction is commonplace, and given the dated story, it just doesn't add up. Rahul Ranade's music is barely passable. Guru Thakur's lyrics pass muster. Bikram Saha's choreography is below the mark. Background music (Vijay Verma, Anamik and Lyton) is fair. Camerawork (Arun Varma) is okay. Satish Chipkar's sets are good. Meraj's editing is quite alright.

On the whole, Kaanbhatt is a flop show.
Released on 19-2-'21 at Inox Nakshatra (daily 1 show) and other cinemas of Bombay thru AA Films. Publicity & opening: poor.