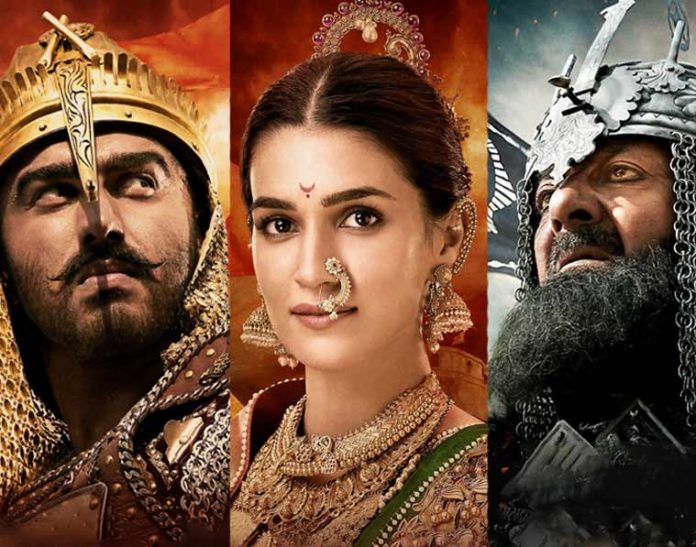 Reliance Entertainment and Ashutosh Gowariker Productions Pvt. Ltd.'s Panipat (UA) is a historical. It deals with the chapter of history relating to the third battle of Panipat fought in 1761 between Peshwa Sadashiv Rao Bhau (Arjun Kapoor) and Afghan king Ahmed Shah Abdali (Sanjay Dutt). Although the Peshwas lost the battle, Abdali returned to Afghanistan after proving victorious as he had no courage to rule over Delhi or India because he was too impressed with the bravery of Sadashiv Rao Bhau.
Since it is inspired by a chapter in Indian history, the story is based on facts. The story and screenplay are written by Chandrashekhar Dhavalikar, Ranjeet Bahadur, Aditya Rawal and Ashutosh Gowariker. Talking about the story first, it is inherently boring and what's more, it has been penned in an equally boring fashion. The screenplay is equally dull and boring. The first half is devoted to establishing the many characters and to Sadashiv and his team members seeking the support of the kings of the various provinces. While some kings magnanimously offer their wholehearted support, others have to be 'bribed' by offering them lucrative posts in the government after defeating Ahmed Shah Abdali or by waiving the monies owed to the Peshwas by the provinces in question. Since there's not much difference in eliciting support from the various kings, the pre-interval portion is repetitive, long-drawn and boring. The post-interval part is devoted to preparing for the battle, and the actual battle itself. Even that part is rather drab and boring. Frankly, although the drama involves the Peshwas attempting to save India from going into the hands of a foreigner, the screenplay fails to inspire a feeling of patriotism in the audience.
Scenes are so lengthy that they end up testing the viewers' patience. Talking about the ingredients of a commercial entertainer which this film is designed as, the film has barely a hint of romance between Sadashiv and Parvatibai (Kriti Sanon). And even the little romance there is, it does not warm the hearts of the audiences. In fact, the chemistry between Sadashiv and Parvatibai is almost completely missing. There's a scene in which Sadashiv fires Parvatibai for pestering him to marry her. The viewers fail to understand why he does so as getting married while being a warrior is definitely not taboo, as Sadashiv's act of shouting at Parvatibai would have the viewers believe. Comedy is conspicuous by its absence. Emotions absolutely fail to touch the heart. Drama is dull, dry and drab. Even the music is far from being popular. Consequently, the pillars on which commercial films rest are either missing or are extremely weak. In other words, the audience watches the drama unfold on the screen without feeling engaged or involved. The viewers feel no empathy for the characters.
Ashok Chakradhar's dialogues are routine and do not befit a historical of such a huge canvas. Also, despite being a historical about the Peshwas' attempt to fight an outsider king, the dialogues just don't have the punch and the sting needed in such a drama. For the most part, they are flat.
Arjun Kapoor hardly impresses but part of the blame for this would go to the insipid script. Although his dialogue delivery shows improvement, he does not have the swagger of a Maratha leader. Kriti Sanon looks pretty and acts effectively in the role of Parvatibai. Even her action scene looks nice. Since the film is narrated by Parvatibai, it needs to be mentioned here that her commentary is impactful. Sanjay Dutt looks ferocious as Afghan king Ahmed Shah Abdali. His acting is ordinary. Mohnish Bahl lends fair support as Nana Saheb. In the role of his wife, Gopikabai, Padmini Kolhapure gets into the skin of the character. She makes her mark even in a brief but significant role. Suhasini Mulay leaves a mark as Sadashiv's grandmother. Sahil Salathia is quite alright as Shamsher. Abhishek Nigam lends reasonable support as Vishwas Rao. Zeenat Aman hardly looks like a queen and her performance as queen Sakeena is commonplace. Kunal Kapoor gets little to perform as Shuja-ud-Daula. Nawab Shah goes through his role of Ibrahim Khan with earnestness but he has very few dialogues or scenes which belong to him. Mir Sarwar (as Imad-ul-Mulk), Milind Gunaji (as Dattaji Shinde), S.M. Zaheer (as Alamgir), Arun Bali (as Baba Ala Singh), Ravindra Mahajani (as Malhar Rao Holkar), Mantra (as Najib-ud-Daula), Gashmeer Mahajani (as Jankoji Shinde), Ajit Shidhaye (as Wazir Shah Wali Khan), Paresh Shukla (as Govind Pant Bundele) and Pradeep Patwardhan (as Lingoji Narayan) lend routine support.
One point needs to be mentioned about the actors in general. There are many characters of significance in the drama but many of them have been enacted by unknown or lesser-known actors. Since the film is a historical set in 1761 and the names of many of the characters are difficult to remember, the unknown or lesser-known faces only add to the confusion of the viewers.
Ashutosh Gowariker's direction is below the mark. Gowariker has not been able to camouflage the umpteen shortcomings of the script with his narration. Ajay-Atul's music lacks hit songs and, therefore, adds little to the drama. The 'Man mein Shiva' song is okay. Ajay-Atul's background music is effective at places. Javed Akhtar's lyrics (with additional lyrics in Marathi by Kunal Ganjawala, Padmanabh Gaikwad and Deepanshi Nagar) don't add much value to the proceedings. Raju Khan's choreography is commonplace. Muraleedharan C.K.'s cinematography is very good. Nitin Chandrakant Desai's production designing and Hemant Bhatkar's art direction are splendid. Abbas Ali Moghul's action and stunt scenes are not half as thrilling as they ought to have been. Steven Bernard's editing should have been far more sharp and crisp.
On the whole, Panipat is a flop fare as it lacks the ingredients of a commercial entertainer. It is like a boring history book which not many would care to open. It will entail heavy losses to all concerned.
Released on 6-12-'19 at Regal (daily 2 shows) and other cinemas of Bombay thru Phantom Films Pvt. Ltd. Publicity: quite good. Opening: dull. …….Also released all over. Opening was not upto the mark everywhere.