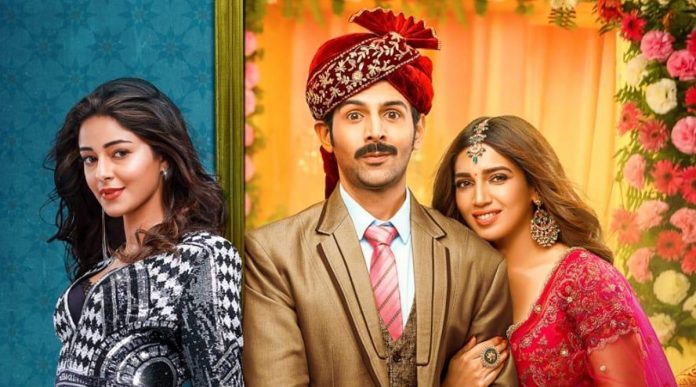 T-Series and B.R. Studios' Pati Patni Aur Woh (UA) is a comedy about a husband, his wife and his beloved. It is inspired by the 1978 film of the same name, starring Sanjeev Kumar, Vidya Sinha and Ranjeeta, and directed by B.R. Chopra.
Abhinav Tyagi alias Chintu Tyagi (Kartik Aaryan) is a simpleton engineer who lives in Kanpur with his parents and works in the Public Works Department. He had had just one affair, with a girl named Neha, but it had ended in a breakup which he can't get over. Anyway, his parents get him married to Vedika Tripathi (Bhumi Pednekar) who is a smart woman from the nearby Lucknow. Vedika also has had a breakup with Doga (Sunny Singh). After marriage, she works as a school teacher. Being ambitious and fond of the good life, Vedika is after Abhinav to shift to Delhi because it's a big city where opportunities are infinite. Abhinav's bosom pal is Fahim Rizvi (Aparshakti Khurana) who also works in the PWD.
Their happy married life goes for a toss when Tapasya (Ananya Panday) enters Abhinav's life one day. Slowly but surely, the bored-with-life Abhinav gets attracted to Tapasya. She, too, falls in love with him but there's a reason why she starts loving him. In fact, in her case, it is her sympathy which turns into love. All hell breaks loose when Vedika gets to know about the presence of Tapasya in Abhinav's life. What happens thereafter? How does Vedika respond? Does she confront her husband? Does she walk out on him? Does she divorce Abhinav? Or does Abhinav divorce Vedika? Do Abhinav and Tapasya live happily ever after? Or do the three of them live like a cozy threesome?
The film is inspired by the 1978 film of the same name, the story of which is adapted by Jasmeet K. Reen. It's a very engaging story, especially because it has very contemporary and believable characters. Since the entire story is comical, the entertainment quotient in it is extremely high. The screenplay, penned by Mudassar Aziz, is outstanding. Every scene is well-thought of and is so extraordinarily written that the film becomes a virtual laugh riot. Comedy is the common thread which binds the scenes together. Unlike many other comedy films, this one moves in a logical fashion albeit with cinematic liberties. It would be too unwieldy to list down all the highlight scenes and sequences due to logistical reasons because there are just too many of them. However, special mention must be made of at least one scene in the first half and one more in the second half. The interval scene, with background music reaching a crescendo, is so fantastic that it will bring the entire house down with laughter. Because of the loud background music on the screen and the laughter in the cinema hall, it may be difficult to hear the dialogues in the scene but the sheer visual appeal and the editing (inter-cuts) are enough to have the audience laughing like crazy. There's a sequence in the post-interval portion, in which the families of Abhinav Tyagi and Vedika Tripathi get involved in their personal drama. That sequence is so outstanding that it will elicit loud laughter and even claps in sheer delight. There are a number of other scenes and sequences in which the viewers will guffaw. The climax is terrific and will come as a surprise to most of the viewers. In fact, it shouldn't be a surprise if the first part of the climax, in which the revelation starts, finds the audience clapping gleefully just because they couldn't have imagined that that was what was in store for them.
If Mudassar Aziz's screenplay is outstanding, his dialogues are even better. The dialogues are so full of punches that they add to the entertainment quotient and how!
Kartik Aaryan is simply wonderful as Abhinav Tyagi. His sense of timing, the innocence of his character juxtaposed with his street-smartness, his body language, his poker face are all tools which he uses so splendidly to deliver what turns out to be a performance which can be used as a textbook by new actors. Bhumi Pednekar is mind-blowing in the role of the glamorous Vedika Tripathi. She performs with such confidence that it's delightful to watch her on the screen. With this film, Bhumi Pednekar proves that she is one of the best female performers we have. In pure commercial terms, this film will take Bhumi's marketability several notches higher. Ananya Pandey comes like a fresh ray of sunshine. She looks supremely pretty and will have the youngsters eating out of her palm. Her acting is superb. This girl has a bright, very bright future ahead of her because she has both, the looks and the talent. One word about the two heroines here. The contrast between the characterisations of the two leading ladies is exactly what was needed in a script of this kind. Aparshakti Khurana is an actor who never ceases to surprise. In this film, he has a very meaty and lengthy role and he delivers in such an extraordinary fashion that the audience watches his acting open-mouthed. In short, he has outdone himself, outshone himself. Neeraj Sood is first-rate as Vedika's uncle. Shubham Kumar will win plaudits for his absolutely no-holds-barred performance as Rakesh Yadav. K.K. Raina lives his role as Abhinav's strict father. Navni Parihar is lovely as Abhinav's mother. Rajesh Sharma makes his presence felt in the role of Vedika's father. As her mother, Geeta Agrawal leaves a fine mark. Manurishi Chadha has his wonderful moments as the police officer. Sunny Singh provides extraordinary support in a special appearance as Doga. Kriti Sanon adds star value and glamour in the special appearance role of Neha Khanna. Abhishek Singh (as Fahim's colleague), Priti Shukla (as the receptionist at Doga's shop), Omprakash Shrivastava (as the overcharging autorickshaw driver), master Naitik (as the kid at the swimming pool), Durgesh Chauhan (as Shambhu), Ashok Lal (as the salesman) and the others lend tremendous support.
Mudassar Aziz's direction is terrific. His narrative style is of the kind which will have people of all age groups enjoy the drama. Of course, the film would appeal more to the youngsters but it must be added that Mudassar Aziz caters to all age groups and he is in complete command. Not only has he penned a fantastic screenplay and terrific dialogues but he has also excelled in direction. Music (Tanishk Bagchi, Rochak Kohli, Sachet-Parampara, Tony Kakkar and Lijo George-DJ Chetas) is appealing. The remixed song ('Ankhiyon se goli maare') is the best, of course. Lyrics (Kumaar, Tanishk Bagchi, Navi Ferozpurwala, Tony Kakkar, Mellow D and Shabbir Ahmed) go well with the mood of the film. Song picturisations (by Raju Khan, Vijay Ganguly, Bosco-Caesar and Farah Khan) are engaging. Picturisations of the 'Ankhiyon se goli maare' song (Farah Khan) and the 'Dheeme dheeme' song (Bosco-Caesar) are the best. John Stewart Eduri's background music deserves the highest praise as it complements the drama just too wonderfully. Cinematography (by Chirantan Das) is remarkable. Aamar Shetty's action and chase sequences are in synch with the feel of the film. Tariq Umar Khan's production designing is splendid. Ninad Khanolkar's editing is super-sharp. His performance as an editor deserves a lot of praise.
On the whole, Pati Patni Aur Woh is a super-hit fare. It has tremendous entertainment value and is a veritable laugh riot. The youngsters will take to the film like fish takes to water and they will even repeat the film. In short, the film will be unstoppable at the box-office.
Released on 6-12-'19 at Regal (daily 2 shows) and other cinemas of Bombay thru AA Films. Publicity: excellent. Opening: superb (mostly in multiplexes and good single-screen cinemas). …….Also released all over. Opening was excellent everywhere.