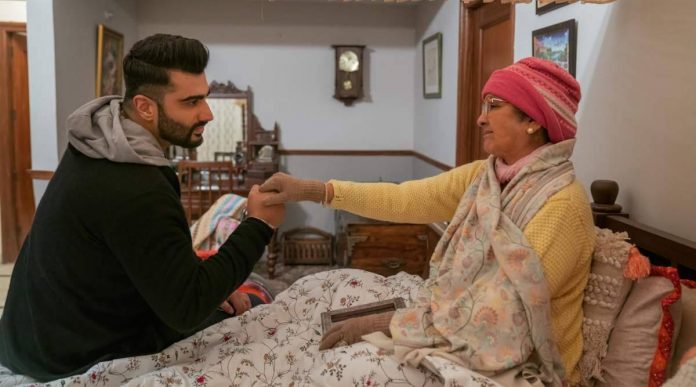 T-Series, Emmay Entertainment and J.A. Entertainment's Sardar Ka Grandson (13+) is a love story-cum-comedy. There are actually two love stories — one love story is set in the pre-Independence era (before India and Pakistan became two nations) and the other is set in the present times.
Amreek Singh (Arjun Kapoor) lives abroad and runs a company of movers and packers, called Gently Gently, in partnership with Radha (Rakul Preet Singh). Amreek and Radha are in love with each other but Radha gets irritated with Amreek's clumsiness. Amreek's family lives in Amritsar in India. His grandmother, Sardar Kaur (Neena Gupta), is a widow in her nineties. She misses her late husband. A young and pretty Sardar Kaur (Aditi Rao Hydari) had gotten married to Gursher Singh (John Abraham) and the two had a small house in Lahore. After some years of marriage, Hindu-Muslim riots had broken out in Lahore, in which Gursher Singh had been murdered. Sardar Kaur had had to flee with her little son. She had come to Amritsar where she has now been living since 70 long years. Gurkeerat Singh (Kanwaljit Singh) is Sardar Kaur's son and he is married to Simi Kaur (Soni Razdan). Amreek Singh is Gurkeerat Singh's son. Honey (Divya Seth Shah) is the other daughter-in-law of Sardar Kaur. Sardar is terminally ill but lives life king-size. She has just one desire — to visit her home in Lahore before she dies.
Amreek Singh decides to fulfil her dream but draws a blank when he applies for her visa. He then hits upon a novel plan — to physically bring the Lahore home to Amritsar in India so that Sardar's last wish is fulfilled. Since he runs a movers and packers company, the idea seems executable but it is fraught with problems. The biggest problem is Saqlain Niazi (Kumud Mishra), the Pakistani official who won't grant the permission so easily because he has an axe to grind with Sardar Kaur. Does Amreek Singh succeed in getting the Lahore property to India?
Kaashvie Nair's story is too far-fetched to make any kind of impact on the audience. The plan to move an entire house from one country to another, that too, from Pakistan to India, is nothing short of ridiculous but Nair treats it as if it were nothing more than buying an electronic gadget from Pakistan and getting it to India. Everytime the plan is revealed to a new character/s, the reaction is so lacklustre that it would appear to the viewers that shifting properties is quite a routine affair. The screenplay, penned by Anuja Chauhan and Kaashvie Nair, is childish, to say the least. If the comedy most of the times falls flat on its face, the emotional quotient is zero. Nothing, repeat, nothing tugs at the heart strings of the audience as it should. That's because everything looks fake and made up. The daunting process of shifting an entire house from one country to another is made to look like child's play, adding further to the implausibility factor. Perhaps, the only two scenes well written are the ones in which Amreek's crossing over from India to Pakistan is juxtaposed with the young Sardar Kaur fleeing from Pakistan to India, and the one in which the citizens of Pakistan come to the aid of Amreek Singh in moving the property. But even these two scenes don't touch the heart. The light scenes are, most of the time, so weak that they don't even get a smile to the face, leave alone evoking laughter. Emotions are conspicuous by their absence. A point here about the faulty screenplay. The impact of several serious scenes is horrendously diluted when Amreek Singh bungles up and starts doing half-baked comedy right in the midst of those serious scenes.
Amitosh Nagpal's dialogues are ordinary for a good part. All in all, the script, which should have been the high point of the drama, is the weakest point.
Neena Gupta may have given her nod to the film because she has a meaty and central role to play but she should have realised that even more important than her role and character was the script. With a weak script like this, no amount of weight in her character can make any positive difference to the film. Her acting is good but nothing to shout about. Arjun Kapoor is ill at ease in light scenes. In the others, his acting is barely average. Rakul Preet Singh has a brief role and although she is earnest, she hardly makes an impact because of the insignificant scenes and insipid script. Kanwaljit Singh is so-so. Soni Razdan leaves a mark in a tiny role. John Abraham, in a special appearance, adds star value. Aditi Rao Hydari is quite nice as the young Sardar Kaur. Kumud Mishra plays the villainous Saqlain Niazi very effectively. Divya Seth Shah has her moments. Mahika Patiyal (as Pinky) lends able support. Ravjeet Singh (as Lovely) is ordinary. Mir Mehroos (as Chhote in Lahore) is endearing. Shahid Lateef (as police inspector Rauf Khalid in Lahore) makes his presence felt. Rajiv Kachroo (as the Pakistani high commissioner), Masood Akhtar (as Khan Saheb), Akashdeep Sabir (as the contractor in Lahore), Priya Tandon (as the Pakistani journalist) and the others are adequate.
Kaashvie Nair's direction is just about okay. A more sensitive handling of the subject and a far more mature script were needed. Music (Tanishk Bagchi) is good; a couple of songs are appealing but they are not too popular. Lyrics (Tanishk Bagchi, Milind Gaba, Happy Raikoti and Manoj Muntashir) are weighty. Song picturisations are routine. Gulraj Singh's background music is average. Mahendra Shetty's cinematography is fair. Mohd. Amin Khatib's action and stunt scenes are functional. Production designing (Sriram Iyengar and Sujeet Sawant) and art direction (Vijay Ghodke) are alright. Maahir Zaveri's editing ought to have been sharper and crisper.
On the whole, Sardar Ka Grandson is a terribly weak fare which neither warms the heart nor tickles the funny bone. Had it been released in the cinemas, it would've faced rejection.
Released on 18-5-'21 on Netflix.