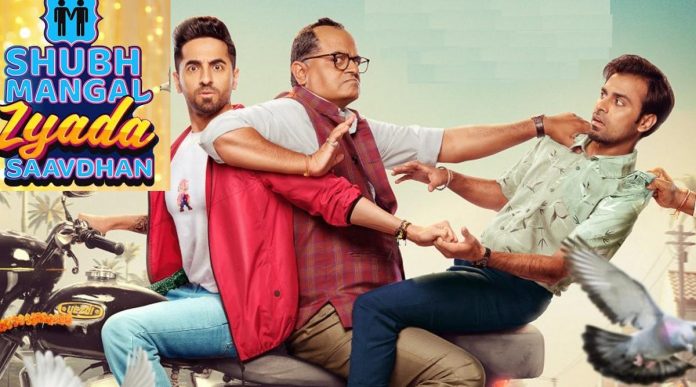 T-Series and Colour Yellow Productions Pvt. Ltd.'s Shubh Mangal Zyada Saavdhan (UA) is the story of two gay men.
Kartik Singh (Ayushmann Khurrana) is madly in love with Aman Tripathi (Jitendra Kumar) and vice versa. Their families are unaware of this love affair. Aman lives with his father, Shankar Tripathi (Gajraj Rao), mother, Sunaina (Neena Gupta), lawyer-uncle, Chaman Tripathi (Manu Rishi Chadha), aunt, Champa Tripathi (Sunita Rajwar), and cousins, Goggle (Maanvi Gagroo) and Keshav (Neeraj Singh). All hell breaks loose when, at the wedding celebrations of Goggle, Kartik and Aman openly profess their relationship in full view of the families and guests by locking lips. Goggle's marriage is called off by the groom's family but the havoc this relationship creates in the Tripathi family is unparalleled.
Aman's parents had, before a few days, finalised his marriage with Kusum (Pankhuri Awasthy). Bowing down to family pressure, Aman agrees to marry Kusum but there's a hidden plan between Kusum and Aman. Although the plan suits Kartik also, he objects because he wants Aman to stand for the homosexual relationship rather than taking the easy path.
What happens thereafter? Does Aman marry Kusum or Kartik? Do Aman's family members get over their shock?
Hitesh Kewalya has written a bold story which shows the main protagonist, the hero (Kartik), in a gay relationship. The story, therefore, has novelty as well as shock value. A good part of Kewalya's screenplay is comical and light-hearted but this can't take away from the inherent seriousness involved in the subject which even today is taboo for a large chunk of the audience. Also, the writer has oscillated between comedy and philosophy/seriousness as a result of which the drama is neither completely here nor there. All along, the Tripathi family tries to convince Aman that the relationship between him and Kartik is unnatural while not referring to the illegality of the relationship. Yet, on the day of the marriage of Aman and Kusum, when the police arrive at the Tripathi home to arrest Kartik and Aman for their gay relationship, Aman's family members ask the police to wait for the Supreme Court judgement on Section 377, which is due to be pronounced the following day. And when the judgement, decriminalising homosexuality, is pronounced the next day, the Tripathi family members hug one another and cry tears of joy as if decriminalising it or legalising homosexuality was tantamount to making the relationship 'natural' for their thinking.
Also, it appears very strange when Kartik asks Aman to take a stand on homosexuality and not marry Kusum but conveniently accepts the lie lawyer Chaman Tripathi tells the police that Kartik and Aman are not in a gay relationship when the police come to arrest the two. Whatever happened to the principled Kartik then? The audience finds it difficult to accept that the main protagonist can be so double-faced.
Although the reactions of the Tripathi family have been shown in great detail, the reactions of Kartik's family are not shown at all. This, despite the fact that Kartik keeps referring to his father and his likely reactions.
Writer Hitesh Kewalya also often digresses from the main topic — which is alright — but the digressed scenes quite obviously look like they've been added simply to create laughter and because there's not much meat left for him in the main issue. So while the audiences enjoy the comedy born out of squabbles among the Tripathi family members, they (audiences) also realise that the squabbles are often out of context. For instance, the scene in which Shankar and Chaman Tripathi are urinating in the open and get into an argument seems uncalled for. Likewise, the track of Goggle, her marriage and her disappearance after the break-up of the marriage — they all seem irrelevant. Another major drawback of the screenplay is that the viewers don't feel empathy towards the two lovers, so necessary in a love story. But probably, the greatest drawback of the screenplay is the lack of conviction of the writer. At regular intervals, it becomes obvious to the viewer that the writer himself is not convinced fully about gay relationships — and that's not a great feeling to have!
This is not to say that the screenplay doesn't have plus points. Of course, it does have them. Many of the comedy scenes are very entertaining and enjoyable. This, coupled with the novelty factor, does make the drama appealing at times. Having said that, it must be added that the story and screenplay will appeal mainly to the city-based youngsters. Hitesh Kewalya's dialogues are excellent and add to the comedy tremendously.
Ayushmann Khurrana does a very fine job as Kartik Singh. He puts all the conviction at his command to make the character believable. Jitendra Kumar doesn't act on the front foot — and that's a minus point. Although he performs ably, he sometimes seems to be uncomfortable doing what he does. Gajraj Rao acts well but does go overboard at places. Neena Gupta is exceptionally good as Sunaina Tripathi. Manu Rishi Chadha is extraordinary as Chaman Tripathi, using his body language to great advantage. Sunita Rajwar lends tremendous support as Champa Tripathi. Maanvi Gagroo is alright as Goggle. Pankhuri Awasthy leaves a fine mark as Kusum. Her running away shyly every time is a good trait which makes people smile. Neeraj Singh makes his presence beautifully felt as Keshav Tripathi. Gopal Dutt is natural as the doctor. Bhumi Pednekar stands her own in a brief special appearance.
Hitesh Kewalya's direction is good but, as with his script, his narrative style is also found lacking in conviction at times. Music and lyrics (both by Tanishk Bagchi, Vayu and Tony Kakkar) are good; the 'Gabru' and 'Oo la la' songs are the best while the other songs are also quite nice but there's no super-hit number. Song picturisations (by Vijay Ganguly and Bosco-Caesar) are quite nice. Karan Kulkarni's background music is very good. Chirantan Das' camerawork is nice. Amar Shetty's action and stunt scenes are okay. Ravi Srivastava's production designing is of a fine standard. Ninad Khanolkar's editing is sharp.
On the whole, Shubh Mangal Zyada Saavdhan has entertaining comedy but lacks in conviction. It will do ordinary business at the box-office. Of course, recovery from non-theatrical sources is big and, therefore, profitability should not be an issue but its theatrical business will be very limited and below expectations when compared to the earlier films of the hero.
Released on 21-2-'20 at Regal (daily 2 shows) and other cinemas of Bombay thru AA Films. Publicity: good. Opening: quite good. …….Also released all over. Opening was fair at places, good at some other places but below the mark at some places.