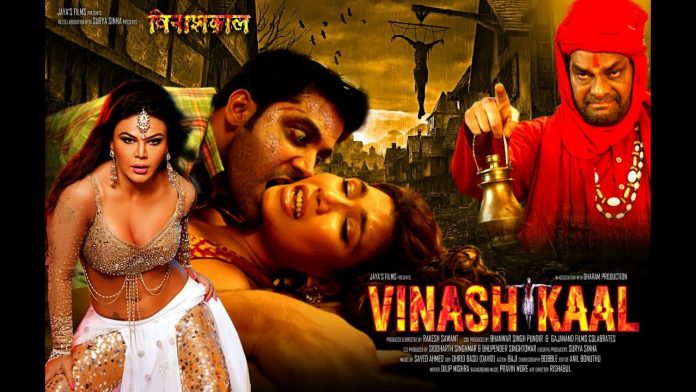 Jaya's Films and Shreehans Arts And Creations Pvt. Ltd.'s Vinash Kaal (A) is a horror film. Nupur (Nupur Mehta) and her fiancé (Jai Akash) plan a bachelorette party at the former's house in her village. But the house is haunted by a spirit which wants to destroy Nupur's family. A tantrik (Rajesh Vivek) is desirous of controlling the spirit as by doing so, he thinks, he can become all-powerful. Does the spirit kill Nupur? Or is the tantrik able to control it before that?
Dilip Mishra, Sandhya Saxena and Rakesh Sawant have written a hackneyed story and a dull screenplay, both of which lack novelty. The drama is so insipid and predictable that nothing makes any kind of impact whatsoever. Even the dialogues are weak.
Nupur Mehta is average. Jai Akash fails to impress much. Rajesh Vivek is very loud but that's the need of the character too. Seema Singh, Shravan, Ruby Ahmed, Preeti, Rishabh Jain, Sabu and Pankaj Pareek lend routine support. Kota Srinivasa Rao and Jeeva are okay. Rakhi Sawant, Ejaz Khan and Mumait Khan make dazzling appearances in song-dance numbers. Others barely fit the bill.
Rakesh Sawant's direction is poor. Music (Sayed Ahmed and Imran Warsi) is alright. Anjaan Sagri's lyrics are ordinary. The 'Lehenga' song is the pick of the lot. One song picturised (by Bobbie) on Rakhi Sawant and Ejaz Khan, and the 'Lehenga' song picturised on Mumait Khan are quite meant for front-benchers. Another song, picturised on Nupur Mehta and Seema Singh, is also well-choreographed. Background music (by Pravin More) is a letdown. David Basu's camerawork is dull, to say the least. Action scenes (choreographed by Baji) are kiddish. Rishabul Sarkar's art direction hardly deserves mention. Anil Bonuthu's editing is loose.
On the whole, Vinash Kaal is a flop fare.
Released on 27-11-'20 at Gossip (daily 1 show) and other cinemas of Bombay thru Aries Films. Publicity & opening: dull. …..Also released all over. Opening was weak everywhere.