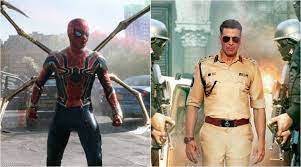 How did you predict, in your article, 'New Spidey Film All Set For Phenomenal Start' on 12th December, that the opening day's collections of Hollywood film Spider-Man: No Way Home could be better than the first day's collections of Sooryavanshi?
– It wasn't difficult to see the craze for the film all around. The SPIDER-MAN franchise is huge, very huge.
What explains the wonderful opening of Pushpa: The Rise Part 1 (dubbed) today?
– The public had loved the film's trailers and the songs. Besides, Allu Arjun is a hot favourite of the Hindi cinema-going audience too, thanks to his films on various satellite channels.
After the phenomenal start of Spider-Man: No Way Home and Pushpa: The Rise Part 1 this week, will 83 open well next week?
– You bet. Not well, 83 will open to extraordinary houses next week!