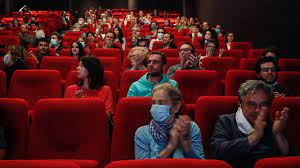 Can any film, releasing in November this year, net Rs. 50 crore on the first day?
– The house-full capacity at the permitted 50% capacity will not be Rs. 50 crore. Hence the question of a film collecting Rs. 50 crore on the first day does not arise.
Is there a limit on show timings in Maharashtra, as in many other states?
– Not really. Cinemas in Maharashtra can stretch the timing of the start of the last show till around 10 p.m., it seems, because the state government has not specified any restrictions.
With cinemas across almost the entire country having reopened now (only cinemas in Kerala will reopen on 25th October), after the reopening of cinemas in Maharashtra from today (October 22), does it mean doomsday for OTT platforms as producers will now return to the old formula of premiering their films on the big screen and then releasing them digitally?
– Not at all! Even in the pre-COVID days, OTT platforms were doing very well. Besides, content will now be made specially for streaming platforms, alongside content for the big screen. Of course, this was the case earlier too but much more content will be made specifically for streaming platforms now. In other words, cinemas and OTT platforms will co-exist — and beautifully, at that!