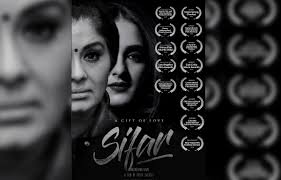 Released last week in Bombay, Delhi-U.P. and East Punjab, Zero Begins' A Gift Of Love: Sifar (UA) is the story of an author with a dark past.
Dhruv Sachdev has penned a vague and weird story and screenplay. The drama is so slow-paced that it turns boring as soon as it starts. Since it is about the inner journey of the author, it will hardly be understood and appreciated by the masses. Dialogues are rather weak.
Performances are mediocre. Sudha Chandran is average. Kanika Kapoor is not very impressive. Mushtaq Khan and Anang Desai barely pass muster. Others lend routine support.
Dhruv Sachdev's direction is very weak. Music (Anurag Mohan) is nothing to shout about. Other technical aspects are commonplace.
On the whole, A Gift Of Love: Sifar is a weak show all the way.