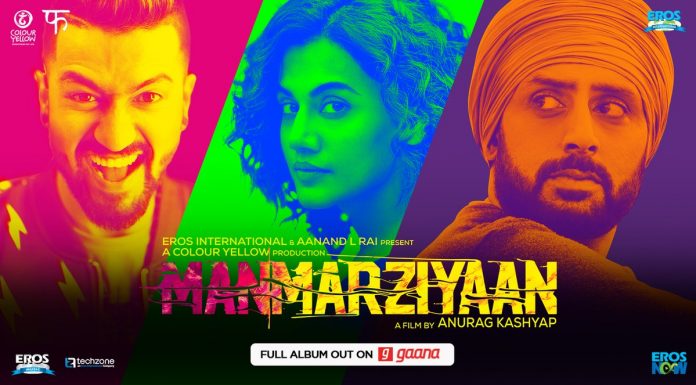 Eros International and Colour Yellow Productions' Manmarziyaan (UA) is a love triangle set in modern times.
Rumi (Taapsee Pannu) lives in Amritsar with her grandfather (Arun Bali), paternal uncle (Akshay Arora), aunt (Vishavpreet Kaur), cousin, Kiran (Ashnoor Kaur), and others. Her parents are no more. Rumi is a firebrand girl and she is madly in love with Vicky (Vicky Kaushal) who reciprocates her love. In fact, the favourite pastime of both is to get physical with one another. However, Vicky is commitment-phobic and develops cold feet whenever Rumi talks of marriage. Under family pressure to get married, Rumi asks Vicky to get his father to her home with a marriage proposal but when that doesn't happen, she gives him an ultimatum, threatening to marry any other match finalised by her family.
The unthinkable actually happens when Rumi agrees to marry Robbie (Abhishek Bachchan) who has come from abroad for marriage. Robbie is the complete opposite of Rumi as he is calm and composed, but he still takes a great liking for her. Despite being aware of a boyfriend in her life, Robbie is keen to marry Rumi. The two get married but that's when the problems start.
What happens thereafter? Does Rumi live happily ever after with Rob­bie or with Vicky or with none of them?
Kanika Dhillon has written a very bold and contemporary love story which the youth will instantly identify with. The older generation may not subscribe to the love stories of Rumi. However, a segment of the older generation would realise that, perhaps, this is the face of love nowadays. The story reminds of Hum Dil De Chuke Sanam. Kanika Dhillon's screenplay is very smooth and keeps the audience hooked on to the drama completely. Yes, the drama does seem to be stretched at some places but that doesn't really take away from her engaging screenplay. The truly exceptional quality of her screenplay is that when Robbie is on the scene, the audience's heart goes out to him, and when Vicky is on the scene, the view­ers tend to sympathise with him. Rumi, torn between the two men, also makes a comfortable place for herself in the hearts of the audiences. Kanika Dhillon has laced the inherently serious love drama with so much humour that while the seriousness is not lost, the fun quotient keeps the viewers smiling and even laughing, ensuring that boredom never creeps in. Another plus point is that the audience is unable to guess what's in store for it because the guessing game is not easy. The climax, picturised with no background music, is not just unique in presentation but also quite impactful as far as its content goes. The womenfolk and the weak-hearted may find it difficult to control their tears in the climax. Kanika Dhillon's dialogues are outstanding. The 'Pyar' and 'Fyar' distinction will not be understood by everyone but the youngsters will love the naughtiness in the dialogues using the two words.
Abhishek Bachchan delivers a sterling performance as the very understanding Robbie. He endears himself completely to the audience with his fine acting as the perfect gentleman. He conveys a lot through his expressions. It wouldn't be incorrect to say that he is superb. Taapsee Pannu is truly terrific as Rumi. She adds so much spunk to the character that it's a delight to watch her. It's also great to see her character's transformation so beautifully portrayed by her. Taapsee, with her sincere performance, never lets her character become sleazy – and that's a major achievement! Vicky Kaushal is very natural and endearing. He gives his cent per cent to the role of Vicky and comes out a winner. Whether expressing love or lust or his insecurities or regrets, Vicky Kaushal does it all with the flourish of a seasoned actor. It is indeed an experience to watch this actor do justice to his roles in film after film! Vikram Kochhar (as house help Dilip) entertains beautifully, evoking a lot of laughter. Ashnoor Kaur makes her presence felt as Kiran. Arun Bali (as Rumi's grandfather), Vishavpreet Kaur (as Rumi's aunt), Saurabh Sachdeva (as Kakaji), Akshay Arora (as Rumi's uncle), Neelu Kohli (as Robbie's mother), Swairaj Sandhu (as Robbie's dad), Rupinderjit Singh (as Babloo), Sukhmani Sadana (as Lovely Singh), Gaurav Amlani (as Raja), Poonam Shah and Priyan­ka Shah (as the twins), Sukhpal Singh (as Vicky's father), Mala Saha (as Vicky's mother), Amanpreet Kaur (as Sarabjit), Rajinder Singh (as lawyer Bhalla), Jasmin Bajwa (as Keerat), Navdeep Singh (as the engineer boy), Gurjit Kaur (as the engineer boy's mother), and the others lend very good support.
Anurag Kashyap's direction is excellent. He has remained true to the story and script and has enhanced them with his narrative style. His gimmick of showing the twins (Poonam Shah and Priyanka Shah) randomly is lovely and is bound to be interpreted as a profound directorial touch by the thinking audience. Amit Trivedi's music is excellent. Although there are too many songs and all have a predominantly Punjabi flavour, making it difficult sometimes to understand which song is which, the music creates a superb impact in the film. The songs often serve to take the drama forward and, therefore, become an integral part of the narrative. Shellee's lyrics are weighty and meaningful. Song picturisations (by Bosco-Caesar, Navadevi-Navalakshmi, Priyanka-Poonam Shah, and Sahej Singh-Urban Singh Crew) are good. Amit Trivedi's background music is very inspired. Sylvester Fonseca's cinematography is excellent. Sunil Rodrigues' action and stunt scenes go well with the film's mood. Meghna Gandhi's production designing is lovely. Aarti Bajaj's editing is sharp.
On the whole, Manmarziyaan is an all-out entertainer with hit music and lovely performances. It will score very well at the box-office. Ladies and family audiences, besides youth, will patronise the film.
Released on 14-9-'18 at Regal (daily 2 shows) and other cinemas of Bombay by Eros International. Publicity: excellent. Opening: fair (adversely affected due to Ganpati festival). …….Also released all over. Opening was so-so at most of the places.