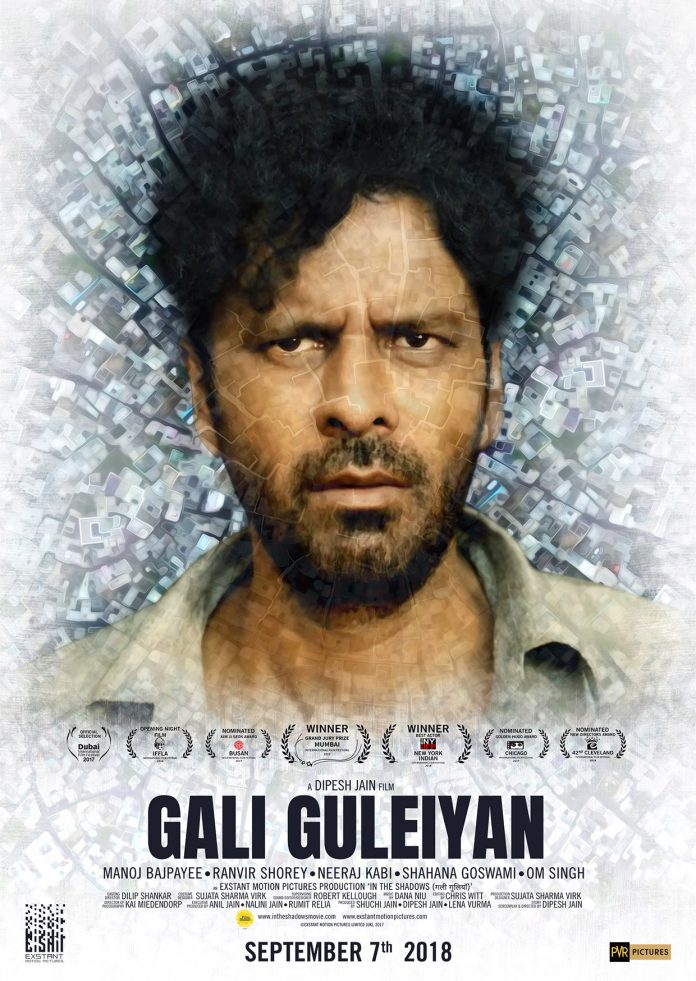 Exstant Motion Pictures' Gali Guleiyan (UA) is the story of a loner who loves to spy into people's homes and who gets easily troubled by wrong actions of people.
Khuddoos (Manoj Bajpayee) lives in an apology of a home and runs an electronics repair workshop. He loves spying and has installed hidden cameras in people's homes to find out whether anything is amiss anywhere. He hears strange sounds of a boy being beaten up by his father in the neighbouring house but, strangely, the hidden camera does not capture any such act.
He often tries to strike up a conversation with young Idris (Om Singh) who, he thinks, is being beaten up, but Idris doesn't pay attention to Khuddoos' moves. Idris lives with his parents, Liyaqat (Neeraj Kabi) and Saira (Shahana Goswami). Idris has a little brother, and his mother is expecting another child.
The newborn is still-born and a distraught Idris blames dad Liyaqat for the demise as he feels that Liyaqat had been ignoring mother Saira for his mistress, Noor (Shruti Sharma).
Does Khuddoos finally confront Idris? Is Idris actually beaten up by Liyaqat?
Dipesh Jain has penned a story which would appeal to a very thin section of the audience, the kind which frequents film festivals. His screenplay is boring and repetitive and it moves at an excruciatingly slow pace. The drama is so depressing that it is incapable of entertaining the viewers in any way. The only surprise comes in the climax although it is not totally unexpected. Dipesh Jain's dialogues are okay.
Manoj Bajpayee plays Khuddoos with understanding. Ranvir Shorey is good as Khuddoos' close friend, Ganeshi. Neeraj Kabi lives the role of Liyaqat. Shahana Goswami gives an understated performance in the role of Saira. Om Singh does a fair job as Idris. Ashwath Bhatt (as Shaukat), Shruti Sharma (as Noor), Arbaaz Khan (as Ginny), Rajesh Joshi (as Daresi), Robin Das (as the doctor), Durga Sharma Shrivastava (as Farida), Siddharth Bhardwaj (as Shibbi), Titu Chouhan (as Shankar), baby Palak (as little Shaukat), Rajesh Gupta (as the restaurant owner) and the others do as required.
Dipesh Jain's direction is of the kind which would appeal only to the festival circuit audience. Dana Niu's background music is ordinary. Kai Miendendorp's cinematography is nice. Sujata Sharma Virk's production designing is realistic. Editing (by Chris Witt) is okay but the very pace of the drama is painfully slow.
On the whole, Gali Guleiyan will face rejection at the box-office as it holds appeal only for the festival circuit audience.