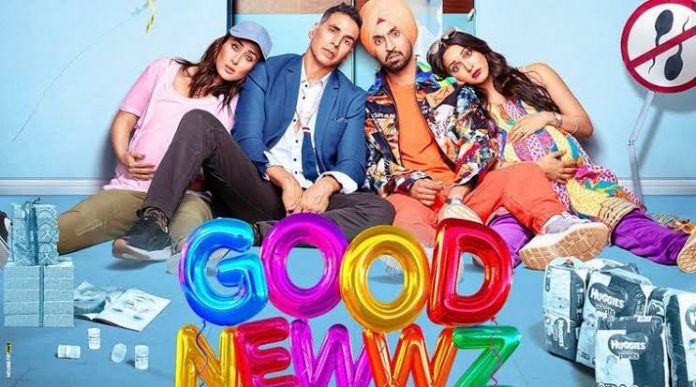 Zee Studios, Dharma Productions and Cape Of Good Hope Films' Good Newwz (UA) is a comedy about a mix-up in an in vitro fertilisation clinic.
Varun Batra (Akshay Kumar) and Deepti Batra (Kareena Kapoor Khan) are a happily married couple. They've postponed having a child for long as they are both working, but now, they are keen to have a child very soon. Deepti is more tense than Varun about getting pregnant. Varun's lawyer-sister, Richa (Anjana Sukhani), and lawyer-brother-in-law, Vivek (Faisal Rashid), suggest that they visit the sex clinic of Dr. Joshi (Adil Hussain) and his doctor-wife (Tisca Chopra) in Bombay. The Batras consult Dr. Joshi and agree to go in for in vitro fertilisation because that seems to be the best option, according to Dr. Joshi. The procedure begins.
Even as Varun and Deepti are happy that she would probably conceive soon, they get a call from Dr. Joshi's clinic for an emergency meeting. At the clinic, Varun and Deepti meet another Batra couple, Honey (Diljit Dosanjh) and Monika (Kiara Advani). The doctor-couple informs them with regret that the sperms of the two males have been mixed up due to the two couples having the same last name. Varun's sperm has been put in Monika's womb, and Honey's sperm has been put inside Deepti's womb. The four adults are angry, distraught, confused, petrified. The only hope now is that the two ladies do not get pregnant. Do both get pregnant? Or do they both not get pregnant? Or does only one of them get pregnant? What happens thereafter is the crux of the story.
Jyoti Kapoor has penned an extremely funny story which is full of fresh twists and turns. The story idea itself is so new. Her screenplay, with additional screenplay by Rishabh Sharma, has a number of gags, one funnier than the other. Of course, the drama is predominantly meant for the city and multiplex audiences because it talks about a technical issue like IVF, but the comedy that follows is quite basic and universal and will, therefore, appeal to and entertain the viewers in the single-screen cinemas too. The comedy is ever so often hilarious and will bring down the house with laughter. What is interesting is that each of the four lead characters have typical characteristics which make them so different from one another. What's more, the writers have taken great care to ensure that the typicalities of the four characters stay with them from the beginning till the very end. Yes, some viewers may feel a bit uncomfortable about the adult talk related to sex but overall, the fun quotient is what is highlighted — and that fun quotient is high and also extremely enjoyable and entertaining. While almost the entire first half relies on the fun scenes between Varun and Deepti, there are at least two scenes (including the interval scene) in which one gets a glimpse of Honey's funny side. The interval scene of both the Batra couples in conversation with the doctor-couple is just too funny and will draw a lot of laughter. Another noteworthy feature of the comedy in both, the pre- and post-interval portions is that it will often prompt the audience to clap gleefully. Dialogues, written by Jyoti Kapoor, Rishabh Sharma and Raj Mehta, are simply extraordinary. Kudos to the trio for writing such funny dialogues, and for giving so many of them! The dialogues enhance the impact of the comedy manifold.
Akshay Kumar delivers a no-holds-barred fun performance which will be loved by the audience. He is in his element and shines yet again in a territory which he seems to have made his home ground. He is simply remarkable in the film. He looks very handsome too. Kareena Kapoor Khan looks gorgeous and acts with such sincerity that it is difficult to fault her in a single scene. She is superb in comedy scenes and outstanding in emotional, dramatic and melodramatic ones. Her monologue scene in which she gives her husband a piece of her mind is outstanding. Diljit Dosanjh comes like a whiff of fresh air and fills the screen with a heartfelt and spontaneous performance. It is simply delightful to watch him in comic scenes because his sense of timing is just too mind-blowing. His innocence and integrity of performance are praiseworthy. Kiara Advani is lovely as the God-fearing Monika. She stands out in both, comic as well as emotional scenes. In fact, her performance is quite a revelation! She has looked very beautiful too. Adil Hussain is lovely as Dr. Joshi. His prayer scenes and eye drops scene will bring down the house with laughter. As his doctor-wife, Tisca Chopra is also just too wonderful. She looks pretty. Anjana Sukhani (as Richa) and Faisal Rashid (as Vivek) lend very good support. Richa Kapoor (as Varun's mother) and Pradeep Kukreja (as Varun's father) make their marks. Kavita Pais and Bharat Ahuja are adequate as Deepti's parents. Mohit Raina leaves a fine mark as the attractive co-passenger on the flight on which Varun and Deepti travel. Shivam Pal makes his presence felt as the cab driver. Karan Ashar and Harsh Mittal (as Varun's friends in office), Sanjeev Sharma (as the pub manager), Simran Suri (as the receptionist), Amishka Sood (as the IVF clinic receptionist), Archana Iyer (as the nurse), Sambhav Jain, Ranjana Singh and Mandeep Singh (all three as medical interns), Komal Chabaria (as Vivek's mother), Jagdish Kansara (as Vivek's father), Preeti Kochar and Poonam Sarnaik (both as Varun's relatives), master Taksh Dave (as the kid in the car showroom), Jignesh (as the kid's father in the showroom), Manpreet Kaur (as the hospital receptionist), Krishan Sulak (as the zumba instructor) and the others provide the required support.
Raj Mehta deserves distinction marks for his direction. The film's mature handling belies the fact that this is his debut film as a director. He has extracted fantastic work from his cast and has kept the narrative style fast-paced and very entertaining. Music (Tanishk Bagchi, Rochak-Lauv, Lijo George-DJ Chetas, Badshah, Manj Musik-Herbie Sahara, Sukhbir, Kshmr) is very good. Every song is entertaining and the music has melody too. Lyrics (Kumaar, Rashmi Virag, Tanishk Bagchi, Sukhbir, Gurpreet Saini-Ari Leff-Michael Pollack, Badshah, Herbie Sahara and Vayu) go well with the mood of the film. Song picturisations (by Ganesh Acharya, Bosco-Caesar, Adil Shaikh, Brinda and Vijay Ganguly) are all eye-filling. John Stewart Eduri's background music is excellent and it serves to heighten the impact of the comic and emotional scenes very effectively. Vishnu Rao's cinematography is splendid. Whether they are the actors or the locations, Rao makes everyone and everything look so beautiful. Vikram Dahiya's action scenes are appropriate. Shashank Tere's production designing is excellent. Manish More's editing is super-sharp and super-crisp.
On the whole, Good Newwz is a sureshot hit. It will easily join the Rs. 100-crore club soon and will keep everyone (public, producers, distributors and exhibitors) happy. The film has already recovered almost the entire investment in it from non-theatrical revenues and hence almost the entire theatrical shares from India and Overseas will be profit.
Released on 27-12-'19 at Regal (daily 3 shows) and other cinemas of Bombay by Zee Studios. Publicity & opening: excellent. …….Also released all over. Opening was very good in big multiplexes, good in good single-screen cinemas and fair at other places.