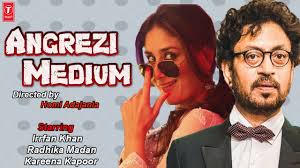 Jio Studios and Maddock Films' Angrezi Medium is the second in the Hindi Medium series. It is the story of a father and his daughter who wants to study in London, no matter what.
Champak Bansal (Irrfan Khan) runs a sweetmeat shop in Udaipur and is a widower who lives with his daughter, Tarika (Radhika Madan). Although his shop uses the brand name Ghasiteram, his brothers and other family members also use the same brand name for their sweetmeat stores. The family dispute about the brand ownership is in court. Dispute apart, Champak and his younger brother, Gopi Bansal (Deepak Dobriyal), are very close to each other.
Tarika works very hard for her school examinations because the top three students will be sent by the school to the Truford College in London for further studies. She wants to study in London under any circumstances and gets lucky when her name is in the list. But her father unwittingly spoils her chances of studying abroad. When Champak realises his folly, he feels so guilty that he decides to use even unfair means to realise Tarika's dream of foreign education.
Does Tarika manage to study in London? What are the hardships Champak Bansal has to face? What happens in London where Champak and brother Gopi accompany Tarika?
Bhavesh Mandalia, Gaurav Shukla, Vipin Chhawal and Sara Bodinar have penned a story and screenplay which often border on the implausible. Agreed, it is a comedy, and cinematic liberties and exaggerations are accepted in comedies, but the problem here is that legal authorities of various nations come into play in the unfolding of this comic drama. For instance, what happens when Champak and Gopi are deported to India from London? How do they manage to return to London so soon thereafter? How do they manage to hoodwink the London police officer, Naina (Kareena Kapoor Khan), time and again? Their modus operandi has been explained but it just doesn't appeal to the audience because the comedy by Champak and Gopi is acceptable but the legal authorities of various countries being so gullible is not digestible. And this comes in the way of their enjoyment of the rest of the drama. Even otherwise, the comedy often looks contrived — just like the emotions do, towards the last part of the drama.
This is not to say that there are no good points in the story and screenplay. Of course, there are scenes which make the people laugh out loud but the drama is neither free-flowing nor seamless. In other words, the consistency factor is missing in the comedy. After every good chunk of comedy, there are some scenes which make the viewers wonder how all the characters in the drama can be so naïve or dumb. It must also be added that the comedy often borders on buffoonery which doesn't satisfy the viewers enough.
Comparisons are odious but since this is the second film in the Hindi Medium series, viewers are bound to make comparisons between this film and Hindi Medium. Quite clearly, while the audiences laughed non-stop in Hindi Medium, they do so sparingly in this film. The climax looks hurried because Tarika's realisation seems abrupt and too sudden.
Even the dialogues, penned by the four writers, are not consistently good. In some scenes, the dialogues are witty and sometimes excellent but they also often lack punch.
Irrfan Khan does well in the role of Champak Bansal. He delivers quite well but there was no need to show him to be a confused man because he is, more often than not, very clear in his thoughts. Deepak Dobriyal is excellent in the role of Gopi Bansal. His sense of comic timing is extraordinary. Radhika Madan is splendidly natural as Tarika Bansal. She acts with effortless ease but her dialogue delivery at times lacks clarity. Kareena Kapoor Khan gets limited scope as London police officer Naina. Her scene in the climax is very good. Ranvir Shorey is effective as Babloo. Dimple Kapadia stands her own as Mrs. Kohli. Kiku Sharda is quite nice as Gajju. Pankaj Tripathi doesn't get scope to match his abundant talent although he does well as the travel agent. Zakir Hussain leaves a mark as the judge. Meghna Malik makes her presence felt as the school principal. Manu Rishi Chadha has his moments. Tillotama Shome performs ably as the education counsellor but it's sad to see such a talented actress being cast in such a tiny role. Ankit Bisht (as Anmol), Vipul Tank (as Lagnesh), Manish Gandhi (as Tarika's London friend, Advait), baby Prachi Loungwani (as little Tarika), baby Myra Dandekar (as young Tarika), master Jivitesh Sharma (as yound Champak), master Arihant Chauhan (as yound Gopi), master Samarth Nayak (as young Gajju), Charvee Ashok Pandya (as Babloo's wife), master Ehzaan Chanchal (as Babloo's son), baby Bharti (as Babloo's daughter), Thai Anh Bui (as Advait's Korean friend), Proscovia Kongai (as Advait's female friend) and the others lend the desired support.
Homi Adajania's direction is so-so. While the craft is good, Homi has not been able to camouflage the drawbacks of the script. As such, his narration, like the script, make the drama very class-appealing. Sachin-Jigar's music is fair; there's no song which stands out. The duo's background music ought to have been more effective. Lyrics (Jigar Saraiya, Vayu and Priya Saraiya) are appropriate. Anil Mehta's cinematography is very good. Whether it is the London locales or the Udaipur outdoors, Mehta has captured all of them beautifully. Manohar Verma's action and stunt scenes are impactful. Bindiya Chhabria's production designing and art direction (by Ramesh Yadav and Hemlal Mahto) are good. A. Sreekar Prasad's editing could've been sharper. One more point: why is the film titled Angrezi Medium? It is about foreign education as compared to education in India, not about English medium versus Hindi medium. So what's the relevance of the title?
On the whole, Angrezi Medium is not half as good as Hindi Medium. In fact, it is too ordinary to really create an impact on the box-office. It will not be able to keep its distributors in a happy zone, and this is not just because of the attendance in cinemas being adversely affected due to the coronavirus scare and the closure of cinemas ordered in some parts of India.
Released on 13-3-'20 at Regal (daily 2 shows) and other cinemas of Bombay thru PEN Marudhar Cine Entertainment. Publicity: good. Opening: so-so. …….Also released all over. Opening was good at places but below the mark at others. Opening was also adversely affected due to the Covid-19 scare.