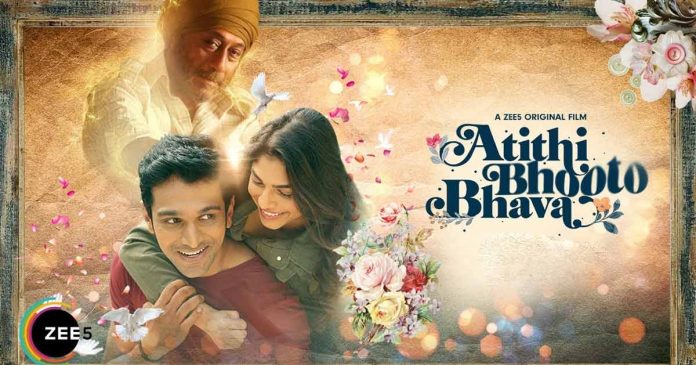 PEN Studios, Hardik Gajjar Films and Back Bencher Pictures' Atithi Bhooto Bhava (UA) is a story about true love beyond death.
Shrikant (Pratik Gandhi) meets the friendly ghost of Makhan Singh (Jackie Shroff). Makhan tells Shrikant that he (Shrikant) was his (Makhan Singh's) grandfather in his (Shrikant's) past life. Makhan also tells Shrikant that they used to live in Mathura where he (Makhan Singh) was in love with Manju (Simran Sharma). Since Manju and his love story had remained incomplete, Shrikant and his live-in girlfriend, Netra (Sharmin Segal), decide to fulfil the wish of Makhan Singh's ghost to be taken to Mathura so that he could meet his girlfriend there. What happens thereafter?
The original story is written by Aniket Wakchaure and it has been adapted by Pradeep Srivastava and Shreyas Lowlekar. The story is quite different, and the screenplay has incidents which evoke laughter, especially in the first half. The track of Shrikant and Netra trying to unite Makhan Singh and Manju (Anuradha Singh) is heartwarming. Also heartwarming is the lesson Shrikant learns from Makhan Singh's love story. Having said that, it must be added that the post-interval portion becomes slow and even boring at places. The philosophical track will not appeal to many among the viewers. There are too many flashbacks which make the drama a bit confusing. The second half also looks somewhat unconvincing. Dialogues are simple and good.
Jackie Shroff acts ably as Makhan Singh. Pratik Gandhi is good in the role of Shrikant. Sharmin Segal is okay as Netra. Divina Thakur does a natural job as Suchi, friend of Shrikant and Netra. Simran Sharma lends average support in a brief role as young Manju. Prabhjyot Singh (as young Makhan Singh) is adequate. Anuradha Singh (as the older Manju), Pratima Kannan, Hanif Patni, Sunil Kumar Shakya, Suvarna Ananda Misal, Hetal A. Puniwala, Krishna Bisht, Samay Thakkar and the others lend routine support.
Hardik Gajjar's direction is alright. However, he has not been able to make a thoroughly entertaining fare. Prasad Sashte's music is lovely. 'Iss dil mein', 'Dil paakhi hua re' and 'Gulmohar' are very well-tuned songs. Lyrics (Priyanka R. Bala) are nice. Mudassar Khan's choreography is commonplace. Prasad Sashte's background music is reasonably impactful. Madhu Vannier's camerawork is alright. Chokas Bhardwaj's production designing, and Swarika Bhardwaj's art direction are fairly good. Kanu Prajapati's editing is quite sharp.
On the whole, Atithi Bhooto Bhava is not a very entertaining comedy. It will, therefore, prove to be an average fare.
Released on 23-9-'22 on Zee5.