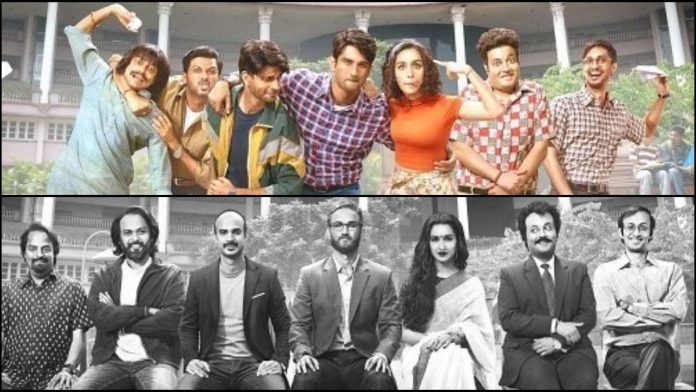 Fox Star Studios and Nadiadwala Grandson Entertainment Pvt. Ltd.'s Chhichhore (UA) is the story of a group of college friends who were known as losers during their hostel days and how their story of fighting against all odds but never giving up encourages someone to not give up hope.
College friends Anirudh alias Anni (Sushant Singh Rajput) and Maya (Shraddha Kapoor) had gotten married years ago but are now divorced. They have a son, Raghav (Md. Samad), who lives with the father. But Raghav also keeps meeting Maya. Raghav has appeared for an entrance examination and is extremely nervous about his results. Anni is confident that Raghav would make it in the entrance examination and tries to give him pep talk so that his nervousness reduces. What happens on the day of the results? Does Raghav make it in the merit list?
While in college, Anirudh had a group of close friends, most of who were known more by their nicknames than their real names. Sexa (Varun Sharma), Derek (Tahir Raj Bhasin), Mummy (Tushar Pandey), Acid (Naveen Polishetty) and Bevda (Saharsh Kumar Shukla) were Anni's close friends. All of them stayed in Hostel no. 4 of their college. Hostel no. 4 was considered the hostel of losers and failures. Anni was fond of Maya (Shraddha Kapoor) who stayed in the Girls' Hostel. Maya was also attracted towards Anni and, therefore, became a part of the Hostel 4 group.
Raggie (Prateik Babbar) had tried to get Anni into Hostel no. 3 when he had gotten to know that he was a fine sportsman. But rather than leave his friends of Hostel 4, Anni had preferred to stay with them. This had agitated Raggie no end as he had wanted Anni in his team. Anyway, as the sports tournaments had approached, Hostel 4 was pitted against Hostel 3. Since Hostel 4 was at the back foot, Anni had thought of smart ways to play with the psyche of the players from Hostel 3. His modus operandi had worked to a large extent and players of Hostel 4 had performed pretty well. While Anni was quite a champion in volley ball, Derek and Acid were sprinters, and Bevda was a champion in chess. What was the outcome of the sports tournaments?
Years have elapsed. All the friends, busy in their own lives and with their respective families, now meet at Anni's house for a purpose. What is the intention of the friends to meet after so many years?
The story, written by Nitesh Tiwari, Nikhil Mehrotra and Piyush Gupta, is both, interesting and engaging. It has a message that is so relevant to everybody that it will strike a chord in every heart. In fact, the message (not being revealed) raises a pertinent question which is so true and which one has, somehow, never bothered to answer, that the entire drama becomes novel and relatable. The screenplay, also penned by the trio is laced with so much humour that it keeps the audience entertained throughout. Yes, the first half seems a little scattered and it appears that the connection between the past and the present is a bit far-fetched but as the second half starts, the viewers forget about the far-fetchedness and get so involved in the happenings that it doesn't really matter whether the past is less or more relevant to the present. The humour is so fresh that it evokes laughter at a number of places. The romantic track of Anni and Maya is quite understated but it sits well with the overall drama which is basically about friends and their spirit of never saying die. If the screenplay thrives on humour between bosom pals when they were in college, it also has emotions when they meet in the present times. The scene in which Anni breaks down and makes a pertinent point about how the human brain invariably thinks is not just very emotional but it is also so thought-provoking that it makes the viewers wonder why nobody ever thought about it although it is so relevant to every person's life. This, in fact, is the pertinent message that the film gives the elders, but the message will also appeal to youngsters as it talks about them too. The scene in which Mummy speaks to his son in the USA soon after Anni's breakdown is extremely emotional and will bring tears to people's eyes. There are a couple of other emotional scenes too. The film often reminds of 3 Idiots.
Rather than the entire past being narrated as a flashback, the screenplay oscillates between the past and the present so that the audience gets to see the friends in their youth alongside in their middle age. The age difference is visible in each character because of their changed features in their middle age as also their different get-ups to show the time elapse. The screenplay is, therefore, not only very engaging but also quite fresh. The post-interval portion, by its very nature, is more exciting because it concentrates on different sports and the adrenaline rush that goes with them.
Dialogues, written by Nitesh Tiwari, Nikhil Mehrotra and Piyush Gupta, are very effective. The comic ones are truly funny while the philosophical and serious ones are heart-touching.
Sushant Singh Rajput does a fine job as Anni. He plays the character with understanding. As the young Anni, he tends to contort his face a bit too often, which takes something away from his performance. Sushant doesn't need to make facial contortions to convey emotions because even without them, he successfully conveys what's meant to be conveyed to the audience or the characters. The scene in which he talks gibberish to Maya when he goes with Mummy to get female clothing items from her is terrific and will bring the house down with laughter. In the older role, he is very nice and lends the character of the older Anni a lot of grace. Shraddha Kapoor is lovely as Maya. If she is nice and bubbly as the college-going Maya, she is suitably restrained as the older Maya. Her costumes while she is a student are trendy and eye-catching. Varun Sharma is terrific as Sexa. He evokes a lot of laughter not just because of the comedy scenes he gets but also due to his perfect timing. Tahir Raj Bhasin looks handsome as the young Derek. His acting in both the roles (young and middle-aged) is very good. Tushar Pandey is excellent as Mummy. He evokes tears from the viewers' eyes in one scene. Naveen Polishetty is natural to the core in the role of Acid. It is delightful to see him sink into the character. Saharsh Kumar Shukla leaves a fine mark as Bevda. Prateik Babbar makes his mark as Raggie. He looks very handsome too. Md. Samad is cute and expressive as Raghav. Shishir Sharma (as Dr. Kasbekar), Saanand Verma (as the clerk for the engineering hostel allotment), Sanjay Goradia (as Mummy's father), Sanjay Borkar (as the Hostel 4 warden), Rohit Verma, Sajan Desai, Vishal Mahala (all three as Anni's friends), Adarsh Gautam (as Sexa's father), Anchal Srivastava (as Maya's friend, Anjali), Mudrika Gupta (as Maya's friend, Madhavi), Kritika Pande (as Maya's friend, Neha), Anil Jatav (as the milkshake boy in the canteen), Raziya Sultana (as the thin weightlifting girl), Gautam Gopal Ahuja (as Raghav's friend, Mohit), Rishabh Joshi (as Raghav's friend, Sooraj), Abhilasha Patil (as the nurse), Gopal Verma (as the ward boy), and the rest lend very good support.
Nitesh Tiwari's direction is excellent. He has narrated the subject in such an entertaining manner that the film will appeal to audiences of all age groups. His mix of entertainment with a pertinent message to parents is superb. Pritam's music is good; the 'Fikar not' song is the best number in the film. But the absence of hit songs is sorely felt. Amitabh Bhattacharya's lyrics are meaningful and weighty. Song picturisations (by Bosco-Caesar) are good, especially the 'Fikar not' song, picturisation of which is extraordinary. Sameer Uddin's background music is impactful. Amalendu Chaudhary's cinematography is superb. Sunil Rodrigues' action scenes and stunts are exciting. Laxmi Keluskar's production designing is of a fine order. Charu Shree Roy's editing is crisp.
On the whole, Chhichhore is a hit. It has a superb combination of enjoyable entertainment and a wonderful message. It will work its magic on the viewers and turn out to be a big box-office winner.
Released on 6-9-'19 at Regal (daily 4 shows) and other cinemas of Bombay thru Shringar Films Pvt. Ltd. Publicity: good. Opening: very good. …….Also released all over. Opening was above average at most of the places.