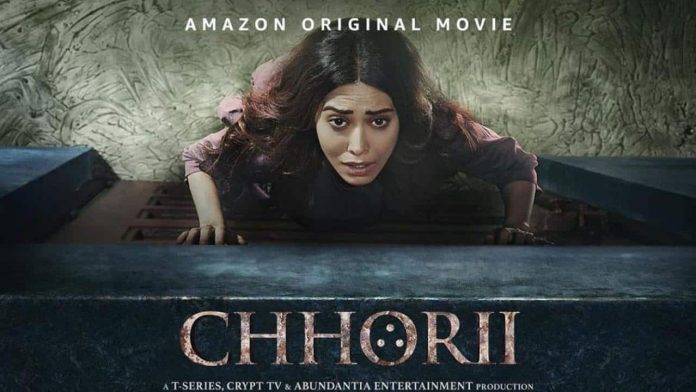 T-Series Films, Abundantia Entertainment and Crypt TV's Chhorii (V/UA) is about female infanticide.
Sakshi (Nushrat Bharucha) and husband Hemant (Saurabh Goyal) are awaiting the birth of their first child. Sakshi is in her eighth month of pregnancy. Circumstances bring the couple to their driver, Kajala's (Rajesh Jais) village. Sakshi finds Kajala's wife, Bhanno Devi (Mita Vasisht), behaving rather weirdly.
Sakshi soon realises that all's not well in the house of Kajala and Bhanno Devi. Since Hemant has returned to the city, Sakshi tries to escape from the village. But she fails. While there, she gets visions of what had transpired in Kajala's house. She compares that with the information which Bhanno Devi has fed her with. She tries to talk with Rani (Pallavi Ajay), the first wife of Bhanno Devi's eldest son, Rajbir, but the lady won't utter a word. There are also references to Sunaini (Yaaneea Bharadwaj), the wife of Kajala's younger brother, and of Kajala's three younger sons (Manas Tondwalkar, Hayat Ali, Nirvighna Pathe).
What is the truth about Kajala's house? Why does Sakshi feel trapped in it? Does husband Hemant come to rescue Sakshi? What about the child in Sakshi's womb?
Vishal Furia has written a story which confuses at places. However, things become clear in the last few reels. But the audience often loses patience till the drama reaches the climax, because of three reasons — the screenplay (by Vishal Kapoor) is confusing, the pace is excruciatingly slow, and the screenplay is repetitive. The entire drama is also very depressing and moves on a single track, making it monotonous too. However, it must be said that the climax is well-written by Kapoor. Dialogues (by Vishal Kapoor) are so-so.
Nushrat Bharucha does a fairly good job as Sakshi. She impresses the most in the climax. Saurabh Goyal gets limited scope and he performs well as Sakshi's husband. Mita Vasisht is pretty effective as Bhanno Devi. Rajesh Jais makes his presence felt in the role of driver Kajala. Yaaneea Bharadwaj has her moments as Sunaini. Pallavi Ajay is okay as Rani. Manas Tondwalkar, Hayat Ali and Nirvighna Pathe lend decent support. Others are okay.
Vishal Furia's direction caters only to the class audience. There isn't much for the masses and family audiences in his narrative style as also in the script. Ranjan Patnaik's music is functional. Lyrics (Ranjan Patnaik and Vishal Furia) are okay. Ketan Sodha's background music is fair; it needed to be more impactful in a film of this kind. Anshul Chobey's cinematography is effective but a lot of scenes have been shot in the dark and are, therefore, not clear. Kaushal Naseem's action and stunt scenes have the desired impact. Sheetal Duggal's production designing and Hemant Kumar's art direction are appropriate. Unnikrishnan P.P.'s editing is quite alright.
On the whole, Chhorii has limited appeal as it is meant for one section of the audience only.
It will be released on 26-11-'21 on Amazon Prime Video.