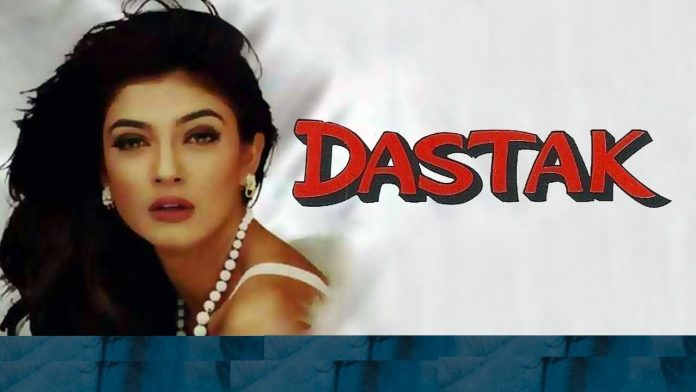 DASTAK
Vishesh Films Pvt. Ltd.'s Dastak (A) is the story of a mentally unstable genius and his obsession for the Miss Universe. His unparalleled obsession makes him so possessive about her that he begins to kill people around her so that he can come close to her. He succeeds in kidnapping her and keeping her in confinement but ultimately, she succeeds in getting herself free from his obsessive clutches.
Although the film has been well made, it reminds a great deal of earlier films like Darr, Agni Sakshi, Daraar and Fareb. The incidents in this drama may be different but the story is the same. As such, viewers will immediately remember having seen similar films, that too, in the recent past. Since the stories of this and the aforesaid films are very typical, the similarity works to the disadvantage of the one released later. Add to this is the high price-tag of the film, an area in which Fareb (which was released after Darr, Agni Sakshi and Daraar) scored.
On the positive side, the film has several points where it shocks the viewer. In fact, the shock value lends excitement to the proceedings and keeps audience interest alive, subject, however, to the basic drawback of similarity of the plot. Screenplay is tight and dialogues are appropriate. Climax is effective.
Performances of both the new heroes are brilliant. Sharad Kapoor looks handsome and acts with utmost confidence in a tailor-made role of an obsessed lover. Mukul Dev has a relatively lesser role but yet, in the role of the heroine's beloved, does a splendid job and endears himself to the viewer. His cute and the boy-next-door looks will work to his advantage. Both, Sharad and Mukul, have bright careers ahead. Sushmita Sen is good in her debut attempt, especially in the second half where she gets more scope. She, however, needs to take a lot of care about her wardrobe as she is taller than an average Hindi film heroine. Vishwajeet Pradhan leaves a mark. Tiku Talsania, Manoj Bajpai, Sunil Dhawan and the others lend adequate support.
Mahesh Bhatt's direction is good but his choice of subject isn't right. What's more, he has made the film more suitable for viewing by city audience and has forgotten cinegoers of smaller towns and villages. Mahesh Bhatt would do well to avoid too much usage of English words, especially in key scenes.
Music is quite good but a hit, racy song is missing. In fact, while the film moves at a good pace, the songs are slow and break the pace. Song picturisations, except for the first (which is eye-filling), are ordinary. There's no choreography worth the name. Background music is effective. Camerawork is good but only in parts. Foreign locations are beautiful. Production values are appropriate.
On the whole, Dastak has taken a very dull start and has neither novelty nor hit music to warrant a sensational pick-up. Considering its high price, it will entail heavy losses to its distributors. Its business in cities, especially in the South will be somewhat better.
Released on 29-11-'96 at New Excelsior and 15 other cinemas of Bombay thru Madhuraj Movies. Publicity: good (but not sufficient for a new star-cast film of this price). Opening: dull. …….Also released all over. Opening was poor everywhere.
LATEST POSITION
The magic of RAJA HINDUSTANI continues to mesmerise the audience and excite the industry. It has recorded bumper collections from Chandigarh to Chennai and Kutch to Cuttack.
…………
Raja Hindustani is going great guns. This week too has started on a fascinating note. 2nd week Bombay 41,37,006 (99.72%) from 11 cinemas (5 on F.H.); Ahmedabad 11,41,843 from 5 cinemas, Vapi 3,84,384 (100%), total 7,68,768 (100%), share above 5 lacs, Baroda 2,29,674, 3rd week Jamnagar 1,52,770 from 2 cinemas (1 in matinee); Pune 9,43,082 from 4 cinemas, 2nd week Kolhapur 1,88,868 (100%), Solapur 2,40,573 from 2 cinemas (1 in matinee), Sangli 100%, Nasik 3,10,008; Hubli 2,58,799, Belgaum 2,09,866 from 3 cinemas (2 in 7 shows each), 1st week Nipani 1,81,300; 2nd week Delhi 20,77,082 from 5 cinemas (3 unrecd.); Kanpur 4,25,305 from 2 cinemas, Lucknow 2,22,403, Agra 1,85,789, Allahabad 1,52,893, 3rd week 4 days 81,000, 2nd week Meerut 1,83,340, 3rd week 3 days 79,105, 2nd Dehradun 1,72,600 (1st 1,91,000), Gorakhpur 1,45,716 (1st 1,56,980), Hardwar 61,199 (1st 79,871); doing extraordinary in East Punjab; Calcutta 26,03,512 (88.39%) from 22 cinemas; Nagpur 5,92,317 from 3 cinemas, Akola 1,41,790 (100%), 3rd week 3 days 60,767 (100%), 2nd Raipur 1,77,033 (1st 2,03,434), Bhilai (6 days) 1,79,107, Jalgaon 1,76,315 (100%), Wardha 97,577, 3rd week 3 days 41,526, 2nd Yavatmal 1,32,048; Indore 2,32,012 (100%, 1 on F.H.), Bhopal 3,53,371 from 2 cinemas; Jaipur 5,72,918 from 2 cinemas, Bikaner 2,21,363, Udaipur 2,60,000 (1st 2,97,315), Sriganganagar 1,45,113; Hyderabad 10,92,349 from 5 cinemas.
Ghatak 3rd week Bombay 25,82,101 (70.09%) from 10 cinemas (8 on F.H.); Ahmedabad 3,32,033 from 3 cinemas, Vapi 1,30,653, total 8,24,074, share 4,24,000, Himmatnagar 97,093, Baroda 1,82,452 from 2 cinemas, Bharuch (gross) 1,41,646; Pune 4,75,348 from 3 cinemas, Kolhapur 1,60,000, Solapur 1,31,988 from 2 cinemas (1 in matinee), Nasik 1,59,870; Hubli 93,870 from 2 cinemas (1 in noon), Belgaum 73,914; Delhi 11,45,002 from 6 cinemas (4 on F.H.); Kanpur 1,96,266 from 2 cinemas, Lucknow 1,59,061, Agra 1,39,000, Allahabad 72,500, Dehradun 62,000, Gorakhpur 77,000, Hardwar 15,000; Calcutta 3,35,354 from 3 cinemas; Nagpur 1,90,152 from 2 cinemas, Akola 89,077, total 4,07,623, share 3,53,813, Raipur (6 days) 80,348, Bhilai (6 days) 45,817, Jalgaon 78,085, Chandrapur 97,589, total 4,25,945, Bilaspur 73,310 (2nd 1,05,230); 2nd Indore 2,01,377, Bhopal 1,56,688; 3rd Jaipur 2,25,172, Ajmer 1,06,779, Bikaner (last) 1,44,742; Hyderabad 4,69,833 from 3 cinemas.
…………
Maharashtra Industry Readying Itself For
Total Bandh Fom New Year
The Maharashtra film industry is almost certain to down shutters from 1st January '97 in protest against the state government's refusal to extend the ordinance of 50% entertainment tax, after 31st December '96. A joint meeting of Bombay distributors and exhibitors, held on 26th November, unanimously agreed that a bandh was the only answer to the government's rigid stand. The meeting was also attended by producer Pahlaj Nihalani who suggested that in order to make the bandh a success, distributors and exhibitors should seek the support of producers, artistes and studios too, and impress upon all of them to join in the bandh.
A final and formal decision about the bandh, which would entail closure of all cinemas in the state, is likely to be taken later next week. But the stage seems to be set for an ugly fight between the government and the film industry.
If the bandh does come about, it would mean a rescheduling of all the releases after 13th December because no producer or distributor would like to release his film on or after 20th December.
K.C. BOKADIA'S DAUGHTER TO WED
Producer-director K.C. Bokadia's daughter, Kavita, will wed Vimal Kumar on 7th December in Madras at MGR Film City.
WEDDING BELLS FOR KAMAL MUKUT'S SON
Marriage of Deepak, son of Rajasthan distributor and producer Kamal Mukut, with Krishna will be solemnised on 12th December in Jaipur. A reception to celebrate the wedding will be held in Bombay on 20th at Army Officers Club, Ruia Park, Juhu.

YOU ASKED IT
Does the poor opening of Dastak imply that films with newcomers should not be attempted?
– No, it does not mean so. What it definitely means is that new star cast films must be publicised extensively and intensively and should necessarily have popular music.
Why do film producers and directors not admit their failures easily?
– Film people are dream merchants and there is no place for nightmares in their scheme of things.
Will the Maharashtra government put an upper limit on admission rates in cinemas?
– It cannot, because it lost a case seeking to limit admission rates in 1994 when Bombay's Liberty cinema dragged the government to court in the matter of HAHK..!. But what the government may be planning to do is to introduce progressively higher rates of entertainment tax for higher admission rates.
DO YOU KNOW?
* Yunus Perwaiz is acting with Manoj Kumar after a gap of 21 years. The two came together in 1975 in SANYASI. They will now be seen together again in Manoj Kumar's JAIHIND – THE PRIDE.
847 DAYS!
* HAHK..! was finally discontinued from Liberty, Bombay, on 28th November after a run of 121 weeks. It ran for 105 weeks in regular shows and for 16 weeks in noon shows. The total number of shows held in 847 days (2 years, 3 months and 24 days) was 2,341. Break-up of the shows: 2,199 regular shows and 30 extra shows (on Sundays) in 105 weeks; and 112 noon shows in 16 weeks.
'Raja Hindustani': Kingly Collections,
Majestic Records
* The current booking window at Sona, Borivli (a Bombay suburb) simply did not open in the first two weeks of RAJA HINDUSTANI as the film drew all shows full in advance for all the 14 days!
MIX MASALA
FILMI SPEECH
Once a film person, always a film person. Jaya Prada, the new MP, had the ministers in Rajya Sabha smiling this week when she ventured to make a speech in filmi style in Hindi which, needless to say, was rather difficult to comprehend. She started with a sher in her incomprehensible diction: 'Doobne walon ko tinke ka sahara chahiye, dagmagati nao ko kinara chahiye'. The sher was met with wah-wahs from those present in the Upper House.
A BEAUTIFUL ROLE?
Do beauty title holders like to play themselves on screen too? It would seem so. For, Sushmita Sen plays Miss Universe in this week's release — her maiden film, Dastak. And Namrata Shirodkar, ex-Miss World, will be seen as a Miss World in Boney Kapoor's Pukaar.
To The Point
Making a film is only half the job done. Today, marketing and releasing a film are equally specialised jobs. Improper release or faulty marketing can sometimes adversely affect a film. In recent times, at least two films could have done much better at the the ticket-windows had they had better releases. Salim's Raja Ki Aayegi Baaraat, with no star cast to boot, should have come on or after Diwali. Why Salim chose a dull pre-Diwali period to release the film, one fails to understand. Gulzar's Maachis is the other film. Its songs were beginning to get popular and they had the germs to be on top of the charts, but producer R.V. Pandit took a rather hasty decision to release the film so soon. Had he given the film's music even a month more, the film would have taken a much better opening. As is said, haste makes waste.
* * *
The distribution and exhibition sectors of the Maharashtra film industry are decided on downing shutters from 1st January, 1997, in protest against the impending increase in entertainment tax in the state. So far, so good. But the two sectors must now elect one common leader to lead them in this tough battle with the government. It may not be an easy fight, and a leader who can inspire everybody's confidence needs to be at the helm of affairs.
* * *
Vakil Singh, the East Punjab distributor of Barsaat, has given about 30 lakh overflow in this film's account to Dharmendra!
* * *
It is learnt from reliable sources that Sunny Deol's Indian will now be produced by another producer who has taken over the entire project. Sunny will, however, be its hero, as earlier. The other credits will also remain the same.
* * *
The producers of Raja Hindustani were on a tour of C.P. Berar this week, alongwith its distributor, Raju Kothari. What they experienced was heavenly. Crowds thronging cinemas screening the film in the different stations of the circuit had to be seen to be believed. In one cinema, hundreds of cinegoers were watching the film, standing on their feet, due to non-availability of tickets. Rathi, whose cinemas are screening the film, informed the producers that over-capacity was a rule rather than an exception in the case of their film. He also assured them that some of his cinemas would give shares more than those of even HAHK..! and DDLJ.
– Komal Nahta
PEOPLE
Are surprised that
* * Rakshak, a Sunil Shetty starrer, did not open to bumper houses despite the hit Shaher ki ladki song in it. While some say, it was a case of soft (musical) publicity for a tough hero's film, others opine that the less-than-full opening was because of the current craze for Raja Hindustani. Then there are some who feel, Rakshak should have come some weeks earlier as its music was at the peak of its popularity before Raja Hindustani was released.
* * Dastak did not take even a face-saving opening. Actually, there's nothing to be surprised. Those who assumed that Sushmita Sen would do the trick were wide off the mark. When established heroines don't contribute to a film's initial value, who is Sushmita? She may be the ex-Miss Universe but for the film-going audience, that means nothing — repeat, nothing. The producers may have thought highly of her (to have paid her so much for their films) but the audience will wait for her to prove herself. Besides, producer Mukesh Bhatt left something to be desired in the film's publicity. Considering that it starred two new heroes and a new heroine, a concerted and massive publicity campaign was what was required. The actual build-up was 20% of what it should have been. Music was another area where the film couldn't score — it just did not gain popularity.
PEOPLE
Are speculating over
* * What will be the business of Raja Hindustani. 6 crore or 7 crore per major territory? Or more than that? The coming weeks will tell.
* * Whether the releases of mid-December and thereafter will come on schedule. If the Maharashtra film industry downs shutters from 1st January '97, the releases of December 20 and 27 will, in all likelihood, be postponed. But the makers of Judwaa seem to be keen to get it on 20th December, bandh or no bandh.
3E
Education-Entertainment-Enlightenment
History Repeating Itself?
If the Maharashtra film industry closes down in protest against the government's stand to discontinue the benefit of 50% entertainment tax, history will repeat itself after 10 years. For, in 1986 too, the industry had downed shutters to demand reliefs from the government. The latter had to relent then and the film industry was granted several benefits including reduction in tax. The Diwali of 1986 was termed a 'Black Diwali' by the trade as all work in the industry was at a standstill following the strike. This time over, the bandh has come (if it does) after Diwali. And while talking about the historic bandh of 1986, one can't help remembering the efforts of late leader Shri Ramraj Nahta who led the industry to victory at that time. His selfless and untiring efforts at that trying and testing time are remembered even today.
Of the Khan Khandaan
Here's an interesting observation from Girdhar Duseja of Shringar Films, Bombay, which should do the Khan clan proud. The biggest hits of three consecutive years have been Khan starrers. In 1994, it was Salman Khan's Hum Aapke Hain Koun..!. Shah Rukh Khan'sDilwale Dulhania Le Jayenge was the biggest hit of 1995. And in 1996, it is Aamir Khan's Raja Hindustani. The second biggest hit of 1995, Karan Arjun, also starred not one but two Khans, Salman and Shah Rukh.
Sushmita's Emotional Appeal
Sushmita Sen wept bitterly on 28th November. No, not because Dastak took a disastrous start in U.P., C.P., C.I. and Bengal (Calcutta) where it was released that day. But because Sushmita was addressing a press conference at Hotel Sun N Sand that afternoon to clear "all the wrong things" that had been written about her in gossip magazines. The former Miss Universe broke down as she clarified that she was not involved with any married man nor had she married anybody, that she was not trying to break anybody's home, that she had never had alcohol in her life, that she was not a girl of loose character etc. Sushmita said, she had to clear the matters because it was important to do so at this stage of her career and so that producers of her forthcoming films did not press the panic button. As Sushmita tried to clear the dust around every topic and appealed to members of the press to be more considerate towards her, tears rolled down her well made-up cheeks. It didn't seem as if the former beauty queen was putting on an act. So much of crying couldn't be fake. Considering for a moment (without alleging) that the crying was a piece of acting by Miss Sen, it must be said to her credit that she is a very good actress. But, as said earlier, the girl's tears seemed too genuine to be made up. Anyway, either way, Sushmita stood to gain that day. She had cleared the terrible stories about herself. And for those who didn't want to believe her, well, they had to at least admit that she was a good actress without doubt.