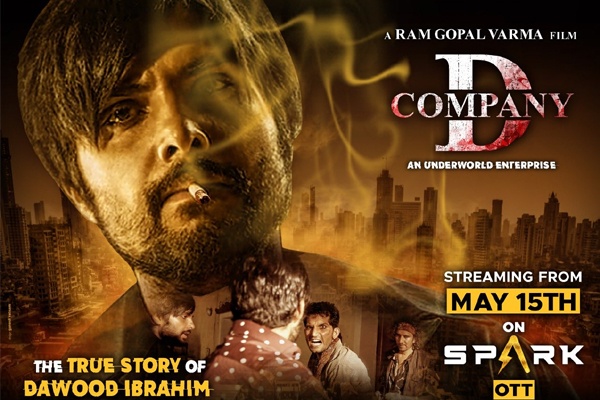 Spark Production's D Company is the story of how dreaded underworld don Dawood Ibrahim rose to power and built a virtual underworld empire.
Writers Hareesh M. Kotian and Ram Gopal Varma have penned a childish story — and that's putting it mildly. Although the film is titled D Company to suggest that Dawood Ibrahim's empire functions like a corporate house, there is absolutely — repeat, absolutely — no exhibition of corporate principles in its working. Perhaps, that may be the reason why the commentator (Ram Gopal Varma in incorrect Hindi spoken in a pathetic style), in the end, says that this was how D Gang came into being; how it became D Company will be narrated in the next series. At that time, the audience wonders why this film was not titled D Gang instead of D Company. The viewers also wonder whether they've just completed watching a film (because that was what it was supposed to be) or part one of a web series (because the ending mentions about the next in the series).
Frankly, these are not the only blunders committed by the writers. Many films based on similar stories have been made in the past too, maybe without naming Dawood Ibrahim as in the present one. So, one is left wondering why Varma thought of making another film with a story which people have seen on screen many times earlier. Why, Ram Gopal Varma himself has made a number of underworld films, including Company, and the story of this one is no different from his past films. Although the title is D Company, there is nothing special or different about Dawood's story which the audiences would feel excited to know about since they've seen similar stories in a number of earlier films. Frankly, the film could as well have been titled E Company or Z Company! The screenplay unfolds without involving the viewers who, therefore, watch it as silent spectators with scant interest in the drama. There are as good as zero high points in the screenplay which, consequently, turns out to be insipid, boring, dull and dreary in spite of being an action thriller. To make matters worse, most of the actors scream and shout, making all their performances look similar to one another. Overall, the story and the screenplay are terribly weak and seem to have been written in such a tearing hurry that the two writers are not even bothered about correct Hindi and gender. In that sense, it wouldn't be wrong to say that the script is embarrassing. The duo's dialogues are pedestrian.
Ashwat Kanth's performance is like that of a dead duck, in the role of underworld don Dawood Ibrahim. Naina Ganguly is okay as Sujatha. Rudr Kanth does an ordinary job as Saabir. Irra Mor acts ably as Chitra. Abhilash Chaudhary is impressive in the role of Alamzeb. Heramb Tripathi is quite good as Amirzada. Vinod Anand is alright as Karim Lala. Rocky Mahajan is okay as Samad Khan. Sandeep Bose hardly has anything worthwhile to do as Haji Mastan. Pranay Dixit (as Chhota Shakeel), Gaurav Daagar (as Bishal Cheetah), Mursaleen Qureshi (as Johny Akawat), Salil Gaunekar (as Ali Antulay), Jitender Hooda (as Hameed), Joher (as Majeed), Shaleen Malhotra (as Manya Surve), Vikas Rao (as Javed Fuqwa), Narendra Panjwani (as Yusuf Patel), Anjam Gulati (as Rahim Lala), Anshu Rajput (as Haseena), Aravind Wahi (as Ibrahim Hasan Kaskar), Raghunath Naik (as Aziz Dilip), Aasha Welingkar (as Aziz Dilip's wife), Kasturi Rout (as Nanda) and Apsara Rani (in a guest appearance) lend routine support. Others just about pass muster.
Ram Gopal Varma's direction is as bad as the script co-written by him. He seems to have rushed through the narration as if he couldn't care less for the final outcome. Paul Praveen's music is poor and so are the lyrics (Nitin Raikwar and Sira Sri). Sirish's choreography is barely functional. Background music is ordinary. V. Malharbhat Joshi's camerawork is routine. Srikanth's action and stunt scenes lack the fire. Sets (Madhukar Devara and Praneeth) are average. Editing (by Sanga Pratap Kumar (Bobby)) and additional editing (by Ashish Batra) leaves a lot to be desired.
On the whole, D Company is a disaster of a film (or web series?).
Released on 15-5-'21 on Spark OTT platform.