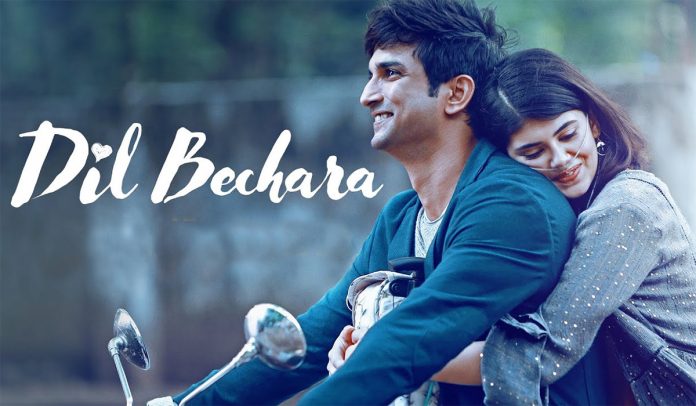 Fox Star Studios' Dil Bechara is the love story of two cancer patients. The official remake of Hollywood film The Fault In Our Stars, it is about Manny (Sushant Singh Rajput) and Kizzie Basu (Sanjana Sanghi).
Manny is a fun-loving young man who is not willing to be bogged down by the fact that he is suffering from cancer. He lives with his grandmother in Jamshedpur. His bosom pal, JP (Sahil Vaid), has cancer of the eyes. He has lost sight in one eye, and it's a matter of a few days that he will lose sight in the other eye too. Kizzie has cancer of the thyroid. She has to constantly move with an oxygen cylinder. She too lives in Jamshedpur, with her parents (Saswata Chatterjee and Swastika Mukherjee). She is a fan of song writer Abhimanyu Veer and loves his song, 'I'm yours', which, incidentally, he has not completed. It is Kizzie's ardent desire to meet Abhimanyu but all her attempts to trace him have not helped. Although Kizzie knows that her days are numbered, she wants to live life as normally as possible.
Manny enters Kizzie's life like a whiff of fresh air. The two soon hit it off. Manny decides to fulfill Kizzie's dream of meeting Abhimanyu Veer and for that, he decides to take her to Paris. But before that, Kizzie falls seriously ill. However, due to her sheer will power, she recovers. More than anything else, it seems to be her love for Manny that helps her recover fast. In Paris, their meeting with Veer (Saif Ali Khan) is disastrous because the song writer is not at his best behaviour. Kizzie pleads with the song writer to tell her why he had left his best song incomplete. But Kizzie is so shaken by what Veer tells her about his incomplete song that Manny has to actually calm her down. Manny promises to complete Abhimanyu Veer's song. Once they return to India, Manny's cancer spreads in his body and he has to be hospitalised as his condition deteriorates. What happens thereafter?
Suprotim Sengupta's adapted story and screenplay (with additional screenplay by Shashank Khaitan) are not half as good as they ought to have been. The drama which unfolds looks contrived as not many scenes have the desired impact. Although the story is emotional, the sentiments often don't touch the audience's heart. For one, the love affair between Manny and Kizzie is not heartwarming. Frankly, it happens in such a jiffy that the viewer wonders how they fell in love. Since the love between them is not shown to develop properly, it doesn't touch the heart too much when Kizzie pines for Manny and vice versa. Also, Kizzie's comment that she would have to live because she had Manny in her life now doesn't quite ring true because just before that, her most ardent desire in life has been shown to be a meeting with her idol, Abhimanyu Veer. In fact, she is terribly excited about her impending trip to Paris to meet Abhimanyu Veer. At one point, Kizzie also admits to herself that Manny had taught her to live life to the fullest. But somewhere in the initial reels, Kizzie is shown to be wanting to lead as normal a life as she could under the given circumstances. In other words, she is leading a full life as she hates to be treated differently just because she is suffering from cancer. There's a scene in which Kizzie is cross with her mother when she refuses to send Kizzie alone to Paris with Manny, for obvious reasons. To save the situation, Kizzie's father decides to leave the decision till they've consulted her doctor. Kizzie and the family behave as if they've found a cure for her terminal illness when the doctor gives them a solution to the problem — that Kizzie's mother accompany her and Manny to Paris. It is such an obvious solution to the problem that one is left wondering whether this thought shouldn't have occurred to Kizzie and her parents in the first place! Another drawback of the screenplay is that many of the characters, like Kizzie's father and Abhimanyu Veer over-react at the slightest opportunity. It almost seems like nobody knows how to behave normally. Agreed, this is a story about cancer patients but while they (the cancer patients) want to lead normal lives, neither do they do so nor do the people they interact with allow them to do so. All in all, the writers have not been able to adapt the story and screenplay in a way that they could make the drama a tear-jerking one. One also wonders why the track of Abhimanyu Veer was not given a more befitting conclusion. In the English original, the character has been handled with far more maturity. Another minus point is that at the core, the film is quite depressing. Dialogues (by Shashank Khaitan) are good, but the witty ones are more impactful.
Sushant Singh Rajput does well but his character is unable to do full justice to his capabilities as a fine performer. A more well-written characterisation would have seen Sushant perform far better. Sanjana Sanghi makes a fairly good debut. Her acting is quite good and she has screen presence too. Saif Ali Khan makes his mark in a brief role but how one wishes, his character had been handled with more maturity. Sahil Vaid does a fine job in the role of JP. Saswata Chatterjee leaves a mark as Kizzie's father. Swastika Mukherjee shines as Kizzie's mother. Sunit Tandon is alright as Dr. Jha. Michael Muthu and Rajie Vijay Sarathy (as Manny's parents) and Subhlaxmi (as Manny's grandmother) lend routine support. Durgesh Kumar (as the rickshaw rider), Bahrul Islam (as the priest) and the others provide ordinary support.
Debut-making Mukesh Chhabra's direction is not impressive. For one, he has not been able to make a film which touches the heart. Also, his handling of emotional scenes lacks finesse. A.R. Rahman's music is quite alright but the absence of a super-hit score is sorely felt. 'Main tumhara' is the best number. Amitabh Bhattacharya's lyrics are decent. Song picturisations (by Farah Khan and Uma-Gaity) are quite nice. A.R. Rahman's background music should've been more impactful. Setu's cinematography is quite eye-filling. Production designing (by Amit Ray and Subrata Chakraborty) is nice. Aarif Sheikh's editing is sharp but despite that, there are boring moments in the film as the pace is slow.
On the whole, Dil Bechara is a dull fare. In normal circumstances, the film would have not been able to do well in the cinemas, but Sushant Singh Rajput's recent suicide and the consequent public sentiments for the late actor will ensure that a lot of people watch the film on the streaming platform (Disney+ Hotstar) on which it has been released.