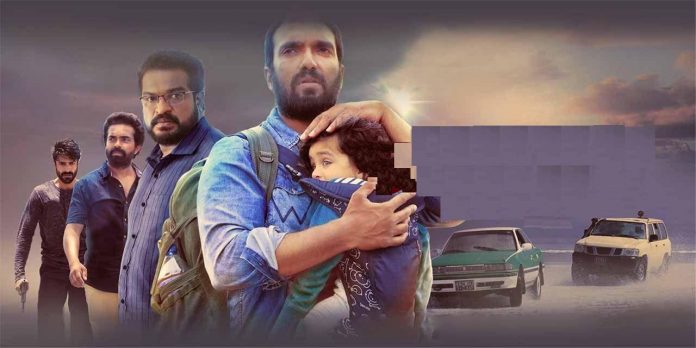 Blue Hill Nael Communications and Nile & Blue Hill Motion Pictures' Djibouti (dubbed from the Malayalam film of the same name) is the story of two friends, Louis (Amith Chakalakkal) and Aby (Jacob Gregory). They dream big, wishing to go abroad to earn money. But both have limited skill sets. Opportunity comes knocking at their door one day when Hannah (Shagun Jaswal) comes to them in Idukki (Kerala). She is an HR manager of a company based in Djibouti (Africa).
The two friends go to Djibouti with Hannah. Louis and Hannah also fall in love with one another. However, the two friends soon realise that all is not well. The only option available to them is to flee. But will it be possible for them to come out safely?
S.J. Sinu has written a story which engages the audience in parts only. His screenplay, co-written with Afsal Abdul Latheef, is not half as interesting as it should've been. In other words, it manages to keep the viewers engaged only sporadically, and not from the start till the end. Furthermore, many of the turns and twists aren't exciting enough. Dialogues are so-so.
Amith Chakalakkal does an ordinary job as Louis. Shagun Jaswal is so-so as Hannah. Jacob Gregory is average in the role of Aby. Dileesh Pothan (as Thomachan), Anjali Nair (as Gracy), Biju Sopanam (as Jayan), Sunil Sukhada (as Ramettan) and the others provide ordinary support.
S.J. Sinu's direction is nothing to shout about. Deepak Dev's music holds scant appeal for the Hindi film-going audience. Camerawork (T.D. Sreenivas) is appealing and so are the locations. Sabu Mohan's art direction is alright. Samjith Mohammed's editing leaves something to be desired. Dubbing is okay.
On the whole, Djibouti is a dull fare.
Released on 31-12-'21 at Carnival Wadala (daily 1 show) and other cinemas of Bombay thru Multimedia Combines. Publicity & opening: very poor.