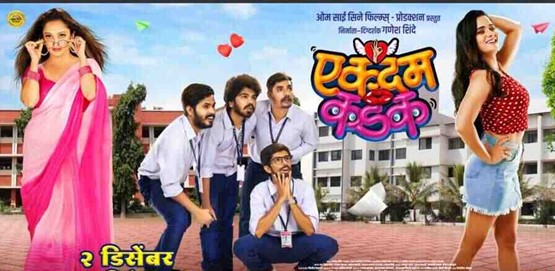 Om Sai Cine Films' Ekdam Kadak (Marathi; UA) is the story of two adjacent villages, Chikani and Dekhani. Mama (Shashank Shende) is the head of Chikani village which is reeling under a drought. Anna (Madhav Abhyankar) heads Dekhani village which has excess water. However, inhabitants of Dekhani village are unwilling to share water with the neighbouring Chikani village, leading to enmity between the two villages.
Mama's son, Gatya (Parth Bhalerao), and Anna's daughter, Pinky (Gayatri Jadhav), study in the same college. Gatya loves Pinky but the latter does not reciprocate his love because of the enmity between the two villages.
One day, Sweety (Bhagyashree Mote) arrives in Dekhani village with her ailing grandmother (Rukmini Sutar). She explains to Pinky that there's nothing wrong in loving a guy from Chikani village. From there begins the love story of Gatya and Pinky. How this finally puts an end to the enmity between the two villages forms the crux of the drama.
Ganesh Shinde's story is dull and drab. Kalpesh Jagtap's screenplay fails to involve or engage the audience because it tries to connect a love story with an ongoing problem between two villages. There are some light scenes which do entertain but they aren't enough. Overall, the drama just doesn't appeal to the audience. Kalpesh Jagtap's dialogues are ordinary except for a few double-meaning ones which are enjoyable.
Parth Bhalerao does a fair job as Gatya. Gayatri Jadhav is so-so as Pinky. Bhagyashree Mote delivers an average performance in the role of Sweety. Tanaji Galgunde lends ordinary support as Gatya's friend, Tilya. Arbaz Shaikh lends routine support as Gatya's friend, Vashya. Chinmay Sant's acting (as Gatya's friend, Aalya) is so-so. Shashank Shende makes his mark as Mama. Madhav Abhyankar has his moments as Anna. Rukmini Sutar (as Sweety's grandmother) and Milind Dastane (as the government officer) provide average support. Manasi Naik lends oomph in an item song-dance.
Ganesh Shinde's direction is below the mark. Music (Narendra Bhide, Pankaj Padghan and Umesh Gawali) is a mixed bag — the 'Madam kadak aahe' song is good whereas the other numbers just about pass muster. Lyrics (Mangesh Kangane and Ganesh Shinde) are so-so. Dhairyashil Uttekar's choreography in the title song is quite alright. Vineet Deshpande's background music leaves a lot to be desired. Baba Lad's cinematography is just about passable. Sets (Anil Vanave and Vicky Bidkar) are nothing to shout about. Editing (Anand Kamat and Kamalakar Sonavane) is loose.
On the whole, Ekdam Kadak is a flop show.
Released on 2-12-'22 at Plaza (daily 1 show) and other cinemas of Bombay thru August Entertainment. Publicity: dull. Opening: poor.