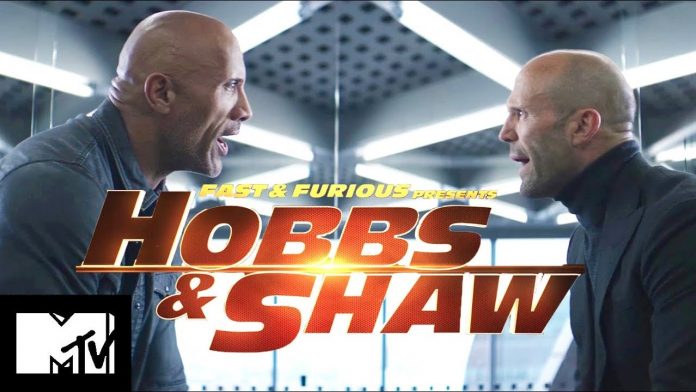 Universal Pictures, Seven Bucks Productions and Chris Morgan Productions' Fast & Furious: Hobbs And Shaw (dubbed from the Hollywood film of the same name; A) is about the mission of Hobbs and Shaw to extract a deadly virus from the body of an MI6 agent.
Hattie Shaw (Vanessa Kirby) injects the deadly Snowflake virus into her body at Etheon, a techno-terrorist organisation, and escapes from there. Snowflake, developed by scientist Andreiko (Eddie Marsan), can be programmed to kill human beings. Brixton Lore (Idris Elba), a rogue operative, accuses Hattie of killing all the MI6 agents whom, actually, he had killed. Hattie is, therefore, on the run.
Luke Hobbs (Dwayne Johnson) and Deckard Shaw (Jason Statham) are informed of the missing Snowflake and are assigned to work together to track it down. They can't see eye to eye but have now to jointly complete the mission. Hattie is Deckard's sister with whom he has not been in touch, something which saddens their mother (Helen Mirren) who is serving a jail term. Hattie is brought to the CIA office but Brixton captures her. Hobbs and Shaw rescue her after a car chase. The three meet scientist Andreiko who tells them that to prevent Snowflake from eradicating humanity, there are only two options: Hattie has to be killed and her body burned to ashes, or the virus is to be extracted from Hattie's body by using the extraction device located inside the Etheon factory in Ukraine.
The three alongwith Andreiko now travel to Ukraine and steal the extraction device but it gets damaged. Hobbs takes Shaw and Hattie to his home in Samoa as he is pretty sure that his brother, Jonah (Cliff Curtis), will be able to fix the device. His family helps them also put up a tough fight when Brixton and his team from Etheon reach Samoa. That's not easy because Brixton has highly advanced cybernetic implants which allow him to perform superhuman feats.
Chris Morgan's story is supremely engaging as it has scope for plenty of action as well as a dash of emotions and abundant humour. The screenplay, written by Chris Morgan and Drew Pearce and based on characters created by Gary Scott Thompson, is extraordinary. It keeps the audience thoroughly engaged, involved and entertained. The banter between Hobbs and Shaw often makes the viewers laugh. The track of Hobbs' family in the last part is heartwarming. The drama flows so seamlessly that one can't help but marvel at the genius of the writers. The Hindi dialogues, written by Mayank Jain, are extraordinary. Some of the dialogues are even clapworthy.
Performances are outstanding. Dwayne Johnson looks like a million bucks and endears himself to the audience for his acting, physique and action. His comedy is wonderful. Jason Statham shines in the role of Deckard Shaw. He is also excellent in the comic scenes with Hobbs. Idris Elba is first-rate as Brixton Lore. Vanessa Kirby performs brilliantly as Hattie Shaw. Eddie Marsan lends good support as scientist Andreiko. Helen Mirren (as Mrs. Shaw), Eiza González (as Madame M), Eliana Sua (as Sam), Cliff Curtis (as Jonah), Lori Pelenise Tuisano (as Hobbs' mother, Sefina), John Tui (as Kal), Joshua Manga (as Timo), Kevin Hart (as Air Marshall Dinkley) and the others provide terrific support.
David Leitch's direction is brilliant. His narration is so fast-paced that it doesn't give the audience even a second to think. The scenes after the end rolling titles are lovely. Action scenes and stunts (by Ermar Alexander) are breathtaking and truly mesmerising. Special mention must be made of the car chase sequence, the helicopter-cars sequence, and the climax action sequence, all of which are remarkable. Jonathan Sela's cinematography is simply stunning. Tyler Bates' music and background score are terrific. Production design (by David Scheunemann) and art direction (by David Allday and Will Coubrough) are splendid. Special effects and visual effects are heavenly. Christopher Rouse's editing is razor-sharp. Dubbing is fantastic. Special mention must be made of the dubbing by Mohan Kapur (for Dwayne Johnson), Sharad Kelkar (for Jason Statham, Neha Gargava (for Vanessa Kirby), Rajesh Khattar (for Idris Elba) and Raju Kava (for Kevin Hart). All the five have dubbed wonderfully.
On the whole, Fast & Furious: Hobbs And Shaw is a hit, no questions asked. It has exciting action, entertaining comedy, and an engaging drama to keep the audience totally happy. The dubbed version, alongwith the original English version (also released simultaneously), will do fantastic business at the box-office.
Released on 2-8-'19 at Regal (daily 2 shows) and other cinemas of Bombay by NBC Universal Media Distribution Services. Publicity: very good. Opening: excellent. …….Also released all over. Opening was very good everywhere.