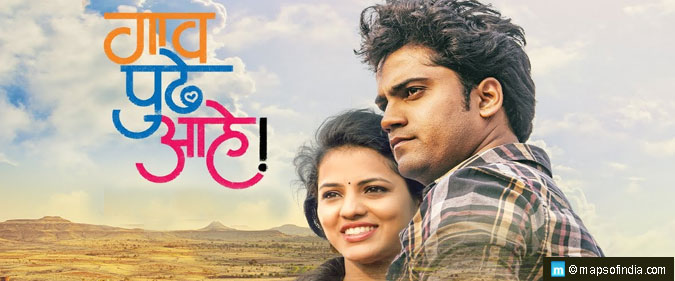 Meena Shamim Films' Gaav Pudhe Aahe! (Marathi; UA) is a romantic film with drama. A mysterious young man comes to a small village, claiming to be a writer. Soon, he begins to realise that there's presence of evil in the village. So he devises a plan to change it himself. But he doesn't want to change the essence of its people. Does he succeed?
Firoz Aashiq has penned a story which does not have much appeal. Munnawar Shamim Bhagat's screenplay is okay but does not arrest the viewers' attention. Some comedy scenes are quite alright and do bring a smile to the face. Munnawar Shamim Bhagat's dialogues (with additional dialogues by Firoz Aashiq) are just about alright.
Swapnil Vishnu Joshi does a fair job. Pooja Jaiswal is average. Harshad Shinde is so-so. Shruti Pawar lends ordinary support. Vije Bhatia's performance is okay.
Munnawar Shamim Bhagat's direction is commonplace. Music (Ritesh Kumar Nalini and Rafique Shaikh) is reasonably good. Lyrics (Abhijit Kulkarni, Munnawar Shamim Bhagat and Elahi Jamadaar) are alright. Song picturisations (choreographer: Ishaque Khan) hardly deserve separate mention. Salil Amrute's background music is fairly nice. Arvind Sinh Puwar's camerawork is fair. Production designing (by Vije Bhatia) and art direction (Suhas Panchal) are nothing to shout about. Editing (Dharmesh Patel and Man B. Roka) could've been tighter.
On the whole, Gaav Pudhe Aahe! is a weak fare.
Released on 31-12-'20 at Inox Malad (daily 1 show) and other cinemas of Bombay by Meena Shamim Films. Publicity & opening: dull.