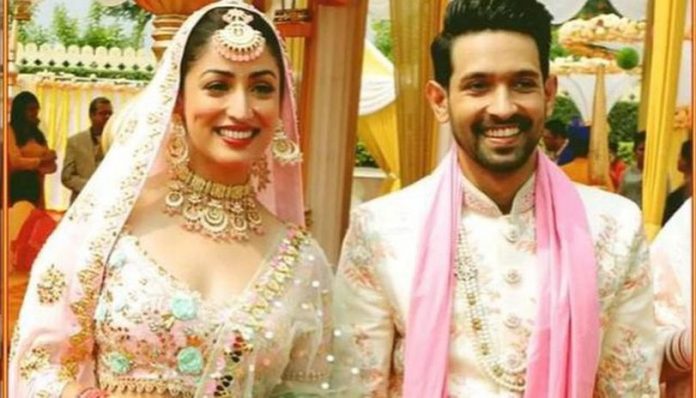 Soundrya Production's Ginny Weds Sunny is a romantic comedy. Sunny Sethi (Vikrant Massey) can't find a suitable bride. He teams up with a neighbourhood aunt, Shobha Juneja (Ayesha Raza Mishra), who is on the lookout for a nice groom for her daughter. The mother knows that her daughter, Ginny Juneja (Yami Gautam), will not settle for anything less than a love marriage. How Sunny follows the instructions of Ginny's mother to woo Ginny forms the crux of the story. To complicate matters, Ginny is not able to get over her ex-boyfriend, Nishant (Suhail Nayyar), whom the mother doesn't approve of.
Navjot Gulati and Sumit Arora have penned a story that offers little by way of novelty as such stories or variations thereof have been seen in the past too. However, their screenplay is laced with entertaining humour which keeps the audience smiling at several places. Of course, there are hardly any moments where the viewers can have a hearty laugh or guffaw. A couple of twists and turns are not very convincing and they, therefore, stick out as weak points. For instance, Ginny asking Sunny to get out of her house is not easily digestible and it should have been explained in a more mature manner. Similarly, the climax is a bit too stretched and lacks conviction. The duo's dialogues are the best part of the script because they are entertaining.
Yami Gautam acts well in the role of Ginny. She looks pretty and plays the role with conviction. Vikrant Massey performs very well as Sunny Sethi. He gets into the skin of his character and is pretty convincing. Ayesha Raza Mishra delivers a delightful performance. She is very endearing as Ginny's mother. Rajiv Gupta leaves a fine mark as Sunny's father. Maneka Kurup Arora lends fair support as Sunny's mother. Mazel Vyas entertains ably in the role of Sunny's sister, Nimmi. Suhail Nayyar is quite effective as Nishant. His 'three things' dialogues could've had more fun in them. Gurpreet Saini makes his presence felt as Sumit. Isha Talwar (as Neha Gulati) is alright. Mansi Sharma (as Ginny's friend, Manpreet), Sanchita Puri (as Ginny's friend, Prerna), Karan Singh Chhabra (as Ginny's friend, Timmy), Venus Singh (as Sanya), Ankit Hans (as Pawan Chaddha), Sunil Guliyani (as Mr. Chaddha), Vimi Mehta (as Mrs. Chaddha), Neeraj Kalra (as Neha Gulati's father), Deepak Chadha (as Neha Gulati's uncle, Gulshan Gulati) and the others are adequate.
Puneet Khanna's direction is fairly nice, considering that this is his debut attempt. Music (Payal Dev, Mika Singh, Gaurav Chatterji and Jaan Nissar Lone) is quite good but no song is hit except, of course, the mixed version of pop song Saawan mein lag gayi aag. Lyrics (Kunaal Verma, Mika Singh, Mohsin Shaikh, Payal Dev, Badshah, Sandeep Gaur and Peer Zahoor) are nice. Song picturisations (choreographed by Adil Shaikh, Ganesh Acharya and Rajeev Surti) are decent. Background music (Prasad S.) is okay. Nuthan Nagaraj's camerawork is fair. Production designing (by Ashwini Shrivastav) and art direction (by Lalit Bhardwaj) are of a fair standard. Sandeep Sethy's editing is quite crisp.
On the whole, Ginny Weds Sunny is an average entertainer. But lack of awareness about the film and its release will tell upon its viewership on the OTT platform.
Released today (9-10-'20) on Netflix.