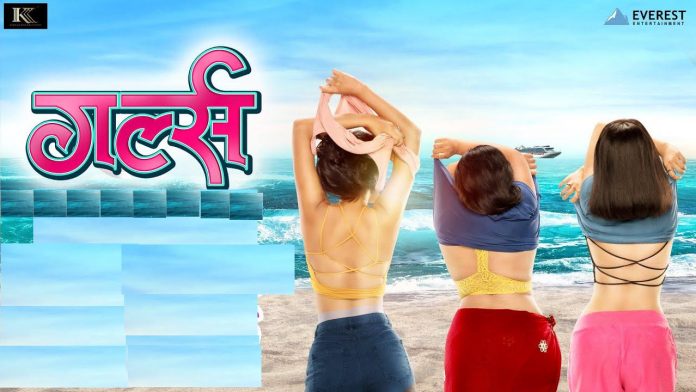 Everest Entertainment and Kyra Kumar Kreations' Girlz (Marathi; A) is the story of a college girl who gets into bad company.
Mati (Ankita Lande) lives with her parents. One day, she seeks permission to go to Goa with her college friend. She wants a break and hence the Goa plan. Her mother (Devika Daftardar) is not in favour of allowing her to go but Mati's father grants her permission. Mati's friend backs out at the last moment and so Mati goes alone to Goa.
In Goa, Mati befriends two girls, Maggi (Ketaki Narayan) and Rumi (Anvita Phaltankar). The two girls take Mati to parties where the three dance, drink and smoke. Her distraught mother calls her back when she sees Mati's objectionable pictures on social media.
Maggi and Rumi ask Mati to come back to Goa after a few days so that they can cebelrate Mati's birthday. This time, Mati goes away to Goa without informing her parents. This agitates her parents so much that they decide to disown her. But in Goa, Mati realises her folly and returns home. Do her parents accept her?
Hrishikesh Koli has penned a weak story and an equally weak screenplay. At the end of the drama, one is left wondering what purpose was served in making the film. Romance is missing and so are emotions. Comedy is almost absent. Hrishikesh Koli's dialogues are average.
Ankita Lande looks quite alright and has performed well. Devika Daftardar does a fair job as Mati's mother. Ketaki Narayan (as Maggi) and Anvita Phaltankar (as Rumi) lend reasonable support. Parth Bhalerao is okay in the role of Mati's college mate, Sada. Atul Kale is fairly nice. Swanand Kirkire leaves a mark as the police officer. Others provide routine support.
Vishal Sakharam Devrukhkar's direction lacks the spark. Music (Praful-Swapnil and Samir Saptiskar) and lyrics (Abhijeet Gaikwad, Sachin Pathak, Jai Atre, Mandar Cholkar and Varun Likhate) are functional. Sujit Kumar's choreography is just about passable. Aditya Bedekar's background music is ordinary. Siddhartha Jatla's camerawork is good. Prashant Bidkar's art direction is alright. Editing (Guru Patil and Mahesh Killekar) is fair.
On the whole, Girlz is a flop fare.
Released on 29-11-'19 at Bharatmata (daily 2 shows) and other cinemas of Bombay thru 52 Friday Talkies. Publicity: very good. Opening: dull.