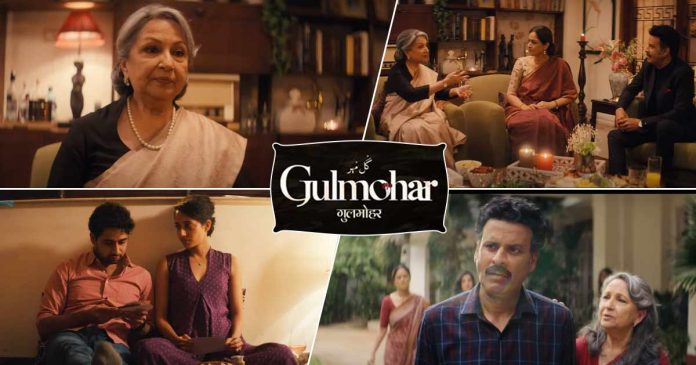 Star Studios, Chalkboard Entertainment and Autonomous Works' Gulmohar (UA) is the story a joint family which, much to the consternation of some members of the family, is disintegrating.
Kusum Batra (Sharmila Tagore), widowed by her husband's untimely demise, has held the family together but has now decided to sell the ancestral bungalow. Her son, Arun Batra (Manoj Bajpayee), is disturbed that the bungalow will be sold as he had always dreamt of the family staying together. While Kusum announces that she would settle down in Pondicherry, Arun's son, Aditya (Suraj Sharma), and his wife, Divya (Kaveri Seth), have decided to rent out a flat. Aditya's start-up needs funding but his ego prevents him from asking his dad for money. Arun has a daughter, Amrita Batra (Utsavi Jha), who is in a relationship with Ankur (Danish Sood), but there seems to be a problem in that relationship.
Kusum's brother-in-law, Sudhakar Batra (Amol Palekar), seems to have his own issues — with his immediate family as also with Kusum Batra's family. Sudhakar's family comprises son Kamal Batra (Anuraag Arora), daughter-in-law Neena (Devika Shahani) and grandson Kishore (Sriharsh Sharma). Arun and wife Indira (Simran) get along very well with Kamal and Neena.
Kusum Batra's house help, Reshma Saeed (Santhy), is a loyalist. Guard Jeetendra Kumar (Jatin Goswami) is in love with Reshma but is unable to muster courage to express his love in spite of house help Param (Chandan Roy) always prodding him on to propose to Reshma. Things don't become any easier when Reshma's school friend, Irfan (Gandharv Dewan), comes on the scene. Already married, Irfan is on the threshold of divorcing his wife.
Suddenly one day, Arun Batra gets to know something which turns his life upside down. The family of Kusum Batra is now on the verge of disintegrating in a horrendous manner. What is the fact that comes to light and which threatens to shake the very foundation of the Batra family? What happens finally?
Arpita Mukherjee and Rahul V. Chittella's story and screenplay are very sensitive. The plot is quite different from the usual plots seen in films. Since there are many characters, the drama doesn't get boring. Having said that, it must be added that it is meant only for the class audience as the masses would not appreciate or identify with the typical problems of the rich Batra family. Besides, the usual ingredients of romance and comedy are conspicuous by their absence. The track of lesbianism looks forced and further restricts the appeal of the drama. However, it must be emphasised that the writer duo has done a fine job for the target audience who may be less in number. The duo's dialogues are exceptionally good and also very realistic.
Performances are all of a high order. Sharmila Tagore lends a lot of dignity to the character of Kusum Batra. She is excellent. Manoj Bajpayee lives the role of Arun Batra. His character has a lot of shades and he does the fullest justice to it with his superb acting. Simran is remarkable as Indira Batra. Suraj Sharma shines in the role of Aditya Batra. He conveys his predicament beautifully. Kaveri Seth is natural in the role of Divya Batra. Utsavi Jha lends decent support as Amrita Batra. Santhy makes her presence beautifully felt as Reshma Saeed. Amol Palekar is suitably restrained in a special appearance as Sudhakar Batra. Jatin Goswami has his moments as Jeetendra Kumar. Gandharv Dewan is lovely as Irfan. Chandan Roy is terrific in the role of Param. Anuraag Arora leaves a fine mark as Kamal Batra. Devika Shahani is adequate as Neena Batra. Sriharsh Sharma makes his presence felt in a brief role as Kishore Batra. Talat Aziz is nice as Avinash. Vinod Nagpal delivers a heartfelt performance as Baba. Danish Sood is good as Ankur. Tanvi Rao (as Deepika), Abhinav Bhattacharjee (as Radheshyam), Tripti Sahu (as Surekha), Nargis Nandal (as Payal), Varun Narayan (as Sameer), Kanishk Seth (as Rocky), Deepak Bagga (as Suri), Swaroopa Ghosh, Bimal Nair and Azeez Narain (all three as the interviewers), Hiba Qamar (as young Kusum), Sanjina Gadhvi (as young Supriya), Meeta Narain (as Supriya Palekar) and the others provide decent support.
Rahul V. Chittalle's direction is very sensitive. He has made a heartfelt film. Music (by Siddhartha Khosla, Alan Demoss, Talat Aziz, Maadhavan Bhattacharjee and Mukhtiyar Ali) goes well with the mood of the film. Lyrics (Shellee and Hassan Kazmi) are weighty. Eeshit Narain's camerawork is lovely. Stunts (Waseem Naseem Ahmed, Rizwan Raiz Shaikh and Rakeeb Zahangir Khan) are realistic. Mansi Dhruv Mehta's production designing and Pradeep Jadhav's art direction are appropriate. Editing (Tanupriya Sharma) is sharp.
On the whole, Gulmohar is a well-made and well-enacted film for the gentry. Had it been released in cinemas, it would've found the going tough because of lack of several ingredients of a commercial film. But it is good that it has released on a streaming platform because the audience on OTT tends to accept 'different' fare more easily.
Released on 3-3-'23 on Disney+ Hotstar.